In recognition of the highly artistic and creative hairstyles that hairdressers often create, every year the Australian Hair Fashion Awards are held to celebrate the work of some of the top hairdressers in Australia.

ADAM NOBLE from Next Hair in ACT was named Australian Hairdresser of the Year for 2002. Enjoying a career that has spanned twenty years, Adam's work is a combination of both simplicity and beauty and his enthusiasm and passion for his work continues to burn.

In this interview, the newly crowned Australian Hairdresser of the Year talks to GIRL about celebrity styles, current hair trends and of course, his recent win.
---
GIRL: Congratulations on winning the Australian Hairdresser of the Year Award. Were you surprised when they announced you as winner?

Adam:
I tried not to think too much about the outcome, it saves disappointment. So winning was a very big surprise and the fulfillment of a career dream.
GIRL: What does being named Australian Hairdresser of the Year mean to you?

Adam:
Being named Australian Hairdresser of the Year is fantastic peer recognition for my work to date. It is also great inspiration for the future, giving me the momentum to continue to develop and define my personal style of hairdressing.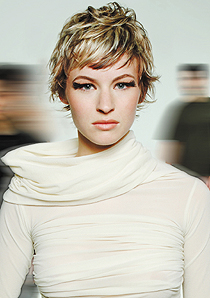 GIRL: What was it about your work that impressed the judges?

Adam:
My work is about beauty and simplicity, I hope this is what impressed the judges, also the photographs were very dynamic and exciting.
GIRL: How long have you been working in the hair industry?

Adam:
After three years at art school, I began a career in hairdressing. Since then almost twenty years have past in the blink of an eye.
GIRL: What is the most rewarding aspect of your job?

Adam:
Being with people is the most rewarding aspect of my job, from watching young hairdressers develop, to the smile on a clients face when they love their haircut.
GIRL: Which hairstyle is your favourite at the moment?

Adam:
The right haircut on the right face will always be my favourite. Fashion only indicates a feeling it does not dictate the final result.
GIRL: Which celebrity do you think has a "great" hairstyle?

Adam:
Cate Blanchett looks superb. Always a little edgy, yet completely feminine. A great ambassador of Australian style.
GIRL: Do you believe that the hair fashion industry deserves just as much recognition as the fashion industry?

Adam:
Hair generally follows fashion, that's how it will probably always be, yet the impact a good or bad haircut has on a persons psyche is much more dramatic than buying a piece of clothing that does not suit.
GIRL: What are some of the hair trends for 2002?

Adam:
Longer fringes, asymmetric (yet balanced) shapes and soft undercuts will be big news, with a trend towards straight hair already quite dominant.
- Annemarie Failla