Melbourne-based Aeora continues to establish herself as one of the most exciting new artists on Australian pop scene with the release of huge new dark, electronic-pop track "Freedom." Known for her ability to infuse her song-writing talents with her impressive producing capabilities, Aeora is always able to connect her music with her own journey of self-discovery, extending that experience to it's listener.

Accompanying the powerful vocals and extraordinary layered production, "Freedom," produced and mixed by Haxx, is all about navigating the often difficult dynamics between relationships and independence. Aeora draws on her own personal experiences of finding her own 'freedom' in amongst life's ever changing moments, and speaks of how "Freedom" came about from them.

"I was in this really open and freeing time of my life where I was meeting new people and really just living through my intuition. I met my now partner and suddenly that idea of freedom within me got messed around because now I had these very real feelings for someone, and those feelings could sway me in any direction.

The idea of freedom was very integral to how our relationship began. We started in an open relationship, and at the time it could be messy but as whole it really challenged my idea of relationships and my idea of freedom. Ultimately, I think freedom can be defined by our surroundings but I think a lot of it comes from within us. As so lyrically 'Freedom' is about all of this and then allowing myself the freedom to just be."

Aeora also teamed up with producer Haxx on the track, having worked together on several previous projects, their musical partnership falls into a perfect rhythm, creating an enthralling signature sound.

"I think that harmony between both our sounds always creates something slightly different to whatever genre we're influenced by - it's never truly pop, never truly electronic and never truly R&B. I really love how we manage to always make something a little different."

"Freedom" is the third release from Aeora this year, following the release of hard-hitting, dark-pop single "Breathe" and "Give It" earlier this year, which was her first release in two years.


Interview with Aeora
Question: How would you describe your music?

Aeora: I would describe my music as an expression of myself, my being and my soul. I mostly write my music very intuitively - I just let whatever come out and I make it work in a song. I'm constantly experimenting and constantly creating what comes to me and I don't like to question it or limit myself to genres or particular sounds that are popular at the time.


Question: Can you tell us about Freedom?

Aeora: I wrote Freedom early last year when I first started dating my now partner. For me, I was just getting into a new flow of being - transitioning quite a lot from another period of my life, and so I was really exploring my own sense of freedom as an individual. But then I had met him and I developed feelings for him in a way that felt like it really threatened my idea of being 'free'. The song also explores our relationship at that stage where we actually decided to be in an open relationship; something completely new to me, but something I think really helped me explore myself and this idea of being free within myself. Whilst also helping us grow and build our relationship to what it is now.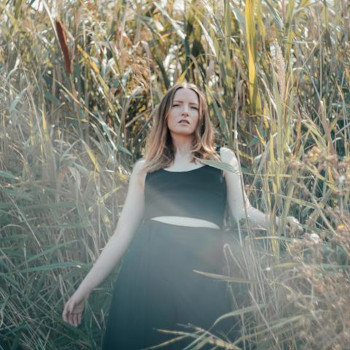 Question: Is there a particular message you hope listeners take from your music?

Aeora: I hope listeners can connect to my music in a way that can help them with their own stories, or their own feelings. Music connects us and brings us together - I think it shows us how similar we are and how we are not really all that different. I think that's always something that's really resonated with me.


Question: Do you prefer performing live or recording?

Aeora: Hmm! I don't think I have a preference. I love recording/being in the studio because it lets me be creative in such a freeing and explorative way. But performing live lets me share those creations and connect with others in such a real way. Plus it lets me explore my performance aspect of my personality, and that is always so invigorating and exciting for me.


Question: Can we expect a tour now that restrictions are lifting?

Aeora: I hope so, but to be honest that is just not where my mind is at right now. Living in Melbourne during this time was rough to say the least, but it did force me to focus hugely on making a lot of music and working out a solid plan for releasing music in the future, perhaps without touring. For me, and a lot of others I've spoken to, we're just excited to be able to do everyday things again - to see friends, family and to be able to go places again. So I think when that settles down a bit and I can see more of a stable working ground for performing then I can start thinking about it.
But for right now, there are plans for filming a live set soon.


Question: What or who was your inspiration to go into the music industry?

Aeora: I was always drawn to sing and write after listening to a lot of music as a child. I remember my first couple of artists I really loved was Kylie Minogue and Delta Goodrem. I loved music so much I had to find a way to be able to do it every day.


Question: You had a 2 year break from music, do you feel you came back stronger?

Aeora: I had a break from releasing my own music because I didn't really feel confident enough to keep going in the way I was. So I decided to go inwards, realign myself and just focus on making music and working on myself instead of putting it outwards. It helped me a lot to improve my skills in production, as well as my confidence in my abilities as an artist. I think I am definitely a lot stronger as an artist and as a person in general - my life and my perspective have improved significantly since then.


Question: Which music/artists are you currently listening to?

Aeora: I've been getting really into my yoga practice so a lot of the music I listen to has been apart of my practices. One of my favourites right now are 'Gidge' - they make some incredible electronic music that really takes you on a journey. I loved their Autumn Bells album, but their new one 'New Light' is equally amazing. Another favourite of mine recently is 'Omeria'. Some really amazing blends of sounds in his music.


Question: Tell us about working with Haxx?

Aeora: I love working with Haxx. I first met him when I asked him to work with me on my song 'Bossy' a few years back and from there we became close mates, so its extra special I've been able to continue working with him on so many tracks as we really have a great time. I think he's super talented and such a genuine human, and so I am super grateful to be able to create with him.


Question: What motivates you most when writing music?

Aeora: I'm not quite sure to be honest. I get a lot of ideas for songs from my feelings and my experience in life, but the actual motivation to write a song comes from seemingly nowhere; A little bubble sent to my mind. Or perhaps a space I access only in glimpses to piece together a song.


Question: What is the biggest challenge you have faced along the way to your musical success?

Aeora: I think the biggest challenge is my own doubts and negative self-talk to myself; essentially a lack of confidence. I think it takes constant work to keep ahead of it.


Question: What has been your favourite part of becoming a music artist?

Aeora: Creating something I can listen to and share to others is my favourite part. I'm in love with creating music, and that's all I'll ever want to do.


Question: What's a typical day like?

Aeora: Yoga, breakfast, get to the studio or work from my home studio, press some buttons on my computer in Logic, press some more buttons, maybe even a few keys on the piano, sing some words, write them down, eat some more food, relax at home with my partner, and then go to bed. There's usually a few bits and bobs in there too - I love to hang with my friends, and there's usually some dilly-dallying too.


Question: What's next, for you?

Aeora: I've got a lot of music to be released next year - all self produced. So I'll be working on getting those finished and working on some more music video's too. It's going to be a big year next year I think.


Question: Can you share your socials? (links please)

Aeora: Facebook
Instagram
Twitter
YouTube
Website


Interview by Gwen van Montfort