Muscleman Alvin starting restaurant
Celebrity chef and bodybuilding champion Alvin Koh is starting a restaurant in Sydney in an exchange of culture and goodwill between Australia and Singapore.
Alvin is a celebrity chef in Singapore where he has founded the Singapore Heritage Restaurant and he is internationally famous as a chef.
He has been an internationally famous bodybuilder since he won the Mr Asia title twice, in 1992 and 1993.
The Singapore Government supports Alvin's restaurant in Singapore and is supporting him in setting up a Singapore Heritage Restaurant in Sydney and similar restaurants which he will be starting in other capital cities of Australia.
He is choosing between several restaurant venues available for lease in the inner Sydney suburbs of Darlinghurst and Surry Hills.
Alvin says, "Food is a reflection of ones heritage and culture. Singapore Heritage Restaurant in Sydney will promote the cuisines and cultural heritage of Singapore in a deliciously eclectic manner.
"We will offer a menu of tasty, traditional and innovative meals featuring many of our own unique recipes; incorporating what is essentially the essence of Singaporean cooking. I call it neo Asian fusion cuisines.
"Our restaurant will be richly decorated with cultural ornaments and heritage artifacts. We will provide excellent service and sensual dining at reasonable prices," he says.
"It will be sensually Asian and a wonderful exchange of culture and goodwill between Australia and Singapore."
As a chef he has been endorsed more than 100 times over the last five years by Asian newspapers and magazines and radio and television stations and by the Singapore Heritage Board.
Channel News Asia has produced two half-hour documentaries praising Alvin Koh as a successful young entrepreneur and "chef icon". The first documentary was telecast to 17 countries across Asia in 2003 and the second was telecast to 22 countries that same year.
Alvin began his first business, a surveillance business, in 1996 when he was 23. He began a glamour makeover business the following year, engaging 27 makeup artists and eight photographers in his studio in Singapore.
He started the Porridge King Restaurant in Singapore in 2000 and became known as the bodybuilder chef.
He set up an international franchise of the Porridge King Restaurant in Jakata, Indonesia, in 2003.
The first restaurant became the Singapore Heritage Restaurant in 2004.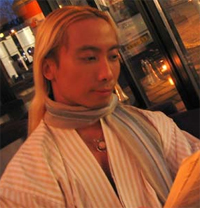 Alvin, who is 1.5 metres (4 foot 9 inches) tall, is the shortest man in history to win the Asian bodybuilding championship. He won this title when he was 20. He says, "I'm the tallest man under five foot ever to win the Mr Asia championship."
After training with Olympic weight lifting medalist Tan How Leong, Alvin won the Singapore Junior National Bodybuilding Championship in 1990 at the age of 17.
Alvin Koh, Founder, The Singapore Heritage Restaurant, No 46 Pagoda Street, The Chinatown Heritage Centre, Singapore 059205; phone 6562254024; restaurant's web site www.heritage-restaurant.com ; Alvin's personal site: www.chefalvin.com .