Makeup Bag Must-Haves
Napoleon Loose Eye Dust
# 34 ( Silver)
This eye shimmer can be used as an eyeliner when combined with "cake sealer" by Napoleon or as a shimmer for the eyes. This is a wonderful colour because it has tiny sparkles and can be worn as both a day or night look.
Dabbing it a little in the corner of the tops of the eyelids will brighten up tired eyes. Or try wearing it over the entire eyelid for a smouldering effect.
(Napoleon eye shadows and Loose Eye Dust can be found at Myer, Grace Bros & Napoleon Concept Stores.)
L'Oreal Paris Glass Shine Lip Gloss
(Pink Shimmer)
With a high impact shine and gloss finish, this gloss can be worn alone or added to your favourite lip colour to give dimension and shine.
Available in 12 high shine colours, it comes in a paint tube for easy application.
(L'Oreal products are available at most department stores.)
Best Beauty Buy
We all crave that healthy, glowing, sun-kissed look in the summer and what better and safer way to achieve this, than by getting it straight out of the bottle! Ditch the harmful UV rays and get your hands on a bottle of Garnier "Ambre Solaire" Express Spray Bronzer. This product gives you a tan and even glow in just one hour!
With its ultra tanning results and enriched with natural apricot extract, it smells heavenly and softens your skin too. It comes in a handy spritzer bottle so it's easy on the mess and on the nose! At just $10.95, it's affordable and great value.
(Available at most department stores)
Runway Looks
Achieve runway makeup looks in minutes. All it takes is a steady hand and a quick and easy application of your eye shadow. Here's how the makeup artists do it in minutes.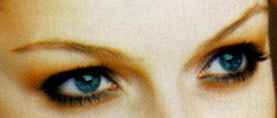 Smouldering Eyes in 5 minutes
A great way to define your eyes and compliment an outfit is to have "smouldering eyes" - a very sexy and dramatic style to make up your eyes.
Colours you'll need:
1. Beige/Bone shadow
2. Black/Grey eyeliner
3. Black/Grey eyeshadow
4. Gold or Silver shimmery eyeshadow
Use the Beige/Bone colour over the entire lid as a base for your eyes. This will also ensure your eye colour lasts longer.
Line the inner and outer rims of your eyes with eyeliner and smudge gently with a cotton bud to give eyes a sexy look. Don't over do it though as it can often end up looking too smudgy and messy.
Apply Black/Grey eyeshadow over the brow bone and blend, extending outwards towards the temples, but don't extend it too far out. Blend shadows well with fingertips.
Apply a Gold or Silver shimmer to the inner corner of the eyes.
Repeat this for the other eye and voila! You'll have sexy smouldering eyes in just 5 minutes!
-
Belinda Tartaglia