Beck Lomas Wear It Once Culture Interview
Social media is fuelling the rise of the 'wear it once' culture as new research reveals almost a third of Australian women (30%) wouldn't dare post a photo of themselves wearing the same outfit twice on social media.

A new study by Carousell has found that of these women the biggest motive is fear of being judged (29%). Another excuse for almost a fifth of females (15%) is wanting to boost their social following or impress a special someone.

It's even leading more than one in ten women (13%) to the extreme length of hiring or borrowing an outfit just to avoid social suicide.

Even wearing the same outfit to separate social occasions is a big fashion no-no for almost one in three Australian women (31%).

This 'wear it once' culture comes at a high cost as women are spending on average $10,920 every 12 months on new clothes – so for those being snapped in a new outfit each time this equates to $206 per picture.

It's an extremely expensive habit for almost a fifth of females (17%) who post a selfie at least 53 times a year.



Fashion influencer Beck Lomas said "Although social media offers great benefits, I do understand the pressure some women feel in having to constantly buy new clothes and be snapped in a new outfit each time. Before I started selling my clothes on Carousell it was costing me a fortune and leaving a pile of unwanted clothes in my closet. Now I've managed to profit thousands and keep ahead of the fashion trends.'"

This social craze is also causing huge wardrobe wastage as statistics show a quarter of Australian women have at least 20 unworn clothing items stacked in their closet, and almost a third (29%) do nothing with them.

Jamie Lee, Associate Country Manager, Carousell Australia said 'We believe that new clothes don't have to be brand new. Preloved items can help you achieve the styles you want, at a fraction of the price. You'll also feel good when you find a home for things you no longer need, and make some extra cash to spend on more meaningful experiences. We've seen some women pocket up to $10,000 from selling their clothes online so it's a great solution for those wanting to keep up with the social trends.''



Question: Are you surprised that 30% of Australian women avoid being snapped in the same outfit twice on social media?

Beck Lomas: No not at all, with how popular Instagram is these days and how consumed everyone is with it, it really doesn't surprise me. I feel pressured all the time to get photos in different outfits to keep up with whatever the latest trends are and I think most bloggers do as well.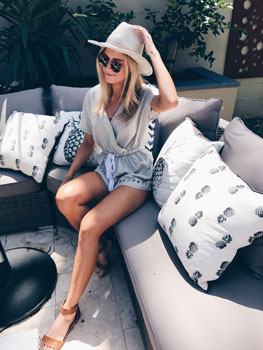 Question: Would you ever post photography evidence that you'd worn the same outfit, twice?

Beck Lomas: I would but I would definitely try to avoid it, if I could. I'll try not to repeat an outfit within the space of a few weeks so my Instagram seems fresh and versatile.


Question: Where would your repeat an outfit and where wouldn't you?

Beck Lomas: It's not often that I would repeat an entire outfit but I would repeat bits of it, for instance I might wear the same jacket or skirt a few times, but I try to avoid wearing the same outfit all together if I can.


Question: How much money, on average, do you spend on an outfit for an Instagram post?

Beck Lomas: Between $70-$100, but I don't necessarily buy outfits for Instagram posts, I'll buy a new outfit for an event or a night and out and make sure I snap a photo in it, to post.


Question: What have you sold on Carousell?

Beck Lomas: Everything I can; tonnes of clothes, shoes and everything that I have no use for, anymore. If I actively keep up with it I can make a fair chunk of extra money which is nice.


Question: What advice do you have for those of us who want to sell our clothes, on Carousell?

Beck Lomas: Photograph them well! Whatever you want to sell - iron it, put it on and take a photo of it against a white or clean backdrop if you can.

You want the outfit to look flattering; there's nothing worse than coming across a photo on Carousell of a crumpled old t-shirt sitting on a bed full of clutter.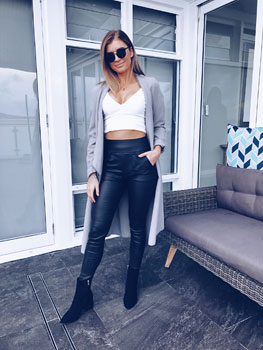 Question: What's currently your favourite Adidas item?

Beck Lomas: Anything from their Warpknit range; they are literally the most comfortable compressions I've ever put on my body.


Question: What are your top tips for posting the best Instagram photos?

Beck Lomas: I'm all about keeping things neutral lately, I prefer for my photos to be predominantly white or light in colour so they all blend in nicely together and it keeps my feed looking fresh and clean when people view it as a grid.

Anyone that has been following me for a little while now would notice a difference between the style of photos I post now to what I would post three months ago, I'm a lot more picky with what I post and I really love the vibe of my feed lately.


Question: Can you tell us about Lunar and Lace?

Beck Lomas: I'm really excited about Lunar and Lace! It's been in the works for a lot longer than I was originally planning but I'm making a lot of progress lately so I'm really excited!

I'm planning on launching on my birthday, next month and the whole idea behind it is that I'm going to be selling chokers, bralettes and other lacy intimates but they're going to be really affordable for everyone, because I think that's really important.


Interview by Brooke Hunter