Sophie Monk New Start In 2017 Interview
Forget the green juice, the best way to cleanse your life for the new year is by selling your pre-loved possessions. New research by Carousell, Australia's latest mobile classifieds marketplace, has revealed that a whopping 86% of Australians would sell their personal possessions to get a fresh start.

Electronics and mobile devices top the list of things to sell for a clean slate next year (71%). Preloved clothing is also a very popular choice for Australians, with 56% choosing to sell them in a bid to declutter and bank some extra cash.

From Heartbreak To Hard Cash
The research also identified a trend among Aussies who are selling possessions post-break up. An overwhelming majority (84%) of Aussies have no qualms selling items gifted to them by their ex, including jewellery, electronics and clothes - proving that Aussies may be broken hearted but not broke. Over 60% wouldn't hesitate to let go of nostalgic items after a relationship ends, with 7% going as far as selling their old love letters and photos - recycled poetry anyone?

Taking this to the next level, almost half (43%) of Australians would sell their ex's personal possessions after a breakup. Let's face it, sometimes break-ups can leave behind more than just heartbreak, so why not make the best of it?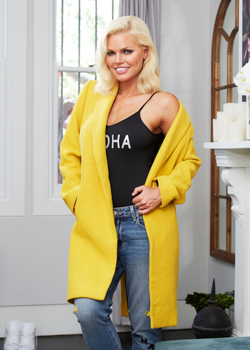 Sophie Monk's Facebook Live Carousell Sale
After an eventful 2016, blonde bombshell, radio and TV star Sophie Monk is partnering with Carousell to get a fresh start for next year, by finding a new home for some of her most prized possessions.

After going through some major life changes including buying her own house, Sophie is taking to Carousell to sell a range of items - like this eye-popping faux fur jacket that she'll be wearing in a series of nationwide advertisements coming out in the next fortnight.

Sophie confides, 'I have so many great memories attached to my favourite things, like this gold -S' necklace that I wore during a photoshoot with Kelly Osborne, and this stunning yellow jacket that I was snapped in quite a few times".

'I'd love to keep them all, but a new home and a new year means that it's time for me to make room for more adventures to come. I want them to go to someone who will love them as much as I do, and Carousell is the best place for me to find a new home for things I no longer need."

The special sale will be hosted by Sophie on Carousell's Facebook page via Facebook Live on Wednesday, 14 December, 2016. The proceeds from Sophie's Carousell sale will go to a charity close to her heart, Make-A-Wish.

Since its launch in Singapore in August 2012, Carousell has expanded into 7 countries and 19 cities in the Asia Pacific region, including Hong Kong, Taipei, Jakarta, and most recently Manila. The mobile classifieds marketplace has over 55 million listings and over 19 million items sold, with approximately 70 new listings added every minute. Carousellers are also avid fans of the many offline and online communities that have grown from the marketplace, with users spending approximately 17 min/day on the app - on par with global apps like Instagram.

Quek Siu Rui, Co-founder and CEO of Carousell shares, 'Carousell is an easy and popular way for Australians to declutter for a fresh start, giving them more time and space in their lives for more meaningful experiences. Major capital cities including Sydney, Melbourne, Brisbane, Adelaide and Perth have been early adopters of the app, and Carousell now has over one million listings in Australia."

To help Sophie get a fresh start, raise money for charity, and bag yourself some pre-loved goodness, download the Carousell app and simply chat to buy.

Facebook Live Details
Date/Time: 14 December, 2016, 3.00pm AEDT
Where: https://www.facebook.com/carousell.au - like Carousell on Facebook for updates

List of items for sale
Bright yellow Sportsgirl jacket
YSL light pink heels
Favourite thick gold necklace with 'S' on it
White silk dressing robe with 'MONK' across the back (used on shoot with Kelly Osborne)
Two-tone blue faux fur coat - furry, fun, bright and star of upcoming advert
Pink fluffy ball keyring given from her BFF
Scented unused Ecoya candle
Burgundy hat (Sophie loves wearing this but her stylist couldn't stand it!)
Gold necklace with pale pink teardrop gem pendant
Orange and speckled grey workout wear
Blue and white bold striped bikini

Singapore and has spread to 19 cities and 7 countries around the world. With over 55 million listings, we are one of the world's largest and fastest growing marketplaces. Carousell has been ranked as the top Shopping app in Singapore, Taiwan, Hong Kong, and Australia, and is backed by leading international Venture Capitalists Sequoia Capital, Rakuten Ventures, 500 Startups, Golden Gate Ventures, and QuestVC. In Australia, Carousell has a diverse range of products in 28 categories, including fashion, beauty, and lifestyle gadgets. Download the Carousell app from the App Store for iOS or the Google Play Store for Android, and visit www.carousell.com for more information.

15 December, 2016: Sophie Monk spent her birthday yesterday sharing stories behind some of her most treasured possessions for sale on Carousell, including designer heels and a gold necklace. Eager Australians tuned in via Facebook Live to watch the radio and TV star reveal hilarious anecdotes behind the range of pre-loved possessions she is selling on the mobile classifieds marketplace.
Interview with Sophie Monk
Question: How are you getting a fresh start to 2017?

Sophie Monk: My parents are moving in to a massive converted warehouse on my property so I need to spring clean out my house for their arrival.


Question: Why do you think you need a fresh start?

Sophie Monk: 2016 has been a huge year for me. I've focused on spending more time with my family, my friends and on my work. I'm also a homeowner now so I have to be a responsible grown up!


Question: What are you ditching to get a new start in 2017?

Sophie Monk: It's a bit of a mix really, but there are a few winter jackets, accessories, shoes, a bikini, a chunky gold necklace… they're all special but it's time to let them go.


Question: And, how will this support MakeAWish?

Sophie Monk: Every item I sell during the Facebook Live sale on Wednesday 14 December at 3pm AEDST (also my birthday!) will be going to my chosen charity, Make-A-Wish.


Question: What's Carousell?

Sophie Monk: Carousell is a mobile marketplace that gives people a chance to sell things they no longer need and there are so many categories to choose from including preloved fashion, home decor, collectables and even cars. It's so simple to use, all you need to do is snap a picture to sell an item and chat to buy.


Question: Why are you using Carousell?

Sophie Monk: Carousell is just so easy to use. I'm not very good at using technology and generally pretty time poor - all you need is a mobile phone with a camera and then you can snap, list, sell in just 30 seconds. I love that Carousell enables all of us to give our pre-loved possessions a new home and new life. It is such a pity throwing out an item that once held such special memories. Why not make some money while you're at it?


Question: Can you tell us about the items you're selling on Carousell?

Sophie Monk: I will be selling a pair of baby pink YSL heels that I bought on sale at Barneys… but they were too small for me! I will also be saying goodbye a gorgeous mustard-yellow Sportsgirl jacket that I loved this winter but I've been paparazzied in it twice now. Another great piece that I will be saying goodbye to is a heavy gold chain with a big -S', from a shoot I did recently with Kelly Osborne as well as a dressing robe with 'MONK" across the back, from the same shoot.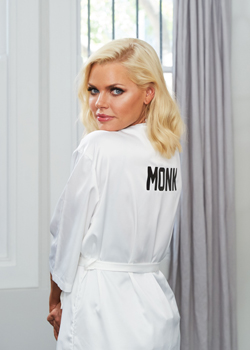 Question: What are your top tips for items to sell?

Sophie Monk: Clothes are number one for sure. Anyone can relate to the feeling of looking at your overflowing wardrobe yet having absolutely nothing to wear. If you're feeling bored of the same old t-shirts and jeans, find them a new home and reward yourself with something new or preloved that'll make you look on fire. As I recently bought a new home, furniture is also top of mind for me. Pre-loved furniture is trending now, so pop your items online. Someone will more than likely take them off your hands in a matter of days, freeing up space for your new look and giving you some extra cash for the weekend.

Finally, people love old items, and even new items that look old. Capitalise on this by selling the vintage camera you undoubtedly owned as a kid. Cameras are an item that has improved wildly over the years, but original designs still feature heavily and can fetch a pretty penny. 5-year-old you will be so proud of your entrepreneurial skills.


Question: How can we market items that reminds us of our ex?

Sophie Monk: All you need is a really great product description – no need to mention anything about your ex. It's therapeutic to sell something given to you from an ex and then use that money to buy yourself something new! To write a description that will make your products stand out from the crowd add lots of detail and be sure the name drop the brand if it's well known.


Question: What are your New Year's Resolutions?

Sophie Monk: I've given up on New Year's Resolutions. I just want to be happy and roll with everything that comes my way.


Question: What's next for you?

Sophie Monk: I'm filling in on Kiss FM Breakfast over the summer. It's so much fun, aside from the early starts! I've got a few fun projects in the pipeline for 2017, maybe a reality TV show, so stay tuned.


Interview by Brooke Hunter