Eight years ago, Bella Ferraro introduced herself to the world through her worldwide viral audition of Bon Iver's 'Skinny Love' on The X Factor Australia. After placing fourth and signing to Sony Music Australia, she released her singles 'Set Me On Fire' and 'Forgot You' which have collectively surpassed 4.3 million streams on Spotify. But after feeling lost in the world that she found herself in, she walked away feeling a mix of deflated and uninspired.

"Who is Bella Ferraro", she found herself deeply questioning. But, from embracing the rollercoaster of emotions of early adulthood, falling in love, heartbreak and experimenting with different sounds and musical projects, she eventually discovered who that person was.

Confidently returning to her artist name, and completely independent from any record labels, the Sydney born and now UK based singer-songwriter is ready to unveil this new chapter in her story.

'Her' is a bold and daring return that hears her channelling a sonic inspired by the likes of Tove Lo, Banks, Grimes, Lykke Li and Vera Blue. With pulsating synths, echoing vocals and trap inspired beats bringing you into this new sonical world she's built within her artistry, she immediately captivates the listener with her recognisable tone.

Reflecting on the uncertainty of a burgeoning relationship, this is the first time that Ferraro has publicly revealed that she proudly identifies as queer, as well as intimately details a relationship so candidly. 'Lyrically 'Her' explores the stark differences in how this relationship was approached. I was dreamy and imaginative, convinced that everything would be fine; and she was cautious and cynical, sure that everything would go wrong. Ultimately, while our perspectives were opposed, they were similarly unrealistic", she explains.

With a strong creative direction driving this new chapter, the accompanying single artwork, painted by Brisbane based artist Nat Popovski, represents who the ex-girlfriend was, as she would always wear that hat. Everything about these forthcoming releases is deliberate in allowing people to get to know her the way that she's gotten to know herself, but it also came together quite organically.

"The song itself came together very quickly. The melody came first, then the beat, and then once the music was finished I wrote the lyrics. I wrote the entire song by myself using Ableton, and then when I was happy with the production structure, I gave Ableton project to Zepha to polish up."

She wants people to really get to know the self discovery journey she has been on over the past eight years and wants to drive that vision with intent. 'Her' is only the beginning of the new music that Bella Ferraro will be releasing this year, and briefly touches on the cusp of the self revelations that she's had.

Prepare to travel high above the clouds from the moment you press play on 'Her'!
Interview with Bella Ferraro
Question: How would you describe your music?

Bella Ferraro: My music is bass-heavy alternative pop decorated with harmonic vocal layering and rhythmic drum patterns. I like contrasting fun, catchy hooks with lyrics of malaise.


Question: Can you tell us about Her?

Bella Ferraro: Her is about the early stages of a relationship that I was previously involved in. In the beginning, this relationship was fraught with detachment, strategic in keeping us both safe from emotional intimacy. I wrote Her about the differences in how this detachment was expressed.


Question: Is there a particular message you hope listeners take from your music?

Bella Ferraro: Not necessarily; sometimes I write music about particular feelings or experiences and sometimes I write music because I had a melody or chord progression stuck in my head. There's not often a particular message or theme that I am demonstrating. I just find the process of writing and producing a lot of fun and would hope that my music can be enjoyed by others in this way.


Question: You had a break from music, do you feel you came back stronger?

Bella Ferraro: Oh, absolutely. The "Bella Ferraro" of the X-Factor era was a much weaker persona; someone who had a lot to express but wasn't sure where or how to start. I'm very glad to have left the music industry during my early-adult years. Learning to produce music has been a wonderful creative outlet for me. I find it challenging and exciting and feel confident about the music it's allowing me to write.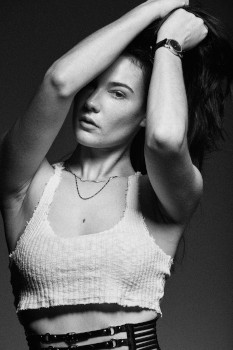 Question: How has COVID-19 influenced your music?

Bella Ferraro: For the most part, it hasn't. Restrictions and lockdowns obviously limit the ability to perform or collaborate but I see this as an opportunity for innovation rather than as a setback.


Question: If you could have anyone, in the world, attend a show, who would it be?

Bella Ferraro: Greta Thunberg.


Question: What motivates you most when writing music?

Bella Ferraro: If I hear a cool melody or bassline in my head, I'll happily spend hours trying to recreate it using Ableton. My ADHD medication helps me to finish projects too.


Question: Which music/artists are you currently listening to?

Bella Ferraro: I'm listening to Grimes, Jamiroquai, LCD Soundsystem, Caribou ... I love a lot of bands from the 80's too - Tears for Fears, Talking Heads, New Order.


Question: What or who was your inspiration to go into the music industry?

Bella Ferraro: My thirteen years as a member of the Australian Girls Choir certainly inspired me to pursue music. As a teenager, I used a program called Sibelius to write music for choirs. I'm sure my penchant for writing vocal harmonies to this day comes from my experience as a chorister.


Question: What is the biggest challenge you have faced along the way to your musical success?

Bella Ferraro: Something that will always pose a challenge to me is collaboration - I feel very uncomfortable sharing ideas and throwing out musical concepts. I can't stand 'jamming'. I'm too much of a control freak. However, my upcoming EP could not have existed without my friend/producer Zepha's work on my tracks and so I'm learning how to relax and enjoy the collaborative process.


Question: What's a typical day like?

Bella Ferraro: It really depends on whether or not I've taken my medication. On an off day, I'll be on the couch watching the Real Housewives of Beverly Hills and finishing my third bag of chips. When I take my medication, I'll clean the whole house, water my plants, and write a new song.


Question: What has been your favourite part of becoming a music artist?

Bella Ferraro: I just really enjoy writing music and seeing my skills in both songwriting and production develop.


Question: What's next, for you?

Bella Ferraro: 'm releasing a second single later this year and following that up with my debut EP.


Question: Can you share your socials? (links please)

Bella Ferraro: Facebook
Instagram
Twitter


Interview by Gwen van Montfort