Indie rockers BLOXX have revealed the third single from their forthcoming debut album Lie Out Loud... "Off My Mind" is a groovy melodic singalong that will be stuck in your head instantly, building into a huge stadium-esque chorus. Tastemakers around the world are already sitting up to take notice, with Annie Mac from the UK's BBC Radio 1 giving the track her coveted 'Hottest Record' spot.

Formed in West London in 2016, BLOXX consists of frontwoman Fee, bassist Paul, guitarist Taz and drummer Mozwin. This year, BLOXX are eager to continue their success with the release of their debut album Lie Out Loud. Working with prolific writers such as Jenn Decliveo (Hinds, Anne-Marie), James Dring (Jamie T, Loyle Carner), Larry Hibbit (Nothing But Thieves) and Luke Fitton (Sundara Karma), the band is looking to branch out and eke out a more pop-based sound.


Interview with Bloxx
Question: How would you describe your music?

Fee : I think our music is the same as the feeling of being at a festival in the height of summer but it starts raining a little. It's basically indie with big pop hooks!


Question: Can you tell us about Off My Mind?

Fee : Oh for sure! This songs about sex haha, I still can't play it to my grandparents without feeling a bit shifty. This was the first song I ever wrote with Jenn Decilveo, she's mad good isn't she?


Question: Is there a particular message you hope listeners take from your music?

Fee : I hope that people find our record quite relatable and are unapologetically themselves! The record is relatively relatable to most, It's light heartedly just the journey of a relationship and the ups and downs. I love singing about the people I love, you know? I hope to level with the whole world.


Question: How has COVID-19 influenced your music?

Fee : I'm writing more politically now than ever I think. I think you can hear how fed up I am with the world through some of these new tunes I'm writing. Or maybe I'm becoming a moaning adult. Maybe album 2 will be a bit more political haha.


Question: Which is your favourite song to perform live and why?

Fee : 'Go Out With You' because I put down the guitar and just go wild. (It's the one that makes me sweat the most too).


Question: Can we expect a tour once all restrictions are lifted?

Fee : Yes definitely, we can't wait to get back on the road!


Question: If you could have anyone, in the world, attend a show, who would it be?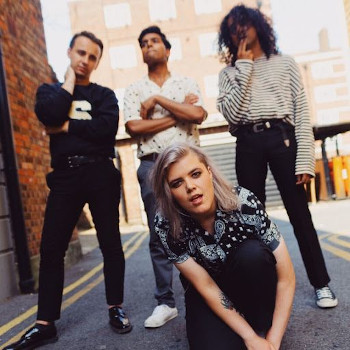 Fee : Dead - Jeff Buckley (cause what a legend).
Alive - Dominic Fike (also a legend that I'm really into right now).


Question: What is the story behind the band name?

Fee : Don't know if you guys have these things called Maoam's? Yeah they're like little chewy sweets and basically they have one called BLOXX, and we played shows with no name and we REALLY needed one to play this show one day, so we found some trash on the floor and one of those rappers presented itself as if something of a revelation, and it all became clear, that we're idiots with a dumb name.


Question: How did the band come together?

Fee : Me and Taz met in college with our previous drummer, and I met Paul at the pub, I was writing a lot of music and I wanted to play it live so I asked the boys to help me out, we played a couple shows and knew we wanted it.


Question: Who writes your music?

Fee : I wrote the record with a bunch of different friends/writers! I love collabing because you open yourself up to a world of ideas that you may not have had on your own! Most ideas I work on and then bring to people to finish them with me because sometimes the extra help to produce/write the final touches is all it needs!


Question: What is the biggest challenge you have faced along the way to your musical success?

Fee : Being told I'm "pretty good for a girl" - that one gets me a lot. Also being in the public eye, it's quite a difficult thing for someone who suffers with anxiety the way I do. I have a crippling anxiety that I'm always failing or going nowhere, it's really really irrational but you know, the mind is a complex simulation. I think in a way it makes things challenging because it's manifestation isn't it, it's easy to begin to fail due to constant manifestation.


Question: What's a typical day like?

Fee : I wake up, eat a cream cheese and ham bagel (EVERYDAY without fail) I do my cleaning and then watch friends and then I write/do PR/have a zoom meeting until I have to cook dinner. I LOVE cooking. I'm good at it, unlike most other forms of artistry.


Question: What has been your favourite part of becoming a music artist?

Fee : The freedom to sing about my problems and feel like I have a purpose. God knows what I'd be doing, maybe still working at a 'spoons. Although I do think I'd have less anxiety that way haha!


Question: What's next, for you?

Fee : I'm about to sign a publishing deal. I'm super excited because we've been dreaming of this career since we were kids and I think about how hard we've worked for it. I spent the last three years writing in different rooms and travelling up and down the country to put this record together and I hope that it's all been worth it! I know it has been worth it for us, but I just hope the world loves it!


Question: Can you share your socials? (links please)

Fee : Youtube
Facebook
Instagram
Twitter


Interview by Gwen van Montfort