BOI RELEASES DEBUT EP 'LOOK AT ME NOW'
Sydney-based pop artist BOI has released her debut EP 'Look At Me Now'.

The release comes on the back of her single "Sick of Loving You" being selected as a finalist in the International Songwriting Competition and another track "Beast and Beauty" recently hitting over 1 million streams on Spotify, only 5 months after its release back in November 2019.

The five-track EP features a mixed bag of successful singles that have been an enticing introduction to her forthcoming EP's title track 'Look At Me Now'.

Her sound is polished pop that packs a punch and serves up a plate of attitude along with it. Boldly and bravely she sources her scars, trespasses and experiences as her "library" to create and connect. With influences that range from Charli XCX, No Doubt, P!NK and Halsey, once again BOI is 'all up in your face with pop that grabs you' according to Triple J presenter Declan Byrne, stating that 'plenty of music might let you pass by, not BOI, she's got you by the scruff and letting it all out.'

In recent years she conquered stages of festivals like Splendour in the Grass as a feature vocalist for LDRU and has performed/worked with well known artists/ producer Alice Ivy, Super Cruel, Alex Lahey, TORA, The Chainsmokers, Godlands and Devin Abrams.

The sassy new single is also the title track to her debut EP "Look At Me Now".

Boi says about the new single today "The song came about after we (Liam Quinn and I) decided to break our session momentarily to go to a GIN Distillery round the corner from us for a refreshing drink. After a few hours and many drinks later, we were back in the studio and in my state of intoxication I channelled a strong, independent fiery woman and suddenly became this sassy, fierce, powerful boss bitch, channelling my inner Nicky Minaj and together we wrote the song in 4 hours. I love the cheekiness of the lyrics and the dirty, gritty production. I hope it encourages people to know that they don't need anyone else to make it happen, and that you are your own force, a weapon of greatness and reclaiming your inner warrior. In some ways it is also my way of sticking my middle finger up to anyone who ever said I wouldn't make it this far or thought I didn't have the guts to try."

BOI has been consistently ticking off personal milestones over the past 12 months – winning the Triple J Unearthed competition for This That Festival, being selected to play and perform at Groovin The Moo, Maitland 2020, hitting over a million streams on Spotify in 5 months and earning incredible support from DSP's - securing a collection of popular global playlists for all her previous singles.

BOI celebrated being Triple j Unearthed's #25 (out of 50) 'Most Liked Artist' voted by the public for 2019. Since releasing her first single 'Imaginary Boys' less than 12 months ago BOI has continued to deliver powerful pop bop bangers that have received overwhelming support from Triple J and commercial radio including The HIT Network.

BE BOLD, BE BRAVE, BE BOI.

EP Tracklisting:

Imaginary Boys
Sick Of Loving You
Beast and Beauty
Fairytale
Look At Me Now
Interview with BOI
Question: How would you describe your music?

BOI : Like a mixed bag of lollies, or sassy polished pop that packs a punch and serves up a plate of attitude along with it, or good music hopefully.


Question: Can you tell us about Look at me now?

BOI : The EP is a collection of various stories, emotions and 'tales' surrounding many of my relationships, experiences and lessons from my own life, but also a different take on the 'happily ever after' love stories and a tribute to reclaiming yourself even in the face of a broken heart.
The song 'Look At Me Now" was created after I'd spent some time writing and releasing many of the emotions and feelings I needed to at the time and was written after a few midday drinks and chance to really write and create something fun, bold, ballsy and powerful after I found myself in the studio channelling a strong, independent fiery woman and evolved into this sassy, fierce boss, channelling my inner Cardi B and together with producer Quinn we wrote the song in 4 hours. I love the cheekiness of the lyrics and the gritty production. I hope it encourages people to know that they don't need anyone else to make it happen, and that you are your own force, a weapon of greatness and reclaiming your inner warrior. In some ways it is also my way of sticking my middle finger up to anyone who ever said I wouldn't make it this far or thought I didn't have the guts to try.


Question: How does it feel to release your first EP?

BOI : Really great. I mean with all the recent changes to the environment, and social distancing, it felt really lovely to put something out for people to (hopefully) enjoy. It has all happened so fast and yet at the same time, I know I have worked for years and years to actually get to where I am now, writing music for myself as a solo artist and also for other artists also. I love narrative and storytelling and can't wait to be able to play it all live in the flesh and be amongst the magic.


Question: Is there a particular message you hope listeners take from your music?

BOI : Be Bold to say it how it is, be how you want to be, wear what you want and feel empowered or comforted by my music whenever someone needs either of those things. Above all, I hope listeners feel my music and not just hear it. I suppose packages up nicely into a nice quick message it would be - BE BOLD, BE BRAVE, BE BOI.


Question: Do you prefer performing live or recording?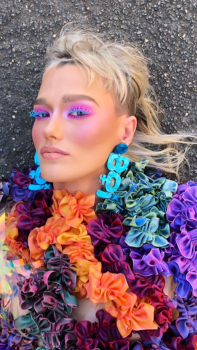 BOI : Live performing has always been something I have immersed myself into. I actually found my passion and voice for singing after attending a performing arts school for drama. I was highly passionate and involved in the drama, musical theatre community growing up and performed in shows every school holidays. So, I would have to say that nothing beats performing in front of raw live energy, faces, and bodies that are all in their own way, absorbing and experiencing your music. I love it when someone watching you is singing your lyrics back word for word and having an amazing experience. At the same time, creating and collaborating in the studio with other passionate like-minded individuals is a truly magical experience, from start to finish the day is enriched with creative energy, appreciation and love for each person in the room giving everything to make something to be shared. Recording can also be very tiring and requires more stamina to be able to last and deliver what is needed.


Question: If you could have anyone, in the world, attend a show, who would it be?

BOI : Ed Sheeran, so I could hopefully amaze him, meet the wizard in person, have fan moment, get a Polaroid picture and hopefully, in turn, be able to learn from him and work creatively and professionally together.


Question: Which music/artists are you currently listening to?

BOI : Chelsea Warner, Christine and the Queens, Jay Crooks, FKJ, Maddison Beer, UpSahl, BROCKHAMPTON, Lizzo. Just to name a few but honestly every day is a mixed bag of songs for me. Luck a lucky dip to my ears.


Question: What is the biggest challenge you have faced along the way to your musical success?

BOI : Sacrifice, learning from your mistakes, not giving up and feeling comfortable enough with in yourself to dare try and succeed as an independent female artist in a cut throat industry where there is no certain outcome or guarantee that all your hard work, sacrifice, discipline and determination will pay off and allow you to establish a serving career from it.


Question: What's a typical day like?

BOI : Again, it's another mixed bag of lollies. At the moment it's try and find a happy place every day in your time of isolation. I'm not as disciplined in daily routines as I'd like to be, very much a free spirit. But the usual routine is wake up, walk my dog Lola, head to studio to write some days and other days when I'm not in studio or writing, working on music and Boi, I enjoyed working with kids as a robotics master Lego builder in schools. There's a magic in the endless imagination within the youth and I myself love being able to immerse myself in that space of endless imagination.


Question: What has been your favourite part of becoming a music artist so far?

BOI : Simply put I'm mostly happiest about people are listening to and loving my music at all. For me music is an escape and creating it is the release, so I would have to say simultaneously getting to create something to share amongst and with the world, inspire or at least impact listeners all over the world, hearing such humbling love and appreciation from them whilst also for me personally being able to rejuvenate and heal my broken heart, mind and soul by writing and recording my emotions and memories and create songs to be shared by others who can (or can't) relate.


Question: What's next, for you?

BOI : Well, sadly there was a lot of touring, live shows and performances anticipated for this year that has sadly been cancelled due to the recent environment. So I am using this time to challenge myself to pick up a new skill I've always shied away from really giving a proper go due to how insanely overwhelming they are to begin. Producing is something I have never seriously given a go or have admittedly in the past, given up on trying when it got to hard or confusing. Maybe I might pick up dancing, or juggling, either way just trying to continue to create and write and challenge myself personally and professionally.


Question: Can you share your socials? (links please)

BOI : Instagram
Facebook


Interview by Gwen van Montfort