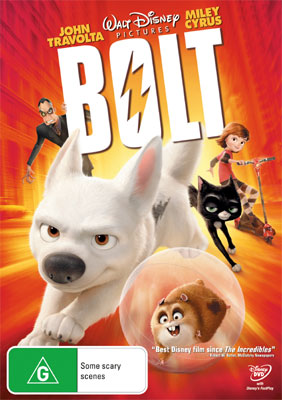 Bolt
Cast: John Travolta, Miley Cyrus, Susie Essman and Mark Walton.
Director: Byron Howard and Chris Williams
Genre: Family, Drama, Comedy, Kids.
Rated: G
Running Time: 92 minutes

What does a dog that thinks he has superpowers, a street wise alley cat and a star-struck hamster all have in common? A hilarious and heart warming journey across the USA when Bolt strikes on Disney DVD and 2-Disc Blu-ray Hi-Def Combo Pack, which includes Blu-ray Disc plus a DVD copy of the film in a single package, from 1 July 2009.

In this Academy Award nominated fish-out-of-water tale of bravery and courage, Bolt (voiced by John Travolta) is the crime fighting super-dog of mass television fame. To ensure the reality of his performance on the show, the producers have trained Bolt well. So well in fact that he believes he is capable of the amazing powers and achievements he displays on the show.

Following a particularly intense TV shooting schedule, Bolt escapes from the studio believing that his devoted owner and co-star Penny (voiced by Miley Cyrus) is still in danger, and through a series of circumstances, wakes up to find himself a long way from the safety of his Hollywood studio and lost in New York City!

Desperate to return to Penny's side, still believing he is the super dog, Bolt, and under impression that all cats are veil and somehow connected to the plot to hurt Penny, Bolt kidnaps a street-smart alley cat named Mittens (voiced by Susie Essman) to ensure justice prevails.

As they begin their quest Bolt, with Mittens in tow, soon encounters his number on fan- the energetic TV junkie hamster Rhino (voiced by Mark Walton) and the three unlikely companions embark on a journey of self-discovery across the USA.

As they near their final destination of Hollywood, the unlikely three create a powerful friendship that helps Bolt realise that the world is not as bad as he thought and together they learn the value of teamwork, friendship, and most of all, that you don't need superpowers to be a hero.

From the makers of Cars and The Incredible, Bolt is one of Disney's most sophisticated animated films to date using the amazing all new 'brush stroke' BG animation.

So Bolt to your favourite DVD retailer and don't miss this hilarious and heart-warming tale of the bond between dog and his owner in this hilarious Disney DVD release!

Special Features:
The Bolt DVD is also packed with hilarious special features including the never before seen bonus short Super Rhino, deleted scenes, interview and the music video I Thought I Had Lost You!

The Blu-ray Hi-Def edition of Bolt includes all the exciting bonus features on the DVD, plus the standard definition DVD, plus these exclusive to BD features:
Bolt's Be-Awesome Mission- In order to defeate the Green-Eyed Man, Bolt has to find his way through three challenging levels in an exciting interactive game. Viewers can join in collecting clues, conquering ninjas and unleashing the power of the Super Bark!
Bolt Art Gallery- Animation enthusiasts can check out the film's early creative concepts in the Bolt Art Gallery, which contains the building blocks of a big screen blockbuster, from storyboards to character mock-ups. Gallery sections include Visual Development, Character Development, Storyboard Art and Colour Script Images.

Review: A treasure, this original animation film, Bolt is full of adventure & brillilant cast voices that you can enjoy over and over.

Bolt is available on dvd now.