Camp Rock 2 The Final Jam
Cast: Demi Lovato, Joe Jonas, Matthew Mdot Finley, Nick Jonas, Kevin Jonas
Genre: Dance, Family
Rated: G

Premiering on Disney Channel 2 October, the wait is finally over - teen sensations the Jonas Brothers and Demi Lovato return for the biggest musical event of the year, Camp Rock 2: The Final Jam! And better yet - you get to experience the Extended Edition exclusive to Disney DVD and Bu Ray with the release of Camp Rock 2: The Final Jam Extended Edition, rocking out on 20 October 2010!

This jam-packed Extended Edition DVD offers fans more of Camp Rock than ever before featuring two new music scenes exclusive only to DVD, and a brand new Demi Lovato song! The show-stopping action continues with a "Rock-Along" bonus feature that allows viewers to take centre stage, and two exciting music sequences Walking in My Shoes and Different Summer. The Extended Edition Blu-ray includes exclusive bonus features so you can get up-close-and-personal with the newest stars, and features music videos from Camp Rockers Around The World.

Mitchie (Teen Choice Award winner Demi Lovato) is excited to be returning to Camp Rock so she and her rock star beau, Shane Gray (Joe Jonas), can spend their summer jamming up the music together with their friends. But when she arrives to discover the slick new state-of-the-art camp, Camp Star, across the lake, she fears that Camp Rock might lose its shine!

The Camp beats really start pumping when Camp Star's bright lights lure campers and instructors away, and when Camp Star's hotshot performers Luke (Matthew Mdot Finley) and Dana (CHLOE BRIDGES) challenge Camp Rock to a musical showdown - it's a music jam like never before!

Mitchie, Shane and Shane's band mates Nate and Jason (Nick and Kevin Jonas) must all pitch in to prepare everyone for the ultimate battle of the music camps! Will Camp Star's flashy production and over-the-top antics win the sensational battle of the bands, or will Camp Rockers prove that talent, teamwork, and spirit are what truly matter?

With more of the dancing, style and music you love, Camp Rock 2: The Final Jam Extended Edition on Disney DVD gets you closer to the movie, the stars and the music than ever before - a perfect movie for the whole family to enjoy!

Debuting at #3 on the US Billboard charts, there's more musical fun to be had with the Camp Rock 2: The Final Jam soundtrack! Demi Lovato and the multi-platinum-selling artists, the Jonas Brothers, are featured on the soundtrack of the summer, Camp Rock 2: The Final Jam, set to rock into stores 17 September 2010! With 15 all-new songs from the movie, including three bonus songs Camp Rock 2: The Final Jam is a full out rock 'n roll musical that celebrates music, dance and the freedom of summer.

Special Features:
Two exclusive never-before-seen scenes and a new Demi Lovato Song.

Review: It's camp time again and Shane Gray (Joe Jonas) is looking forward to reconnecting with Mitchie (Demi Lovato), but when the camp comes under threat from a new rival Camp Star there is little time for them. With so much at stake Mitchie takes charge to win the contest, but can she learn to relax and have fun the Camp Rock way before the summer is over. A continuation of Camp Rock, with all 3 Jonas Brothers taking active and funny roles.

Camp Rock 2 The Final Jam

Buy Now from Fishpond
Buy Now from Treet

WebFlicks - Free Month Rental Trial
Bigpond Movies - Free Month Rental Trial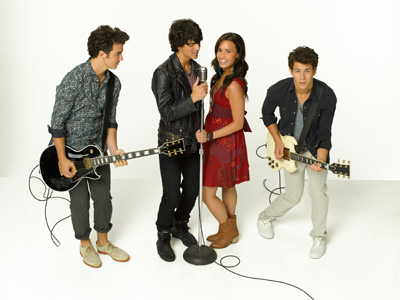 Camp Rock 2 The Final Jam Interview with Demi Lovato, Joe Jonas, Nick Jonas and Kevin Jonas
Question: What do you like to do when you are just hanging out on set?

Nick Jonas: My favorite thing to do while I'm not working on set is throw the baseball around, big baseball fan. I was able to make it up to a couple of Blue Jays games against the Yankees while they were in Toronto and it's great. Football too, anything sports, pretty much perfect for me.

Joe Jonas: I actually sometimes workout. I have a little gym setup in my trailer for when I have big breaks. And I like hanging by the lake, hanging with people and playing ping?pong. The cast is really cool and we've been friends with most of them for two years now. So, you're able to hangout and really quickly reconnect and catch up.

Demi Lovato: There's been times where I'll try and sneak a nap in or two but there's also times where we've really bonded with the backup dancers in this movie and the cast. Last night I had a day off and I spent it with the backup dancers because I love them to death and of course some of the girls from the cast. We'll start chit chatting or learning dances or going over dances.


Question: I know that the first time you guys shot, there was the mosquito issue - there were a lot of bugs. Was there anything going on during this movie?

Nick Jonas: Last time there were a bunch of mosquitoes, a lot of red ants too so you had to be careful. This one, just bees, they're everywhere. No one's gotten stung yet, but they just fly around and kind of tease you!


Question: Are there any funny moments that have happened yet?

Nick Jonas: I'm actually supposed to fall into the water in one of the scenes, but I didn't do this one on purpose. I'm getting into the boat and I'm just supposed to be able to just push right out into the water, but it didn't work out so well, the boat flipped over. I was able to save my upper half, but everything from here down got drenched. So it was pretty wet, but it's all good. We're outside, it's nature, it's okay.


Question: This set is very green. Between the recycling and the buildings that are going to be donated to Habitat for Humanity.

Kevin Jonas: Yeah, we try to make it a very green place, you know, all of us try to be as eco-friendly as possible when filming a movie because you can use so much power and so many lights and so many different things that we really wanted to take those extra steps. Everybody got their own water bottles instead of carrying around plastic ones and different things like that. It's just all the little things that could help and so we were really trying to make a huge step forward with that.


Question: There were definitely some challenges I think in terms of weather?

Demi Lovato: There were definitely challenges with the weather and shooting outside. For instance, during the day we'd be burning up but at night it'd be freezing cold. I mean I have to wear a sundress and so here I am outside in a sundress and all of a sudden I look up and there are snow flurries falling down and it starts snowing. I was that cold and it was crazy.


Question: You definitely could see that there was a nice energy between the four of you. It was really nice.

Demi Lovato: I think you can see the energy between us because we met on the first set of Camp Rock, but from that movie to this movie we've gone through so much together and we've done so much together. We've toured the world. We've started TV shows and we now live in LA. Nick and I graduated together. I get to hang out with them outside of work and it's just really great so I definitely feel like you can tell that we're comfortable with each other because they're probably three people in my life that know me better than anybody else.


Question: Do you wish there was a camp like this when you were growing up?

Nick Jonas: Definitely wish there was a camp like this when I was growing up. I would just say they should make Camp Rocks across the country because I bet you it would fly. It would be pretty amazing. That's my idea but remember that I came up with it.

Kevin Jonas: I grew up going to camp every year. I loved it. Camp was my favorite place, every year I looked forward to it. Go away for the full week and really enjoy it. I never went to a full, sleep away camp though, like, where you stayed for the entire summer, but I imagine that would be fun.