Don Hahn and Dave Bossert Fantasia Interview
To celebrate the releases of Fantasia, Walt Disney's Musical and timeless masterpiece, and Fantasia 2000, the contemporary classic inspired by it, we spoke with Disney producing legend Don Hahn and Dave Bossert, Creative Director and Head of Special Projects responsible for the digital restoration of this beloved masterpiece.

David A. Bossert received a B.F.A. in Character Animation from CalArts' School of Film/Video in 1983. Mr. Bossert has been with the Walt Disney Company for more than 27 years. He has served as a Producer, Director, Associate Producer, Artistic Coordinator, Visual Effects Supervisor and Effects Animator on various films and is currently serving as the Creative Director & Head of Special Projects at Walt Disney Animation Studios.

His film work includes The Little Mermaid, Beauty and the Beast, Aladdin, Lion King, Pocahontas, Who Framed Roger Rabbit, Tim Burton's Nightmare Before Christmas, Hercules, Fantasia 2000 and the Academy Award-nominated shorts Runaway Brain, Destino and Lorenzo.

Dave is currently overseeing numerous projects for various divisions of The Walt Disney Company including handling all the Disney animation projection assets for the recently opened World of Color at Disney's California Adventure Park at the Disneyland Resort. To date he and his team have delivered more than 120,000 digital images to the World of Color show including newly created animation and art never before seen.

David is also serving as the Artistic Supervisor for the restoration and preservation efforts on many of the Disney animated classics including the restored features Bambi, Cinderella, Peter Pan, Jungle Book, Lady and The Tramp, The Little Mermaid, Sleeping Beauty, Pinocchio, Dumbo, Snow White, Beauty and the Beast and the recently completed Fantasia.

Don Hahn produced the Disney classic Beauty and the Beast, the first animated film to receive a Best Picture Oscar® nomination from the Academy of Motion Picture Arts & Sciences, and to win a Golden Globe® for Best Picture. His next film, The Lion King, broke box office records all over the world to become the top-grossing traditionally animated film in Disney history and a long-running blockbuster Broadway musical. Hahn also served as associate producer on the landmark motion picture Who Framed Roger Rabbit (with Amblin' Entertainment). His other films include The Hunchback of Notre Dame, Atlantis: The Lost Empire and the 2006 short, The Little Matchgirl, which earned Hahn his second Oscar® nomination.

Don made his directorial debut on Waking Sleeping Beauty, a documentary that chronicles the perfect storm of people and circumstances that led to Disney's animation renaissance in the 1980s and '90s. The film played to rave reviews at film festivals in Telluride, Toronto, and the Hamptons, where it won the audience award for best documentary. It was released theatrically in New York, Los Angeles, Chicago and San Francisco in March 2010.

Don's second documentary, Hand Held, was a personal undertaking and was in the making for several years. The feature length documentary chronicles the story of Boston Globe photographer Mike Carroll, from his horrific discovery of pediatric AIDS in Romanian orphanages to his subsequent 20-year odyssey, fighting against stultifying bureaucracy to bring aid to forgotten children half way around the world.

He is currently developing the stop-motion animated feature Frankenweenie with director Tim Burton, and directing and producing several documentary projects. Hahn has also authored three books on the art of animation, including the 2008 book, The Alchemy of Animation, which provides the definitive account of how animated films are created in the modern age.

Don was born in Chicago and studied as a music and art major at Cal State Northridge.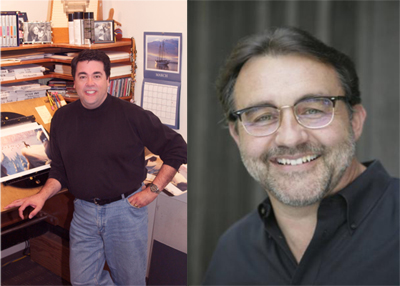 Interview with Don Hahn and Dave Bossert
Question: How did the process of Fantasia 2000 begin?

Don Hahn: It began somewhere around 1990. There was a huge boom-time for home VHS cassette sales and the company was running through all the titles and they got to the classic titles of Snow White and Fantasia. Walt Disney said "I don't think they should go out on small screens and if they do I would like something in return". He was able to say that in return he would like to make a new Fantasia; Fantasia was released on VHS but a new one was made too, to fill the library up again so the library is not depleted of this wonderful classic. The idea really came from Walt Disney.


Question: How long did the restoration process take on Fantasia?

Don Hahn: The Fantasia 2000 process took about ten years. In terms of the existing movie, Dave Bossert is more qualified to talk about it, than I am.

Dave Bossert: The original Fantasia was in production for about four or five years and as Don mentioned the Fantasia 2000 from it's initial inception to the time it was finished was probably ten years.

Don Hahn: For the restoration we went back to the original camera negative, we took the actual film that was in the camera, when they shot it back in 1939-1940 and scanned it into computers and did some amazing new things, to restore it. We took the grain out of it, took the scratches from the film and turned it into what you see on the Blu-ray disc.

Dave Bossert: One of our guiding principles was to go back to the original artistic intent that was on the classic films during the restoration. With Fantasia, when we were looking at it, there were things that were photographed in such as dust, dirt, scratches, fingerprints and all types of anonymities that were inherent in the technology process that they had in 1940 as apposed to today. We were able to go back in and remove all of those unwanted items.


Question: What was the most difficult aspect of the restoration? Was it the sound or the picture?

Dave Bossert: The interesting thing with Fantasia was that it was the most challenging restoration of all of the animated classics that we had done. The reason for that was that each sequence was such a different animation style and there were different processes used to achieve certain affects on each of the sequences. Some of them were more difficult than others and each one was unique to itself. There was some software that needed to be developed in order for us to complete the restoration.


Question: What was your favourite part of working on Fantasia 2000?

Dave Bossert: Oh! I have to tell you that one of the most memorable parts of Fantasia 2000 was actually the interstitial portions which Don Hahn had directed.

Don Hahn: Thank you.

Dave Bossert: We had a lot of fun, on a big sound stage. It was shot when we had most of the film, completed.

Don Hahn: We were able to travel round and shoot people like Steve Martin, Itzhak Perlman, James Earl Jones, Angela Lansbury and all the cast that introduces the film, they were all fans and they wanted to be apart of it- that was a real treat.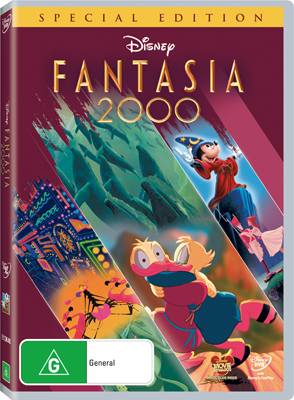 Question: Do you think of Fantasia 2000 as a sequel or a continuation of Fantasia?

Dave Bossert: I view it as more of a continuation of what Walt Disney had originally conceived for Fantasia which was an ever-evolving movie. Because they hadn't added any new sequences in 50 years, to me we caught up by creating six or seven new sequences. They kind of represent one for each decade that had past.


Question: How did working on Fantasia differ from your other projects?

Don Hahn: With Fantasia you are making a series of short films and Fantasia 2000 took so long and you are involved with it for on and off. Dave Bossert was involved for five years. I was involved, at the very end. Making Fantasia 2000 is almost like making a mini film festival, each film has it's own style, it's own director and you are stitching those together into a film festival that you will go watch as if it were a concert. That was what made it really different compared to a typical movie like Tangled or Beauty and the Beast were you are sitting down trying to work out character motivations, a plot and a three-act structure; Fantasia has none of that.


Question: What creative input did you have on the restoration process?

Dave Bossert: As far as the restoration process is concerned, to me it is about guiding the artistic intent of the original filmmakers. You had to leave your own creative juices at the door, or so to speak, because what I felt like was doing was coming and removing the layers of dust and dirt that had built up on a beautiful fresco. You don't want to change what the original artists have done but what you want to do is put on your gloves and gently care for it to bring it back to the way it was when they created it. You don't want to change it or say 'geez I would have done it this way, or change that' - you don't want to do any of that. You want to be completely respectful of this masterpiece of art , that was created by these phenomenal artists, 70 years ago, and you want to pay respect and homage to that beautiful piece of art and present it to an audience who has never seen it before, in some cases.


Question: How did you originally become involved in animation?

Don Hahn: I was actually a music major in school so I came from a music side, I drew also but I got into it from, back in the 70's, working in production as an assistant director . I also did a little bit of animation and cleanup work, which is the final drawings you see on the screen - I saw early on that I was not going to be a brilliant animator and I got more into producing. I have been producing films for about 20 years now.

Dave Bossert: For me I actually came to it from an adverting/art side of the world, I was actually an artist and I veered into animation in a little bit of a round-about way.

Don Hahn: Dave Bossert also went to CalArts which is the great Walt Disney founded school in California; he went there with people such as John Lasseter, Brad Bird and Tim Burton.


Interview by Brooke Hunter