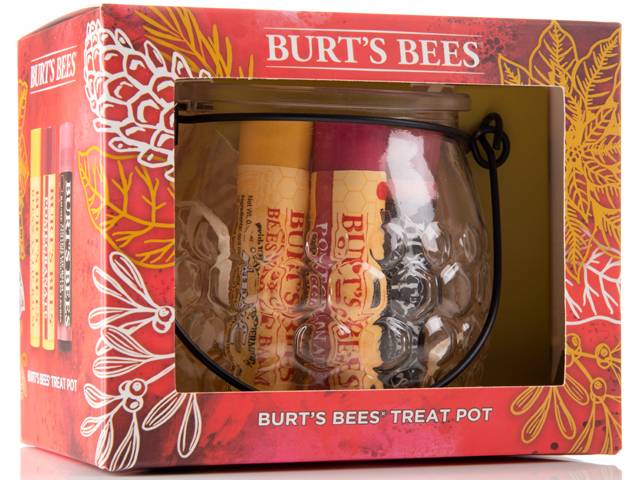 Introducing the New, Natural and Minimal Waste Beauty Gift Options This Season

Burt's Bees understands the power of a gift. Christmas is a time to celebrate, relax, and pamper our loved ones with presents that are good for us and good for our planet.

With the holiday season now in our sights"Burt's Bees is committed to giving consumers a variety of feel good products with added value and purpose, at an affordable price for stocking stuffers and year round use.

This year's selection of fan favourites are environmentally friendly"with secondary use, recycled packaging materials, soy based sustainable inks, as well as no plastic magnets and polyester.

Our natural and minimal waste product offering is >95% natural origin, and formulated without parabens, phthalates, SLS, petrolatum, talc, synthetic fragrances or silicones, with no animal testing.

Just like everything else in our range"our Christmas gifting is responsibly sourced, sustainably made and naturally moisturising. Burt's Bees has created beautiful gift sets that not only embody our brand beliefs, but also deliver a low environmental impact to benefit the people, the bees and the planet.

Nourishing Lip Collection"Pomegranate & Vanilla Bean
Discover our time-tested Classics inside a collectable, keepsake candle holder.
Assortments include:
• Pomegranate Lip Balm & Mini Lemon Butter Cuticle Cream
• Vanilla Bean Lip Balm & Mini Lemon Butter Cuticle Cream
RRP: $9.99
Retailer: Priceline Exclusive

Honeypot" Lip Care Favourites
Rediscover our best-selling gift set containing lip care and colour favourites, all wrapped up in a reusable honey pot.
Assortment includes:
• Beeswax Lip Balm, Pomegranate Lip Balm & Tinted Lip Balm"Hibiscus Shade
RRP: $14.99
Retailer: Priceline Exclusive.

Hive's Favourite"Beeswax Gift
Perfect as a fun stocking stuffer, give the gift of gorgeous lips with this beautifully packaged Christmas gift set. These 100% natural products are sure to please someone special this Christmas season.
Assortment includes:
• Beeswax Lip Balm & Mini Milk & Honey Body Lotion
RRP: $9.99
Retailers: David Jones and Independent Pharmacy.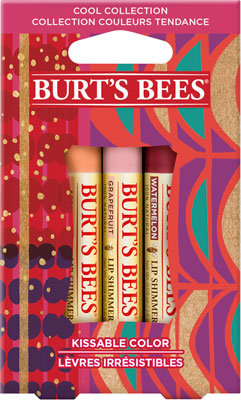 Kissable Colour"Cool Collection
Great stocking stuffer with beautiful shimmering colours for the Summer & Christmas season!
Assortment includes:
• Apricot, Grapefruit & Watermelon Lip Shimmers
RRP: $14.99
Retailer: David Jones and Independent Pharmacy.

Bounty Assorted Lip Collection
All of your lip balm favourites in one collectable box. Perfect for the summer season!
Assortment includes:
• Beeswax, Vanilla Bea, Coconut & Pear, Cucumber & Mint Lip Balms
RRP: $19.99
Retailer: David Jones and Independent pharmacies.

Burt's Bees® has been offering distinctive earth-friendly, natural health and beauty care products for 30 years. From a beekeeper's backyard in Maine to the leading edge of natural, Burt's Bees knows natural body care solutions from head-to-toe and operates with The Greater Good™ top of mind. No parabens, phthalates, petrolatum or SLS and no animal testing. To find out more, please visit www.burtsbees.com.au #burtsbeesaus @burtsbeesaus