Cali Lights Interview
The rising, stylish and heartbreaking Cali Lights has worked with top Pop producers including Roy "Royalty" Hamilton (Britney Spears, Keri Hilson etc) ... but don't get her wrong she's not all bubble gum and smiles as she's also got some serious edge having recorded with Richie from the Ramones for an upcoming single.

Having spent her teenage years in Hollywood, Cali quickly caught the attention of Capitol Records and other majors, which has brought her to working with different producers on the hunt to find her sound.

The Canadian soon found herself songwriting for herself and pitching songs to other top recording artists such as Ke$ha, Rihanna, Britney Spears, Lorde and many more with the Stars & Jacks writing/production project in Toronto. Roaming around the Hollywood Hills, causing trouble, has made growing up in the city crazier than that cat lady next door - the best life experience for Top 40 material. Cali Lights is now excited to get her music out to the public, to get on stage and get some songs placed with some of her favourite artists.

EP: Night Surfing
Available on ITunes: June 8th 2014
@imCaliLights
Instagram: CALILIGHTSPLEASE
Soundcloud/calilightsmusic
www.calilightsmusic.com



Interview with Cali Lights
Question: How would you describe your first EP?

Cali Lights: It's got the hooky commercial tracks, but it definitely has a darker, electric feeling to it. I don't think it's human to have an album with songs that don't take you into different worlds. I grew up in L.A so it was important to mix things up a bit, it's not just standard pop - it's Bratty pop with some hip hop drums, dreamy synths, and unique ambient sounds.


Question: What is the main inspiration behind this EP?

Cali Lights: Night Surfing - I felt really inspired by the colours, and the neon surfboards lighting up the waves. It just seemed to make sense to name it after this wild, unknown world. I feel like there's always been these two sides of me, the city and beach girl which has affected my mixture of sounds.


Question: Why did you want to work with Ed Clayton on this EP?

Cali Lights: Ed Clayton is young and new to the producing scene, being from the UK his influences and sound made the collaboration really unique. He has worked before as a recording engineer in London with artists such as Imagine Dragons and One Direction etc. What I love about working with Ed, compared to many producers I have worked with is that he really pushed me to try new things vocally and rhythm wise. It's teamwork, I love song writing but being able to actually have some input on the production was fun and the major difference I think compared to previous projects. We made all of the songs on the EP together.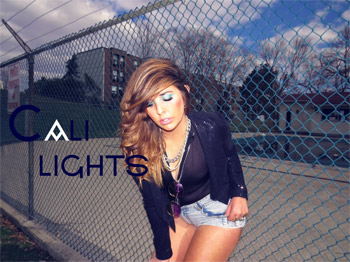 Question: How did spending your teenager years in Hollywood help prepare you for a career in the music industry?

Cali Lights: It was the best thing, I got to see people truly succeed, and then people almost succeed and mess it all up in just a few months. I know what to expect, but I also think it was good for me to experience life in other different cities; it makes you realise what is important and what real life is about. Hollywood can be such a great place, anything is possible and everyone is allowed to dream there.


Question: Did you have any pre-conceived ideas about the music industry?

Cali Lights: Yeah for sure, but I think it's best to make your own judgments.


Question: Do you write your own songs? What's your inspiration?

Cali Lights: Yes I do, I've been writing for a while now for myself, I am also recording now to pitch songs to other Top 40 artists. It's fun for me to write songs I wouldn't do myself, I get to act as so many different other artists when singing the demo! When it comes to this new EP though it was co-written with my producer. My inspiration comes from everyday life and my imagination.


Question: What music/artists do you listen to when you are not playing your own?

Cali Lights: Many different artists from Rihanna, Bonobo, Drake and Journey. Loving a bit of Chromeo lately too - they're also from Montreal originally.


Question: Was there a moment you contemplated throwing in the towel?

Cali Lights: Oh yes, but as much as I say that I never actually did! It's always been what I do, and I don't know really how I could learn not to. I've tried a few times to give up, but it hasn't worked very well as you can see!


Question: Do you prefer performing live or recording?

Cali Lights: That's a difficult one! Having spent more time recording as an artist, for me it's the place where everything starts, it's where I create but performing is ultimately where people get to understand and connect to you and the songs. At the end of the day I'd say performing - because how awesome is it to see people there to have a good time with you?!


Question: What/who was your inspiration to go into the music industry?

Cali Lights: Well I was born in the 90's so basically every pop artist/group from this time inspired me. I used to rollerblade around my house when I was little and sing along to Britney Spears etc. It was some interesting years in music for sure, but it's not until a bit later on that I started listening to a range of different artists.


Question: What is the biggest challenge you have faced along the way to your musical success?

Cali Lights: Myself, you need to get out of your own way sometimes, to stop putting all these restrictions and boundaries on yourself and to try get out of your comfort zone. Being brave can be hard but you will learn much faster and become stronger.


Question: What's a typical day like?

Cali Lights: I start my day with coffee and try to work out or swim as often as possible! I have to get energised and release stress, before I start song writing or recording. I rarely spend a day without writing or recording, whether it's material for myself or others. I feel very weird when I don't do music, it sounds silly but it's actually like going without sleeping, impossible not to!


Question: What has been your favourite part of becoming a music artist?

Cali Lights: I feel like the places I've been to and the people I got to meet along the way has been my favourite part. There's something amazing about feeling like you can be your own self as an artist and having people actually like what you do.


Question: If you could collaborate with another artist, who would it be?

Cali Lights: I think simply because she's been an icon growing up - Britney Spears, but I would love to work with so many different artists. Being currently in Toronto it'd be great to do a song with Drake - "Hold On We're Going Home" is a tune! Oh and Rihanna, she's a legend with so many hits!



60 Second Quiz
Full Name: Cali Lights
Nickname(s): Calibou, Coconut
Star Sign: Leo
Favourite Food: Cookies
Favourite Film: The Lion King
Favourite Actor: Leonardo DiCaprio
Pet: Dolphin, I wish!
Person You Would Most Like to Meet: Simon Cowell
Hobbies/Interests: Photography, Swimming, Hiking, Vintage clothes
First Job: In a hotel restaurant
Are you a Pub, Bar or Club kind: I like lounges, more chill
What Can You Never Leave Home Without: My Phone
What is the first thing you think of when you wake up in the morning: Maan where's my coffee

Interview by Brooke Hunter