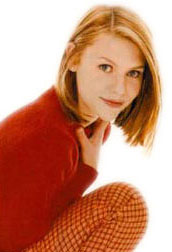 THE VIRGIN, THE WHORE AND CLAIRE DANES
As a teenage star, Claire Danes excelled at playing the nice girl, a label she has grown accustomed to. Now at 24, Danes is all grown up and ready to embrace Hollywood as an adult. And in her first major adult role starring opposite Arnold Schwarzenegger in the much-hyped Terminator 3: Rise of the Machines, Danes is back --- as a good girl but doing so with a sense of humour and down-to-earth perspective, as PAUL FISCHER discovered.

In the new Hollywood blockbuster Terminator 3, there are two women battling it out for earth's survival. In the one corner, there's the voluptuous and naked Terminatrix [Kristana Loken], and in the other, vet and innocent Kate Brewster, played by a, well, sweet and innocent Claire Danes. Now 24, the actress has a self-mocking attitude about her screen persona and how it has come full circle with T3. "Yeah, the virgin and the whore once again, because you know, my character is pretty admirable," Danes says, laughingly. We're sitting in a large office space in a downtown Los Angeles studio, where parts of T3 were shot. The actress is in a good mood, given that she had just flown in from London mid-way from shooting another film. Asked if she would prefer being 'the whore', Danes smiles. "Not really. I mean it's silly that we isolate these two personas, because I think women are much more integrated than we are acknowledged for being. I don't like or enjoy being exploited."

Though also seen briefly as Meryl Streep's daughter in The Hours and recently in the acclaimed Igby Goes Down, it seems that the far more mainstream T3 is being perceived as her comeback film. But Danes says that comeback or not, that played no part in her decision to do this mother of all blockbusters. "I had made three quite sensitive, progressive, experimental movies that were on a smaller scale so I suppose I felt prepared to blow some stuff up, literally and figuratively," she says, laughingly. "My decision wasn't THAT impulsive. I have a lot of reverence for the first two Terminator movies which I think are really sophisticated, innovative and fun, and I was an admirer of Jonathon Mostow' s work, so I trusted that he would not embarrass us with this." Of course, she hastens to add, "There's something really thrilling about knowing lots of people are going to see me scream for hours." But Danes didn't have much time to give the whole thing a lot of thought.

Though Danes had met with director Mostow months before, he ended up casting another actress, who was fired after a week of work, because Mostow felt she was too young for the role. While the production was scrambling for a replacement, Danes was returning to Los Angeles from Australia, where she had been travelling with her boyfriend, musician Ben Lee. "I just happened to arrive in LA the same afternoon that my agent called me in a panic saying that there is a crisis on the Terminator set, they need to recast the role of Kate Brewster and they would like you to step in immediately. I was so jet lagged and disoriented that I just said yes." Danes said she had no time to think of what it's like going from small, more literary projects such as The Hours, to a gargantuan, adrenalin-charged actioner such as T3. "My character was kidnapped by the Terminator and I was kidnapped by the Terminator production," she says laughingly. "I was just hurled into this alternate reality just had to rally, cope, make some sense of it and use it, as we actresses say."

That she did, screaming on cue but then shooting machines with the best of 'em in this third instalment of the Terminator franchise. Danes describes Kate Brewster as "assertive, authoritative and responsible," the perfect role model for the millions of teenage fans that have followed Claire's career, since TV's My So-Called Life catapulted her into adolescent fame in 1994. As she looks back at her youthful career, she admits that "I'm only realizing now that I was a child actress because I always took myself so seriously." She admits that still does, to a degree. "It's just part of my charm," she says smilingly. "I think because I am as earnest as I am, people were accepting of my evolving into a certified, legitimate, and grown up and I did take three years off. When I was 18 I went to college for two years and didn't work for a year which was essential for me, because my identity had been so influenced by my being an actor and I think I just needed to discover what it was to be myself, divorced from all that responsibility. So I wanted to make sure that I wasn't acting out of habit, but because of agenuine interest and passion and I have lots of competing interests in, I wanted to respect that about myself and give myself a chance to genuinely explore other possibilities. I finally realized that yeah I did want to be an actor and it wasn't out of habit, but I needed to grow up for myself and then kind of re-enter the industry with a sound understanding of what my sensibilities and my values are as a relatively formed human being."

As a teenage movie star, Danes had to deal with the pressures of celebrity and an instant fame that can often affect young actresses. As she began to date musician Ben Lee, her private life was all over the press, but the couple remains intact 6 years later, so perhaps the media attention was not as destructive. "There's certainly something very uncomfortable about the voyeurism involved in being in the press, being an actor, where people have a seemingly insatiable curiosity about, you. However, I'm at a very comfortable place in my career and celebrity, in that I don't have to audition as extensively as I used to for roles but yet I'm not immediately recognizable. So I walk around, ride the subway and occasionally there's a paparazzi lurking in the shadows but it's not very injurious. I haven't been threatened in the way that has crippled me, emotionally or physically." Yet back when she was at the peak of her adolescent fame, at the time of Romeo + Juliet, Danes was a teenage icon, and even today, the Internet remains flooded with dozens of fan sites devoted to the actress. Being a teenage icon is not what it's cracked up to be, says Danes. "It was interesting because I was very representative of teenagers, especially with My So-Called Life and Romeo and Juliet, so I was like a teenager in an abstract and literal sense, which was a bit peculiar, but I couldn't dwell on that as it would drive me pretty insane. I guess it was all kind of weird, but it was MY reality." And she avoids checking out those web sites for obvious reasons "I did one time and it put me into a tailspin. I was a wreck, because everybody has an opinion, casting all sorts of projections on to my persona which is just very confronting. I don't need to be exposed to people's opinion of me; it just makes me too nervous." Now, Claire is assuredly all grown up, and sees her role in T3 as her first, full, adult role. "Yeah, here I am a vet, I'm engaged, and I fly and do everything."

Is this the new side of Claire Danes? Though she admits she is signed for a T4, the actress still loves the more Jane Austen-type of role, such as the one she is currently shooting. "I'm actually shooting a movie in London right now called Complete Female Stage Beauty. It's Richard Eyre directing it who did Iris some years ago and headed the National Theatre for 20 years and it also stars Billy Crudup, Tom Wilkinson and Rupert Everett. It takes place in seventeenth century England and marks a change from when male actors stopped playing female characters, so I play the first female actress on the stage." And the character she plays as the actress happens to be Othello's Desdemona. "Yeah, the ultimate virgin, but I'm really bad at playing her, so that's ok." It seems that Claire may have come full circle. The actress is still happily dating Ben Lee, and the couple divide their time between Los Angeles and Sydney, where they share an apartment in Bondi. Ms Danes' so-called life is looking pretty good.

TERMINATOR 3: RISE OF THE MACHINES opens on July 17.