LILO'S DAVEIGH CHASES HER DREAMS
At a mere 12 years old, cute and effervescent Daveigh Chase is becoming quite the veteran of voice over animation. First we got to hear her as Lilo in the unexpected box office hit 'Lilo and Stitch', and now she voices the female lead in the Americanised version of the hit Japanese feature 'Spirited Away'. A kind of twisted Japanese take on the likes of 'Alice in Wonderland', which opens with 10-year-old Chihiro [voiced by Chase] travelling with her parents by car to their new home. When her father takes a wrong turn along a bumpy, unwalked path, they arrive at a dark tunnel in a wall. Intrigued, the family enters and find themselves in a deserted village.
When they come across a great feast, apparently for nobody, Chihiro's parents greedily devour it, but are transformed into large, squealing pigs. It turns out they've entered the spirit world, where bizarre Japanese gods and monsters freely roam. Luckily for Chihiro, she befriends a mysterious boy named Haku, who tells her that, in order to rescue her parents from being slaughtered, she has to work in the spirits' bathhouse under the terrifying supervision of the sorceress Yubaba. In order to save the day, Chihiro must develop courage and learn to stand on her own two feet.
The English-language Disney adaptation premiered at the recent Toronto Film Festival to considerable acclaim. Arriving to talk during the prestigious Festival, flanked by her mother [her parents are divorced] and on-set tutor, 12-year old Daveigh might be small in stature but she is as smart as can be.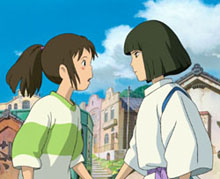 Trying to hide a cold that was slowing her down, the young actress remained unphased at the flurry of questions thrust at her and nonplussed when asked to comment on the differences between working on 'Spirited Away', and Disney's more conventional 'Lilo and Stitch', which remains one of that studio's bigger animated hits of the year. "With 'Spirited Away' the animation was already done", Daveigh explains with consistent confidence, referring to the usual process of feature animation in Hollywood, during which actors voice their characters prior to the animation. "So when I was working Chihiro, my lips would maybe open for a couple of seconds, but then I'd have this very, very long line to say, which was very tough at times."
A Japanese "anime film" from the creator of "Princess Mononoke," Chase says that Chihiro is a character that the youngster could identify with, "because like me, she believes in herself as do I," Chase says. Unlike most animated films, 'Spirited Away' is two hours long. Perhaps the running time might have been an initial concern by Disney execs, but young Daveigh is unconcerned, because "it really doesn't seem like two hours. And with all those spirits, I'm sure kids will get into it, I know I did. In the movie, Chihiro really believes in herself and so I hope that'll follow through with the audience."
Young Daveigh is a busy young actress who also manages to keep up a singing career. She's worked with Oscar winning composer John Williams and appeared as an opening act for Reba McEntire, cheerfully admitting "I love all kinds of music and enjoy writing my own song lyrics." Adding that she hopes to do some R&B and pop.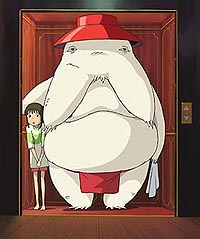 Chase's professional credits are diverse, and include the likes of R.L. Stine's "Haunted Lighthouse" in which she plays a flying ghost, and TV shows such as "E.R.", "The Practice" and "Angel" but her biggest claim to fame was the voice of Lilo in Disney's 'Lilo and Stitch', a job she started at age eight.
The film, which was a huge hit in Australia and is due out on video and DVD early next year, established the young actress as a major voice talent. She clearly loved the process of working on the animated charmer. "They showed me Lilo and I thought she was so cute and adorable. Then I read what she gets into. I was like, Oh, we both love Elvis. She likes to surf and I like to body board. We both have long hair. I met Andreas (Deja) the animator of Lilo. He videotaped me and worked off of my mannerisms and put them into Lilo. Lilo's accent was pretty much Daveigh's own voice as are the Lilo hula dolls, "which is way too cool."
As in 'Spirited Away', Chase was drawn to the family values in 'Lilo and Stitch'. "The film is based on 'ohana', which means family and family means nobody gets left behind or forgotten. I've got that stuck in my head. I'm an only child". Chase adds that 'Spirited Away' represents "a strong, independent kind of character, a great model for kids today and that's the kind of stuff that appeals to me."
Daveigh remains professionally busy. Denying her involvement in a 'Lilo and Stitch' sequel, she does confirm that she will voice the character in a new TV series. In addition, she is being kept busy as an animated voice as well as a human actress in front of the cameras. "In January, my TV series "Oliver Beene" is going to come out on the Fox network here in the States, then I'm in a movie called "Carolina" that will be out in movie theatres about April, which stars Julia Stiles and Shirley MacLaine. Right now I'm working on a movie called "Big Paw," which is basically "Beethoven's 5th," so that's really fun. It's all about me and my dog and I love it," says a clearly excited Daveigh.
The young actress can also be seen in the very different 'The Ring', which she describes "as the creepiest film I've ever seen." When she's not working on movies, Daveigh has an on-set tutor. "English is by far my best subject," she says smilingly. Maths on the other hand, not so much. But with her career going full steam ahead, who needs school anyhow, right? The youngster couldn't agree more.