"New York City is the Most Creative, and Most Inspiring City"
Courtney Powell is a musical theatre performer who has spent the majority of her career chasing some big Broadway dreams in New York City! Moved to NYC in 2011 she performed in two Off-Broadway musicals, various NYC cabarets (including The Bound For Broadway Showcase for Aspiring Broadway Performers) and worked for the New York Musical Theatre Festival, treading the audition circuit, and pursuing her career in the theatre.

Back in Australia, Courtney has sung on the SBS documentary Greeks of The Sea, been nominated for Best Supporting Actress in the new Australian mockumentary web series God's 17 (produced by Charles Firth of The Chaser), and is about to perform as Mama Morton in Willoughby Theatre Company's Chicago.



Interview with Courtney Powell
Question: What originally inspired your passion for musical theatre?

Courtney Powell: I've loved musical theatre for as long as I can remember! My wonderful Nan would take me to incredible performances, and seeing shows like West Side Story, and Phantom of the Opera with her as a kid sparked my love for it.


Question: Can you tell us about your time in NYC?

Courtney Powell: New York City is the most creative and most inspiring city I've ever been, and getting to live and work there was an absolute privilege. Creating work in a city that can be so harsh, but yet so rewarding, was such an exceptional experience – I can't wait to get back there again!


Question: What has been your career highlight, so far?

Courtney Powell: Crab House – A New Musical was my first Off-Broadway show in New York, and being able to perform at that level was, without any exaggeration, my dream come true. Walking through Times Square every day to our theatre, was as thrilling on the closing night, as it was on opening night. It was a mammoth amount of work, but every moment of it was filled with so much love – I'm so grateful for every second of it.


Question: How did it feel to be nominated for Best Supporting Actress?

Courtney Powell: I was absolutely speechless when I was told I'd received the nomination, and to be honest, I still can't quite believe it! God's 17 was a joy to work on, and I'm just thrilled that the series has been recognised by so many festivals, in so many countries around the world.


Question: Can you tell us about God's 17?

Courtney Powell: God's 17 is a tongue-in-cheek mockumentary, which follows Sister Tammy, Brother Aaron, Sister Mary, and Brother Steve, in the quest for oneness! God's 17 are a community of well-meaning religious rejects - they love everyone, and are definitely not a cult. They blindly believe that they've been ordained under the holy number of 17 to lead humanity, and they are definitely, definitely not a cult.

Getting to act in, and be on the writing team for, God's 17 is another career highlight. Our team is made up of industry heavyweights, and to be produced by Charles Firth from The Chaser was such an incredible experience. Keep your eyes peeled for Season 2!


Question: How can we watch you on God's 17?

Courtney Powell: You can head to www.gods17.com and watch the episodes there, or to our Facebook page. Or you can head to our YouTube channel.


Question: What advice do you have for young performers?

Courtney Powell: Don't let people around you tell you that the arts are harder than any other industry to get into. Every industry is hard, takes work and dedication, and no industry promises long lasting employment or success without those things. If you love it enough, you can make it work – you just have to keep working and working and working, and showing the world that you're brilliant, and worthy of being seen and celebrated. It WILL happen! Surround yourself with other creatives who are also hustling – that will keep you inspired, and keep you on track.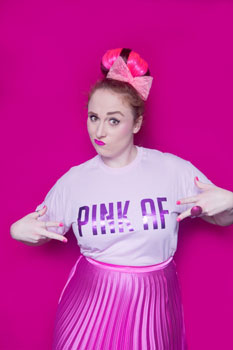 Question: Do you have a morning routine? Can you share it with us?

Courtney Powell: I wish I could tell you I was a 5am riser, and filled my morning with yoga and coconut water, but that would simply be untrue! My favourite thing is strolling (jokes, running because I'm always late) around the corner to my favourite coffee shop, and getting the biggest soy latte I can find. The coffee community is something I'm very grateful for – especially on a two show day!


Question: How important is setting goals, for you?

Courtney Powell: Goals! I love them, and the loftier the better. Why shouldn't you be able to achieve the most outrageous goals, and why shouldn't you be proud of wanting to nail the biggest, craziest dreams? You absolutely should, and I definitely make the time in my career planning to include the wildest of dreams – because why shouldn't you be deserving of having them come true?


Question: What's next for you?

Courtney Powell: I'm directing a production of The Caretaker at the Actor's Pulse, in Redfern, Sydney, for Throwing Shade Theatre Company. Directing is another passion of mine, and getting to work with the three brilliant actors in this show, is such a joy. It opens next week, and I'm so excited for people to see this show in a new light, and for the coffee that will get me through it (laughs)!


Interview by Brooke Hunter