Exciting newcomers Dear Sunday have shared a sneak peek of their sparkling, psychedelic new track Teleport, a sweet, glistening, confessional track that describes two young lovers in their own personal world. The group, whose 2021 collaboration with Luude, Wanna Stay, is currently enjoying rotation on triple j, have also announced their debut EP, Draw 4, out November 12. Draw 4 is a versatile, thoughtful and hooky collection of alterative rock, pop and psych – a mature and fascinating debut from these sun-soaked WA locals. Dear Sunday will be hitting the road in November and December to celebrate the release, with shows moving through Perth, Margaret River and Albany.

Evocative of fellow Aussie rockers Ocean Alley and Spacey Jane, Teleport is a stunner – clean, clear guitar dances with washy drums, while the lead vocal floats assuredly above it all. It's the perfect kind of track to soundtrack an Australian summer – days that go on forever, spending hours at the beach, or at a festival. Speaking on the creation of the track, lead vocalist Ben Swanson says, "Teleport is a funny one. I remember slaving away at work, probably digging holes, and humming the vocal hook: "I wanna teleport with you". I quickly chucked it into my voice memos on my phone. Pretty much that day, we all caught up and wrote the song! The song is about wanting to run away. Just leave behind all the bs that's going on and go somewhere far far away."

Draw 4 is an intriguing debut from a band that's impossible to pin down; psychedelic influences mix happily with rock, pop, even folk – and let's not forget this band was added to rotation on the j's with a feature on an electronic dance track. It's the kind of music an artist makes when they are writing simply for the love of it – unrestrained by genres and open to anything. Draw 4 has it all – the mysterious, alluring guitar licks of Love Eyes, and the vulnerable, acoustic heartbreaker She Spoke, and everything in between. Thrilled about the long-awated release of the EP, Ben says, "The boys and I are all super excited but also super nervous about the release of Draw 4..it's been a long time coming, that's for sure. But really happy to be sending these songs into the world as a little package deal. Can't wipe the smile off our faces now."

Western Australia is a hotbed for incredible Australian music, so it makes sense for Dear Sunday to do a tour/victory lap of their home state in celebration of the EP. Speaking on their local scene, Ben reflects, "We honestly pinch ourselves every day with how good the music is coming out of Perth, and the best part is how supportive everyone in the music scene is…Our shows, everyone's shows are always filled with other local bands who come down to support each other. Like one big happy and talented family."

Dear Sunday is Ben Swanson (vocals/rhythm guitar), Eligh L'Ecluse (drums), Mason Nguyen (lead guitar), Calvin Fennell (bass).


Interview with Dear Sunday
Question: How would you describe your music?

Dear Sunday: This is a tricky one, one we even find hard to pinpoint ourselves haha. Mason, the lead guitarist in the band made a statement when we very first started the band, saying that we'll stop when things stop becoming fun, so I think we just write what we think is cool / what we like at the time and the sound comes naturally with everyone's 2 cents. In saying that, we've been compared to the sounds of 'Ocean Alley', 'Tame Impala' and even 'Spacey Jane' before by some very established platforms. Yet we just released a drum and bass record with 'LUUDE'. Long story short, I think we just sound like 'Dear Sunday'!


Question: What inspired Teleport?

Dear Sunday: I guess the whole idea of not being able to travel and having the urge to run away inspired the track. It's weird, I've always had this random vision when writing the song and even when we perform it: It's a vision of my future self-comforting a partner after a night out. Hearing her say she's over living here and wants to run away. That's where the whole "I remember so clearly, you were standing out the front of my door, and you probably regret it because if I remember, the time was like quarter to 4" verse came from. It's kinda crazy to think about, something that's never happened before yet so specific can inspire a whole song. But that's where it all started, and I still think about it when we play it.


Question: Can you tell us about your upcoming album?

Dear Sunday: In perfect Dear Sunday fashion 'Draw 4' is pretty diverse. All the songs are all so different, from fairy tales, to floaty, summer, beachy rock, all the way to folky. I guess you'll just have to find out yourself on the 12th of November!


Question: Is there a particular message you hope listeners take from your music?

Dear Sunday: We actually had a chat about this the other night during practice hahah. We've always just wanted to be relatable and transparent. The music comes naturally when you're enjoying writing it. We just hope people can relate personal experiences to what we create, and hope it makes people smile and feel good, but then again relating to a sad song isn't a bad thing either. I think we just want to make people feel like they're not alone in however they feel.


Question: What should we expect from your upcoming shows?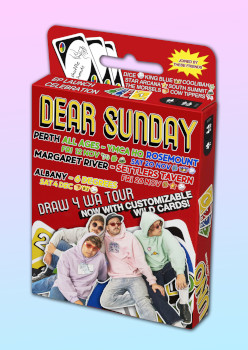 Dear Sunday: Our live shows are always super fun. Like I said just before, we're all really transparent and enjoy doing this stuff - that really resonates during our live set. We've got heaps of new songs to play live and have started a little trend with having a DJ play after us so we can have a boogie with everyone after the shows. Nothing worse than not being able to dance with ya fans.


Question: What is the story behind the band name?

Dear Sunday: The name 'Dear Sunday' actually came from a friend of the band. I think he saw an Instagram story of a girl who might've been feeling a little fragile and hungover on a Sunday and she'd written "Dear Sunday: I hate you". Now the rest is history.


Question: How did the band come together?

Dear Sunday: We were all good friends before the band started and pretty much met partying! In saying that I'm pretty sure Eligh and Maso grew up skating together and Calvin and I (Ben) actually had a bit of a half-ass band together before 'Dear Sunday' started.


Question: What motivates you most when writing music?

Dear Sunday: We can't really pinpoint one thing that 'motivates' us to write. I think we just enjoy doing it together and that's probably where all this stems from.


Question: Which music/artists are you currently listening to?

Dear Sunday: I'm all over the shop, but recently I probably bounce between Ocean Alley, The Vanns and old school hip hop haha.


Question: What or who was your inspiration to go into the music industry?

Dear Sunday: I was never really a 'footy boy' or someone who was good at ball sports, so kinda naturally just enjoyed playing guitar. I also think it was the fact that all of us in the band are good friends, so it all happened naturally.


Question: If you could collaborate with another artist, who would it be?

Dear Sunday: We're open to collaborating with whoever, but some all time faves would be Ocean Alley and Tame Impala.


Question: What has been your favourite part of becoming a music artist?

Dear Sunday: I think seeing people sing our songs at shows or just people genuinely excited to meet us when they see us out and about. Super humbling and hard to comprehend, but so sick to see what we like doing impact people in a good way haha.


Question: What's a typical day like?

Dear Sunday: Very very very busy! All of us work full time and try to juggle all of this crazy band stuff with work and social lives. Usually we work all day and then jam in the afternoon. (Currently doing these questions after 13 hours working as an electrician). Mason is a schoolteacher, and the rest of us are in trades. Never know, fingers crossed we'll be full time rockstars soon and can stop these early mornings.


Question: What's next, for you?

Dear Sunday: We've got more songs ready to record than you can poke a stick at. So be ready for lots of new music, collabs, tours, the lot. Buckle up. We're only getting started.


Question: Can you share your socials? (links please)

Dear Sunday: Instagram
Facebook
Tiktok
Spotify


Interview by Gwen van Montfort