FANNY LUMSDEN announces rescheduled fallow album tour dates.
Following the release of her critically acclaimed new album fallow, Fanny Lumsden is set to hit the road for a rescheduled tour from November in support of her chart-topping release.

Impacted by the devastating NSW bushfires over Summer in the close surroundings of her home in Tooma, the release of Fanny's stunning third album was a breath of fresh air which saw the Award winning Country artist secure a Top Ten Aria chart debut & #1 spot on iTunes album chart, rave reviews, and widespread airplay around the country with singles Peed in the Pool, These Days, This Too Shall Pass and the newly released Fierce.

In what should have been a celebration of the album's release, due to the current situation with Covid-19, the East Coast fallow album tour set for May has been rescheduled to take place from November - taking in Sydney, Canberra, Brisbane, Melbourne, Ballarat and Tamworth, with more shows to be added. Fanny says "I cannot stress enough how excited I am to be bringing our new album fallow to life...finally. To have the build up to the release, firstly through bushfires and then have it come out as everything shut down has been a definite lesson in making the best of an unfortunate situation. By the time we get this show on the literal road it will be the best thing we have ever done!"

Don't miss Fanny Lumsden live on her fallow tour from this November.


Interview with Fanny Lumsden
Question: How would you describe your music?

Fanny Lumsden : A little like you were thinking about how weird it is that you used to eat devon and tomato sandwiches as a kid, as you are looking out at an epic view of the mountains. Aka Kind of Country kind, kind of folky, pretty Australiana, lots of harmonies.


Question: Can you tell us about your new album Fallow?

Fanny Lumsden : I wrote fallow in a season of change, I wrote all the songs on the farm we live on, on the western side of the Snowy Mountains, in a locality called Tooma, NSW. The songs are the first time I have really put 'feelings' right up front of the songs. It's about loss, love, gain and how through all the shit there is relentless joy, always there, just sometimes not as visible. I was equally inspired by the incredible landscape I live in. The western side of the Snowies are magic. The high country and mountains are something that have evoked folklore for thousands of years. I am so excited to see them every morning, to see the light every evening. Sense of place is important to me. We recorded the album in a stone hut on the property we live on over a couple of weeks to really try and capture that feeling in the songs.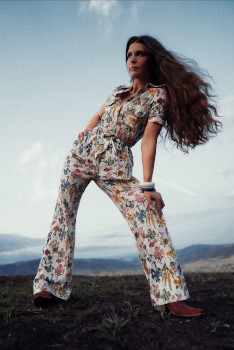 Question: Is there a particular message you hope listeners take from your music?

Fanny Lumsden : I think overall it's an album about the little specks of joy that can be found amongst the harder times. It's always there and it's never going to feel complete, so embrace the chaos.


Question: Do you prefer performing live or recording?

Fanny Lumsden : They are different beasts, I love the creativity and endless possibilities of recording and writing, I LOVE building a world around the songs however there is NOTHING like performing. I am a born and bred show pony and getting up there and watching the joy on people's faces and feeling that connection - there is just nothing like it.


Question: Which is your favourite song to perform live and why?

Fanny Lumsden : It changes all the time. Depends on what the kind of gig is and where we are and what kind of audience it is. Sometimes the all-in up songs are the best because the crowd are there however at the moment it's the quiet moments, it's the delicate moments in the songs. So there's a non-committal answer for you!


Question: What should we expect from your upcoming tour?

Fanny Lumsden : It's going to be something we haven't done before - we are very used to touring in country halls all over Australia, so theatres are going to be a bit of a change. We want this to really represent the album and these songs, so bringing the feeling like you are in these mountains is going to be important. Lots of harmonies and a killer band... however it will definitely turn into some sort of party because after everyone being at home and not going to gigs for so long, it's time we got sweaty, dancy and bumped into strangers (in the safest way possible).


Question: If you could have anyone, in the world, attend a show, who would it be?

Fanny Lumsden : My Grandma Lumsden again (she passed last year), David Attenborough - I mean if he were a religion, I would join. Oh and maybe those who said that the country halls tour wouldn't work... ha, does revenge attendance count?


Question: What motivates you most when writing music?

Fanny Lumsden : It used to be travelling through the country. Just the movement would motivate me. However for this last record I really studied and acknowledged my own 'feelings' for the first time really. I am always motivated by my sense of place and surroundings and also by the really boring and the funny moments - like peeing in the pool, grinding your teeth etc.


Question: Which music/artists are you currently listening to?

Fanny Lumsden : Maggie Rogers is our morning routine atm, also listening to Diana Ross, Rostam, Mandolin Orange, Lake Street dive and a little Whitney. She's a mixed bag.


Question: What is the biggest challenge you have faced along the way to your musical success?

Fanny Lumsden : I think keeping myself focussed on what I do well or what I want to do, rather than what I think I should do, or what others do. I know that when I am focussed on making, creating and sharing in the best thing I possibly can and connecting with people, everything works out and everything grows, I feel fulfilled and I am proud of what we are doing. As soon as I move to 'industry first' in my head I find myself second guessing, anxious and making bad decisions. Which also directly feeds into what is equally been one of my biggest challenges and strengths, which is never ever abiding by the piss weak, standard response of 'that's just not how it's done'. That outlook might be my biggest challenger/motivator and riles me up like nothing else. Being self-managed female artist and business owner has its challenges pretty regularly however not really focussing on that, I am just getting it done and seeing those as motivators as well, really.


Question: What's a typical day like?

Fanny Lumsden : In non COVID times, it usually involves driving a good solid 6 hour drive to a hall somewhere in Australia, with a caravan, a toddler, band mates, all the gear. Setting up and putting on a show in a little town to people who have similarly driven a long way to attend. I usually work in the car on my laptop or on my phone. We are self-managed and own and run our touring brand the Country Halls Tour and Red Dirt Road Records and productions. Dan is also a graphic designer and we dabble in clips for people as well, so there's usually about 45 projects going on at once. However right now in the mystical land of iso, I am at home on the farm in Tooma NSW, we are in an iso bubble with my family home which is just up the road and so our place has become 'the Tooma co-working space' (as the other house only has Satellite internet which is pretty slow). So there's more of a routine going on, with my sister coming to help with our toddler while the rest of us attempt at a work day. It's a pretty glorious time of year, so we get outside a fair bit as well.


Question: What has been your favourite part of becoming a music artist?

Fanny Lumsden : The endless possibilities of creativity. For a living I get to tell stories in many different formats, in any that I wish to. Creating worlds with film clips, events, music, art gives me so much joy. I am so excited about sharing new things and putting on new events and bringing people together around the country and the globe. However again, nothing will compare to being on stage with everything aligned.


Question: What's next, for you?

Fanny Lumsden : Well we are working out how to release an album (fallow) in a world where we can't tour for the next little while, so we are busy creating new projects all over the place to do with the album. We have a little doco that we are working on about this area, the fires, the album and our album launch. We are about to release a new clip for our single ('Fierce') from the record. I am working on 2021 and 2022 touring (for Aus and overseas). We have our fallow album tour dates rescheduled for Nov-Feb 2020/21 and a bunch of fun creative alternatives before then.


Question: Can you share your socials? (links please)

Fanny Lumsden : Facebook
Twitter


Interview by Gwen van Montfort