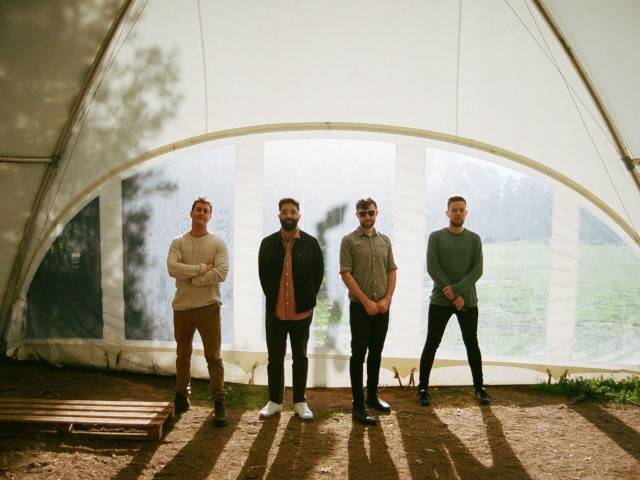 Melbourne four-piece Four In The Morning have offered up their latest single 'Keep It Together', out via The Orchard. Filled with references to Nixon, Press Conference, and broken fire alarms, the song gives the sense of a slightly surreal and unhinged world, which is apt for 2021.

Lead singer-songwriter Kevin explains: "Early last year"as wages were cut, gigs finished, flights cancelled, and people died on the radio"my problem was a broken record player. I spent an inordinate amount of time trying to make it sing me something. Eventually I realised that fixing a record player wasn't going to fix the world, and this song kind of stemmed from that. It's about putting on a good face for ones you love and how that never really works."

As the band tells it, Keep It Together started as not much more than a simple piano riff and some words. They then pushed it and twisted it and changed it until it broke repeatedly. It's been everything from aboring indie banger to a slow piano ballad to an electronic glitch fest. But once the band landed on the song's signature drum loop the whole thing clicked.

After multiple delays and with only a week before their grant from the Yarra City Council ran out, Keep It Together was produced, recorded, and mixed by Jono Steer (Angie McMahon, Ainslie Wills, Leif Vollebekk, Julia Wallace) at The Perch Recording Studio in Castlemaine.

The band describe the time: "When we were able to come together to record in Castlemaine with Jono, itwas like a year's worth of creative energy was allowed to run wild. In four days, we transformed the songs all over again and it was nothing short of exhilarating."

For fans of The National, Gang of Youths, Frightened Rabbit, and Fred Astaire, Four In The Morning are set to release their EP Stress Dreams on August 27. A Brian Enoquote says great music is "the sound of failure...the sound of things going out of control..." and the forthcoming EP encapsulates that.

Throughout lockdown they began writing a series of songs that would become thenew EP. They worked with Ainslie Wills over Zoom, bounced files back and forth between each other, and had recording dates repeatedly knocked back. Another band may have given up, but Four In The Morning just used the delays and unwanted time to push the songs further; the obstacles informed the music and the chaos helped the songs thrive.

Led by Irish singer-songwriter Kevin Dolanand surrounded by an eclectic group of genre defying musicians (Kiran Srinivasan, Dan Walwyn and Alex Lees), Four in the Morning write sad songs for insomniacs.

As Kevin puts it: "I've always been shit at sleeping and I find late at night a great time to write. Whether it's a dream or a song, there's something beautiful in the subconscious taking all the shit from a day and making sense of it. I guess that's what these songs try to do."

The band are a strange mix of musicians; Kevin is an Irish folk obsessed lyricist, Kiran an Alfa Mist loving funk nut, Alex grew up playing jazz, and Dan"well he might be the glue that holds it all together" he's a bass player who loves Tool and Paul Simon equally.

Call it alt-folk, indie rock, or anything you like but whatever the genre, Four in the Morning is a fascinating blend of lyrical storytelling and musical experimentation.