Genevieve George OneShift Interview
Sydney based online jobs platform OneShift, and its 23-year-old founder Gen George, have won three awards at the 10th annual Stevie Awards for Women in Business held over the weekend at a gala event in New York.

OneShift was awarded a "Silver Stevie" in both the New Company of the Year and the Most Innovative Company of the Year categories, and Ms George was also awarded a "Silver Stevie" in the Young Female Entrepreneur of the Year award category.

The Stevie Awards for Women in Business are hailed as the world's premier business awards, honouring women executives, entrepreneurs, employees and the companies they run – worldwide.

More than 1,200 entries were submitted this year for consideration in more than 90 categories. Finalists were chosen by more than 140 business professionals worldwide during preliminary judging.

More than 90 members of the five final judging committees determined the Gold, Silver and Bronze Stevie Award placements from among the finalists during final judging.

With over 230,000 jobseekers registered on the site and more than 20,000 jobs matched in less than two years since its launch, OneShift is one of the most disruptive forces in the Australian recruitment industry today.

The awards applaud OneShift's innovative automatic matching system which pairs employees with businesses.

'It's a remarkable achievement for OneShift to get recognition like this internationally," George said.

"For such a young company to already be enjoying the kind of success we are is truly amazing. We only launched a couple of years ago, but it shows we are already doing plenty of stuff right and gives me a lot of confidence in our business model.

"As a team, we've worked extremely hard to create a business that not only helps jobseekers find employment -- be it temporary or permanent -- to suit their individual skills and job expectations. Equally, we've made hiring so much easier and more cost effective for Australian businesses. It's a huge advantage, and something the business community is quickly recognising.

"It's encouraging and rewarding to see this new and modern approach to employment being embraced by so many businesses around Australia. We can't wait to see what the future holds."



Interview with Genevieve George
Question: Can you explain what OneShift is?

Genevieve George: OneShift is an online job network which directly matches job seekers to employers in order to provide temporary or permanent part-time employment. The network's format is similar to a dating website; a seeker's availability, location and skills are visible to a business searching for a suitable candidate. The internal database only matches those employees whose profiles are exactly what the job advertisement requires. This means that time and resources are not wasted during the often prolonged recruitment process.


Question: What inspired you to create the business, OneShift?

Genevieve George: I was taking a break from my studies and working overseas in 2011 when I thought of the idea behind OneShift. After returning to Australia, I tested the idea of a network which matches job seekers to employers through a WordPress site.The response from the testing hospitality industry was so overwhelmingly positive that I created the online site OneShift which now hosts a range of jobs from all different industries.


Question: How is OneShift different to other businesses in its field?

Genevieve George: There are many recruitment businesses operating within Australia. Our competitors include other online job agencies such as SEEK and MyCareer, recruitment agencies focused on the part-time and temporary work market such as Adecco, local newspapers, notice boards and more traditional -word of mouth' networks. So whilst we are not the only online job network in Australia, OneShift is the only employment website in Australia with such a specific functionality designed to match employees to employers based solely on their suitability for the job. This direct connection with job seekers, means that unlike an agency, no time is wasted with the physical process of candidate assessment, interview and selection, everything happens online.

OneShift has no listing or advertising fees so an employer only pays on performance if they are satisfied with our services. Unlike local newspapers or notice boards, our scope for potential employees is not restricted to geographical location. We are an online network and we provide employers a huge pool of job seekers. Lastly, our -feedback' functionality is an innovation to the recruitment service. An employer can preview their previous employment reviews to ensure that the candidate's performance and reliability is to a professional standard.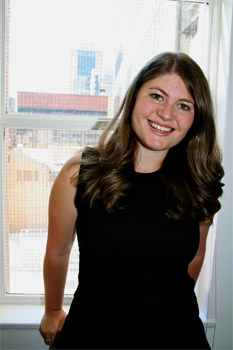 Question: How did it feel to win three awards at the prestigious International Stevie Awards for Women in Business in New York?

Genevieve George: It was thrilling to be recognised at an International Level. Eventually I would like to introduce OneShift to New Zealand, Asia, Europe … the world so it's great to know at such an early stage of our development that overseas entrepreneurs and business-minded individuals think it will be widely accepted and popular.


Question: Why do you believe you were awarded a "Silver Stevie" in the Young Female Entrepreneur of the Year award category?

Genevieve George: Because I think OneShift helps both job seekers and businesses. Firstly, the hiring process is online. Every day, more and more Australians are connecting via the web in order to achieve and accomplish even the most mundane activities in our lives; shopping, communicating, researching and studying. With more people living and breathing on this online world, it is no surprise that when they are searching for a job that they turn to the web. OneShift is an online network which makes this job search, an often pained and prolonged process, so much simpler.

Secondly, OneShift is embracing this idea of flexibility in the workforce. Employers ought to rethink their willingness to promote non-linear career paths. Why? Because not all Australians are suited to a five day a week 9 am to 5 pm office job.

This is not only an issue for females who have children; both women and men hold a range of entirely valid reasons to take time out of the workforce or to reduce the hours which they dedicate to their profession. Going back to university, looking after elderly family members, taking care of a young family or dealing with illness within the family are all reasons why a person's career path is rarely a linear one.

And for those Australians who are looking for an opportunity for more flexible, diverse employment, OneShift is a network which caters for our new modern lifestyles. On our site, we support businesses that chose to be more adaptable with their staffing structure and work environment. One-off shifts, casual, part-time and permanent positions are posted on our site and we host a range of industries from hospitality to business, floristry to education.

Whilst we recognise that there is still a place for full-time work positions, we are embracing this new, more flexible, employment structure which hopes to get more Australians working.


Question: How do you hope to change and improve your business, in the coming years?

Genevieve George: We are also looking out for ways of making the OneShift site more user-friendly. We also want to encourage some of the bigger businesses and organisations (outside of the retail and hospitality industry) to try going online and using OneShift to find staff. It's a bit like steering a huge ship, little by little we are creating a new direction for locating and employing skilled, reliable job seekers at a fraction of traditional recruitment costs.


Question: What is the top three pieces of advice you'd share with a young adult hoping to get their business up and running?

Genevieve George: Test your idea first. Sometimes what you think is unique and different has already been trialled before in a similar industry and area. Look for holes in competitor's products and services and create your niche by providing customers with what they really want and need.


Question: How do you stay motivated, daily?

Genevieve George: The growth of the site keeps me motivated. With the increasing amount of businesses and job seekers signing up to OneShift everyday, I need to make sure our site is running and functioning to the best of its capabilities. Every day counts and every idea, suggestion, change or development is crucial to the future success of OneShift. If I keep responding to the growth of the site, and keep making improvements then I hope the site will continue to become more and more popular and that's a huge motivation for myself.


Question: What's a typical day like, for you?

Genevieve George: I spend most of the day looking on my computer screen! Because OneShift is an online job network, all our users, statistics, programs, administration and processes are online. I also get on the phone from time to time or meet with clients using OneShift face-to-face to ask them in person about their OneShift experience. One of the greatest challenges with an online business is that you can see how a business or user is using your site but you also need to know why they are using it the way they are. This is where off-line communication is vital.


Interview by Brooke Hunter