Dreamy pop singer/songwriter HANNI has revealed her latest silk soaked single "Talking To Myself In The Mirror,'' her first single release of the year. "Talking To Myself In The Mirror'' is signifying what will shape up to be a massive year of growth for the wunderkind.

While making tracks for a huge year ahead for HANNI, "Talking To Myself In The Mirror'' also marks a new era to come for the alt-pop prodigy. Transitioning from her younger breakout years, leaving high school and now entering the transformative years of early adulthood, HANNI has a lot in store for her next chapter. Entering HANNI's next phase, we can expect dynamic music written with American heavyweight pop songwriters Alex Mendoza, Trusauce and Ryan Curtis.

"Talking To Myself In The Mirror" is about feeling like you're drowning in your own thoughts." HANNI said. "You keep talking to yourself in the mirror to sort through your thoughts but your mind tells you that you're the bad guy in every situation. Even if you have done nothing wrong and you know you need help but you don't know how to ask for it."

HANNI has recently joined ALTCHORD management and Niche Productions. "I'm honoured to be joining HANNI's team for bookings, Golden Eye's is one of my favourite songs of 2020 and really showcases the talent Hannah has at such a young age. Keep an eye on this Artist, she has some very exciting things in the works," said Nicole from Niche Productions. Zac Gould from ALTCHORD management said, "I'm thrilled to be partnering with HANNI on her journey as an artist and were excited for some massive opportunities in the pipeline already."

Hannah Scholman, better known as HANNI, is mastering her craft. Studying at Music Industry College (MIC), Queensland, she has taken the time to perfect her songwriting skills and evolve her unique production style. Now feeling established and confident, HANNI is claiming her space in music, creating a velvety dreamscape with each song.

Drawing comparisons to trendsetting femmes BENEE, Lennon Stella and Grace, HANNI takes an eclectic range of influences, from Sasha Sloan and Marco to develop her glittery take on pop. With a natural sense of melody and ability to write captivating lyrics that reflect her innate sensibility and authenticity, HANNI's potential has no limits.

2019 saw HANNI's indie-electronic debut single "Wired" awarded a Queensland Music Award which celebrates the best new music from across the state. Following the award "Wired" gained attention from peers and fans alike, building its streaming figures above 100,000 plays. In late 2019 HANNI graced ABC's radio with a live version of "Wired."

With newfound success and humble confidence, HANNI released her single "Golden Eyes" in 2020 which has amassed over two million plays on Spotify alone. "Golden Eyes" also got a spot on BBC Sound's playlist The Best New Pop of October 2020. Displaying her unique tone and style, "Golden Eyes" focuses on not seeing the flaws in someone that you love. Reaching acclaim, triple j's Declan Byrne praised the track, commenting "I reckon it's easier to do big pop anthems, but with this one, HANNI is proving her skills in that restrained and measured pop sound. If she keeps this up there's a big future for her."

Taking every opportunity as it comes, and spending every possible second in the studio, HANNI has built a repertoire of hook-laden new singles and an EP of big hearted tunes on the horizon. All eyes are on this hard working young Aussie as she looks to take the music industry by a hazy, dreamy storm.

"Talking To Myself In The Mirror" is available to stream on all platforms now.
Interview with HANNI
Question:
How would you describe your music?
HANNI:
Honestly I can never describe my own music very well. But if I had to describe my music in a couple words I would probably say clean dreamy pop.
Question:
Can you tell us about Talking To Myself In The Mirror?
HANNI:
Talking To Myself In The Mirror is a really really special song to me. If I'm being completely honestly it would have to be one of my most favourite songs I've ever written. The song is about always feeling like no matter what you do, you always end up being the "bad guy". When I was writing TTMSITM with two beautiful friends Thomas Eggert (also known as T Scarlett) and Marco (go check out both of their music if you don't already know them) I reflected on the struggles I personally had gone though in the year that just passed.
Question:
Is there a particular message you hope listeners take from your music?
HANNI:
That you're not alone. This world can be harsh sometimes but we are all on our own journey and I hope that by me sharing what I go through on my journey, through music might help some people : )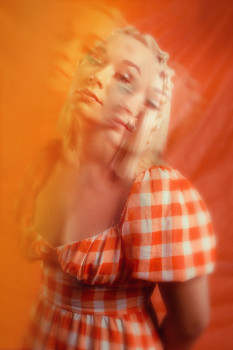 Question:
Do you prefer performing live or recording?
HANNI:
I much prefer recording and being in the studio more than being on stage. But I must say I'm starting to love performing.
Question:
Which is your favourite song to perform live and why?
HANNI:
I would have to say Golden Eyes because at the end of the song everyone starts to clap because they think the songs done but Golden Eyes actually has an extended version that pretty much no one knows about unless they have come to see me live. Which I love the extended part of the song just as much as much (if not more) than the song itself.
Question:
If you could have anyone, in the world, attend a show, who would it be?
HANNI:
Honestly this is a really hard question. I could not possibly pick one artist to come along so, I would have to say blackbear, Lennon Stella and Sasha Sloan. If I could have a person attend that no longer lives on this world I would pick my great grandma <3
Question:
What motivates you most when writing music?
HANNI:
Normally people pissing me off is my biggest motivator for writing music. I have an argument or lose someone close to me and I use writing as a type of therapy.
Question:
Which music/artists are you currently listening to?
HANNI:
Always always always Lennon Stella and Marco one of my besties. I have also been obsessed with 'Sad to see you happy' by Olivia Lunny and 'Till forever falls apart' by the one and only FINNEAS and Ashe.
Question:
Did you always want to pursue a career in the music industry?
HANNI:
For a very very long time I wanted to be a vet. I have always obsessed over animals, currently still am obsessing as I own a little zoo, owning the cutest rescue kelpie named Daisy, a stimpsons python called Snek, 2 geckos called Mr. & Mrs. Geck, 3 frogs with no name and a children's python named chicken.
At the end of the day I have always felt like music was my calling but didn't believe in myself. I finally got over people telling me I couldn't have any success in music and just did it. Music is my forever job and I could not see myself doing anything else day in and day out. I do a few things to create other business but you will have to wait to find out about them ;)
Question:
What has been your favourite part of becoming a music artist?
HANNI:
I love collaborating with others. I Love how special, deep and honest songwriting can be. Some sessions are like speed dating, you go into a session not knowing their name to knowing their deepest fears and about how they had a fight with their partner last week.
Question:
What's a typical day like?
HANNI:
No such thing as a typical day. Everyday is different. One day I'll be creating songs over zoom to creating a set for a music video to doing emails and invoices (the boring stuff).
Question:
What's next, for you?
HANNI:
AN EPPPPPPPP
Question:
Can you share your socials? (links please)
HANNI:
Instagram
Facebook
Interview by Gwen van Montfort