Ian Thomas Cheers Interview
Ian Thomas the #1 Belgian singer is heading to Australia to launch his new single -Cheers' featuring American rapper, Tyga which debuted at #1 in Belgium within 24 hours of release last week.

'Cheers" is an up tempo pop track infused with an RnB flavor that lends itself to the commercial radio airwaves with a catchy beat and fun lyrical content, created by French producer Hottrack who has worked with Wiz Khalifa and DJ Abdel.

Sharing his thoughts about working with Tyga, Thomas comments: 'It was an amazing experience to work with a talented artist like Tyga. I know how busy he is right now so I am grateful that the found the time and wanted to be a part of this single. Tyga has always been one of my favorite rappers."

The talented teenager has recently been compared to artists such as Justin Timberlake and referred to by Entertainment Tonight as -the next great teen heartthrob'.

Ian Thomas was first discovered after he became a YouTube sensation performing a cover of Justin Bieber's -Baby' that was later re-recorded in Dutch, reaching #1 on the Belgian -Ultra top 10 chart' in March 2011.

Following his instant success, Ian Thomas continued to rise to fame with 3 successful #1 original singles, which led to his debut solo album -More Than A Game'. The album had immediate impact and obtained gold status in sales. Ian released a further 5 singles off the album.

In 2013 at just 16 and an independent artist, Ian Thomas released -Rain' from his second album 'Game Time", which reached #1 on the iTunes Top Hit Music Charts.

In late 2013, he featured on the hit single and Belgian version of -Walking On Air' with highly acclaimed international artist Snoop Dogg, recorded by Australian producer, Anise K, U.S. hit makers Phil Tan and KC Porter this successful collaboration resulted in another #1 hit record.

Already a respected performer, he has recently toured Brazil and has attracted more than 150,000 fans to his shows. Larger than life in Belgium and an established artist in Europe, Ian Thomas recently moved to Los Angeles to take his career to new heights, he is making an impact in the Canadian and U.S. markets.

'Cheers" ft. Tyga will be hitting the Australian airwaves on 07 April 2015 and a promotional tour is confirmed for early May 2015. The global release coincides with his 2015 Nickelodeon Kids Choice Awards nomination (Belgium/Holland).

The lyric video can be viewed here.
Watch the Cheers feat. Tyga Official video here.


Interview with Ian Thomas
Question: What are you looking forward to most about coming to Australia?

Ian Thomas: I am very excited to see Sidney and I would love to go surfing but I don't know if there is time. A lot of people told me it's a wonderful country, the girls are beautiful and all the ' Aussies 'I've met are great!


Question: How would you describe your music?

Ian Thomas: My music is pop music with some R&B influences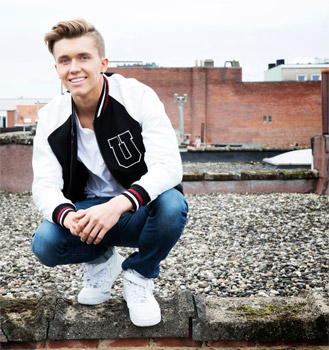 Question: What was the main motivation behind Cheers?

Ian Thomas: I wanted to create a feel good song so that whenever people are feeling down they listen to the song and they would feel better


Question: What was it like working with Tyga?

Ian Thomas: It's was a pleasure working with him. He's a truly nice guy and he was happy to be part of this project which made this a natural and positive experience.


Question: How does it feel to hear your song played all over the airwaves?

Ian Thomas: I still sometimes can't believe it when I hear my own song on the radio,I am truly grateful.


Question: Did you have any pre-conceived ideas about the music industry?

Ian Thomas: I sort of knew what I was getting into because my parents are in the business so I was around the industry from a very young age.


Question: Do you write your own songs? What's your inspiration?

Ian Thomas: Some of the songs I write myself or with a friend, others are written by songwriters. I am inspired by life and daily things


Question: What music/artists do you listen to when you are not playing your own?

Ian Thomas: I listen to Queen, Frank Ocean, Justin Timberlake, Kendrick Lamar, the cooks. Kid cidi. I like to listen to different kinds of music,sometimes even classical.


Question: What's next? Tour/Album/Single?

Ian Thomas: My next thing is promoting Cheers around the world, the single is released on 17 April and then I am coming to Australia on 4th May for a week and I'm also working on new music for my EP. Plus I'm working on my own musical skills like playing the guitar and piano. I'm also finishing high school and would like to inspire people with a positive vibe.


Question: Was there a moment you contemplated throwing in the towel?

Ian Thomas: Sometimes things can get though in this business but I know I have a purpose and I love to entertain people so I keep going.


Question: Do you prefer performing live or recording?

Ian Thomas: I love performing,there's nothing better then performing.


Question: What/who was your inspiration to go into the music industry?

Ian Thomas: The music group Queen, I remember When I was 8 and I watched a dvd of their world tour and I thought I would like to do that.


Question: What is the biggest challenge you have faced along the way to your musical success?

Ian Thomas: To overcome the negativity of other people.


Question: What's a typical day like?

Ian Thomas: After I wake up most of the time I go to the gym… and then it depends… guitar lessons or piano, singing class or going to the studio to record or work on new music, doing interviews or photo's or filming and this year I am still doing school stuff cause I am in my senior year from high school.


Question: What has been your favourite part of becoming a music artist?

Ian Thomas: Being able to perform and sharing my message with so many people.


Question: If you could collaborate with another artist, who would it be?

Ian Thomas: I would love to collaborate with Justin Timberlake.


Interview by Brooke Hunter