Sydney's golden boy Jack Errington lights up the second half of 2020 with his newest single 'Not Alone', taken from the forthcoming project 'Pain in Growth'. This refreshing pop and electronic anthem, which perfectly captures the inner tension and silent dilemma in modern-day relationships, is set for release on July 31st
Produced by ARIA Charting Producer Lenny Pearce and written by Jack himself while onboard a bus on his way to work, this feet-sweeping track is sure to fuel a groove and tug at heartstrings. The song not only highlights Jack's well-modulated vocals and versatile range, but also amplifies his knack for intimate songwriting. Here, Jack speaks about knowing how to let go of someone you love, instead of being trapped in certain situations to keep others happy. Those who are at a crossroad and finding a balance between comfortable emotional distance and utter vulnerability will find this song as a cry of their own.

Jack was previously on hit television talent show X-Factor's 2017 edition. A year after, as he set off to merge his pop roots with electronic production, he made his first mark on the international music scene by performing in the USA and in the Philippines for the Wish 107.5 FM Bus. In 2019, he toured with Australian dance and pop group Justice Crew, while his singles 'Pull Me Closer' and 'Losing Control' debuted and charted at #40 on the iTunes Pop Chart and #52 on Top 200 Worldwide, respectively.

An Aussie Pop Prince in his own right, Jack's music influences include Justin Bieber, Ed Sheeran, Charlie Puth, Lauv, and Blackbear. John Mayer's 'Stop This Train' is also one of his most favourite records of all time. It resonated with him, as he heard it at a time when his mother was struck with illness.

"That made me realise that writing songs is more than a catchy tune that people can enjoy. It's also a way of story-telling your emotions and making it relatable, so other people around the world can feel a little more comfortable with whatever they are going through." - Jack Errington

Keep an eye on this rising star as he continues to release more singles from his upcoming EP 'Pain in Growth' and be sure to follow him on socials linked at the end of the interview!


Interview with Jack Errington
Question: How would you describe your music?

Jack Errington : It would be a mix of Lauv's stuff and Bieber new album mostly, with a Pop/ Electro Pop sound and contemporary RnB. Pretty mainstream sounding, but with little touches of unique indie vibes.


Question: Can you tell us about "Not Alone"?

Jack Errington : I wrote 'Not Alone' to shine light on a weird situation some people may go through, which is the guilt of not wanting to hurt someone who you don't want a future with. A one-off or a short time partner. The reality that being alone is harsh and preferring the option of company feels better for the time being rather than being alone. It is the decision of weighing up to be a good or selfish person.


Question: What inspired your upcoming EP 'Pain in Growth'?

Jack Errington : With the lockdown happening for quarantine, I took advantage of being stuck inside to make a project. I wasn't actually sitting down with a project in mind, I just started making songs every day and ended up having some sort of cohesive message within them all. It felt as if they were little chapters in this story I didn't know I was putting into motion, a story about little instances of pain that create growth in the form of maturity or learning life lessons.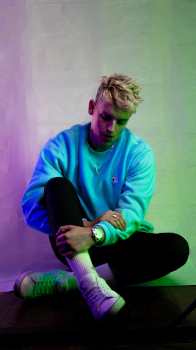 Question: Is there a particular message you hope listeners take from your music?

Jack Errington : The message I want people to take from this project of music, would be to just experience life. There will be pain, but without pain there is no growth. Take on life by the horns and give it your best, the worst incidents can result in the best life decision due to the force of change.


Question: How has COVID-19 influenced your music?

Jack Errington : If it wasn't for covid-19 I probably wouldn't have this EP, it's influenced me to work harder for my passion. It has actually kind of levelled out the playing field a bit (not a lot, but a little), forcing everyone into a time where you have to use the resources you have around.


Question: Can we expect an upcoming tour once all restrictions are lifted?

Jack Errington : That is the plan! Would love to go on a tour around all metropolitan cities in Australia, but I'm craving another regional tour because those fans are crazy! Nothing planned as of yet though.


Question: If you could have anyone, in the world, attend a show, who would it be?

Jack Errington : If I could have anyone in the world attend one of my shows, it would honestly be my mother who passed away 7 years ago. She was the reason I started music and she sadly left us before I started writing my own music. So having her at a show to see the life she invested in to help me follow my dreams is the only thing I would ever ask for.


Question: What was it like performing on X-Factor?

Jack Errington : It was a very interesting experience, definitely a big step into the world of music for me. I didn't have the longest run on X-Factor, but I had enough time there to realise that it is not something I picture myself doing again. I believe music is a representation of myself and my life. Therefore, I dislike the whole music process of X-factor as the competition aspect that takes place against others with songs that are not your own just feels too fake. It doesn't feel like I'm focusing on the real reason I do music. However, that is just my opinion.


Question: What motivates you most when writing music?

Jack Errington : The fact that this is what I want to be doing for the rest of my life, is all the motivation I need. Also getting out of my retail job ASAP haha.


Question: If you could collaborate with another artist, who would it be?

Jack Errington : I'm dying to collaborate with heaps of artists, ranging from home grown Aussie talents to the rest of the world. Lauv is definitely high up on the list at the moment, due to him being my biggest inspiration for my choice of sound for my music. If it had to be an Aussie artist, The Kid Laroi would be my first choice. His journey so far is very inspirational and the work ethic he radiates is crazy, but not only that, listening to his music has been motivating me to just constantly write more and more.


Question: Did you have any pre-conceived ideas about the music industry?

Jack Errington : I've had a lot of ideas about what it would be like, but I was completely wrong. The part I hate the most about this industry is that, it's just like I'm back in high school. Working with people is based on popularity, and not skill. Putting on a persona because they don't think people will like them, also way too much backstabbing.


Question: What's a typical day like?

Jack Errington : It would always have to start with a coffee, no doubt about that. If I'm not working retail, I'm either cleaning up vocal sessions or starting to work on new demo ideas.


Question: What has been your favourite part of becoming a music artist?

Jack Errington : My favourite part about becoming a music artist is that I am "going against the status quo". As well as being able to entertain people, receiving messages from fans about how I have helped them through some personal stuff because of my music, makes me feel like I'm using my powers for good so to say.


Question: What's next, for you?

Jack Errington : All that I have planned for now is more music, this EP and collaborations. It all just depends on what happens with the world in the next coming months. Stay tuned by following me on streaming and social media platforms so you don't miss all the excitement.


Question: Can you share your socials? (links please)

Jack Errington : Facebook
Instagram
Spotify
Twitter
TikTok


Interview by Gwen van Montfort