Jonas Brothers The 3D Concert Experience
See more than in cinemas when you bring home on DVD Jonas Brothers: 3D Concert Experience Extended Movie: taking you closer to the boys than you could ever imagine as they light up the stage in 3D on 7 October 2009!

Get ready for the must see rock star experience of the year as platinum selling teen rock sensation, the JONAS BROTHERS, hit the stage and your screen for a sizzling 3D performance!

Experience the JONAS BROTHERS living the dream in their BIG motion picture debut, released to Disney DVD 7 October 2009! Your front row seat to their world-wide 'Burning Up Tour' catapults Disney's hottest, record-breaking band straight into your living room for the ultimate behind-the-scenes look at the rock stars lives, fans and exclusive performance footage.

So what's different about this rocking DVD release from the cinematic experience? You'll get the best seat in the house as the brothers deliver more music than ever with this extended edition that includes:

2 songs integrated back into the movie
* "Can't Have You"
* "Shelf"
2 additional bonus songs
* "Love Bug"
* "Get Back" (DEMI LOVATO)

Add to this the "Up-Close-and-Personal" bonus feature, which takes you inside life on tour with these superstar siblings, and Jonas Brothers: 3D Concert Experience Extended Movie becomes a must own DVD for fans and families alike!

This high energy, toe-tapping rockumentary includes both 2D and 3D versions along with four pairs of complementary 3D glasses to bring you closer to the boys than you could ever imagine - plus 3D gets you even closer! Outstanding guest appearances by chart-topping artists DEMI LOVATO and TAYLOR SWIFT makes Jonas Brothers: The 3D Concert Experience Extended Movie a rock DVD release not to be missed.

Treat yourself or your family this Christmas with VIP access in your own home, and hang with the boys backstage with Jonas Brothers: The 3D Concert Experience Extended Movie, available on Disney DVD 7 October 2009!

Jonas Brothers: The 3D Experience Extended Movie is distributed by Walt Disney Studios Home Entertainment. A division of Walt Disney Studios (US), Walt Disney Studios Home Entertainment is the worldwide marketing, sales and distribution company for all Walt Disney, Touchstone, Hollywood Pictures and Buena Vista DVD releases. Buena Vista is the Australian sell-through market leader and has been a recognised world video / DVD industry leader for over a decade.

Jonas Brothers 3D Concert DVD Competition Giveaway
www.girl.com.au/competition-jonas-brothers-dvds.htm

Jonas Brothers 3D Concert Experience Extended Movie
Rated: G
Running time: 85 minutes




REACH FOR THE STARS!
Want to follow in the footsteps of the Jonas Brothers and crack the music charts? Follow the guys' six top tips to success and see if you've got what it takes to shine like a true singing star...

TIP 1: NEVER GIVE UP!

Joe says: "My number one tip is: Never give up. I know everyone says this, but it's true. It sounds like a very clichéd thing, especially if you're a musician, but if you really love doing music then you've got to stick with it. I'm not saying everyone can be a super star because that's not real - but if you love it, you should do it."


TIP 2: STAY HUMBLE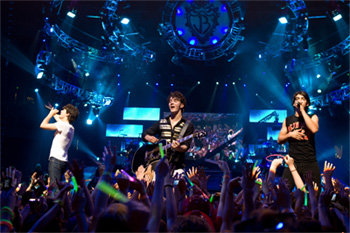 Kevin says: "From day one, our parents have always said to us, 'Even if you're at the top, live like you're at the bottom.' That's not saying we're at the top or anything. It's just saying remember where you came from and remember who your friends and family are. It's important to take in every single moment and stop to think about what's going on around you. Stay humble."


TIP 3: DON'T DO THIS TO BE FAMOUS

Nick says: "The best piece of advice I can offer people is to work in the music industry because you love the music and not because you want to be famous. I think that the problem with so many new artists these days is that they strive to be famous and not to be a musician or an artist or a performer first. My favorite quote of all time was by Ray Charles who said, 'I never wanted to be famous, I just wanted to be great.' You hear that and you think, 'Wow.' That's the kind of quote that inspires people. It inspired me."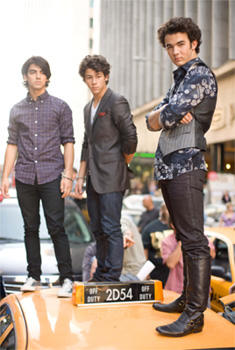 TIP 4: PRACTICE MAKES PERFECT!

Joe says: "Believe me when I say practice really does make perfect. We've been working towards this for years and we really enjoy perfecting our craft. In our down time, we can be found writing songs and rehearsing because you have to work hard for your goals. Keep at it, everyone!"


TIP 5: FOLLOW YOUR DREAMS

Kevin says: "Stevie Wonder gave us some really good advice when he said, 'If it's working, don't try to fix it.' If you're having fun and enjoying yourself, go out there and follow your dreams. That's what we did - and we didn't let go. I know there are millions of people out there who would love to have the opportunity that we've had, but we're extremely grateful. There are better musicians and better guitar players out there and it's important to remember that. There's always someone better than you."


TIP 6: STAY POSITIVE

Nick says: "It's really important to stay positive in this industry. There's a lot of rejection out there and it can be tough to crack, but it's much easier if you stay positive and if you have a great support system behind you. I don't know where we'd be if we didn't have an amazing family to fall back on. Stay true to yourself and keep positive."

Jonas Brothers The 3D Concert Experience Deluxe Extended Movie Now Available on Disney Blu-ray and DVD!