Melbourne songstress Julia Lostrom drops dreamy visuals to accompany the anticipated release of her charming new track 'Walls', a song about the challenge of feeling an instant connection with someone you've met, but struggling to go any deeper as they won't let their barriers down.

Directed by New Wave Infinity's Rachel Vowels and shot by Nick Rae and Anthony Lostrom, the music video effortlessly captures the polarity between the meaning of 'Walls' and the lack thereof featured throughout the incredibly picturesque set at Lake Tyrrell, a magical landscape in regional Victoria.

On the visuals Julia says, "I wanted to evoke a sense of freedom with the visuals while still maintaining a scene of romance. When I saw an image of Lake Tyrrell I knew it would be a perfect location."

While the video serves as the perfect visualisation of what ' Walls ' embodies, the purpose behind its creation is twofold. Always inspired by the creative community in Melbourne, Julia wanted to work alongside the various versatile talents of her city to showcase the beautiful regional landscapes this country has to offer. This includes the collection of dresses worn by Julia and designed by Melbourne's Marda Label, which elegantly complement the softs hues and textures of the scenery.

"When the time is right, I hope this video will inspire people to go out and explore further regions of Victoria to help elevate their communities, especially after the devastating fires that have just passed."

Produced by Duan, Rob Amaruso, and Simba Andrews, and co-written by Bailey Sampson, 'Walls' is a true collaborative masterpiece that combines ambient sonics with tantalizing pop-beats that transition into a biblical cadence gracefully laced with Julia's gentle vocals. Julia Lostrom is a Melbourne-based, Zambian-raised and Greek-born singer-songwriter who harnesses her diverse cultural upbringing to inspire her breathy material which flutters between LoFi pop-electronic melodies and slightly left-of-centre R&B. Expect a lot more to come from Julia Lostrom, who is currently embracing her love for collaboration while working on her upcoming EP and various other creative projects slated for release throughout the year.


Interview with Julia Lostrom
Question: How would you describe your music?

Julia Lostrom: I'm inspired by so many different genres and feel like my sound is changing all the time. My sound right now is quite heavily inspired by LoFi hip hop, chilled pop/electronic and Left-of-centre RnB. I'm hugely inspired by sonics found in nature and healing frequencies and love to incorporate those elements with more contemporary sounds in my music too. I also LOVE harmony and layers upon layers of it. I create what feels right for my soul and where I am in life right now.


Question: Can you tell us about your new song 'Walls'?

Julia Lostrom: I wrote 'Walls' with my friend Bailey Sampson quite a while ago. We were having a conversation about how important vulnerability is in a relationship. We started to jam on the piano and the song just started flowing. The lyrics came so easily in that session and I formed a really special connection to the song. After the session, I knew I'd love to elevate it, so I took it to my friend DUAN who added his production flair and made it what it is today with the help of Rob Amoruso. Walls has been a symbolic song for not only my relationship with others but with myself too. Sometimes fear of vulnerability can sabotage your true potential and this song came to me at a time I really needed it.


Question: Is there a particular message you hope listeners take from your music?

Julia Lostrom: Ultimately, I hope they can connect to it in whatever way they need to. Music has a magical way of being interpreted differently depending on who you are and what your own circumstances are. I put this song out into the universe for my own personal healing and if it does that for someone else that would be amazing, but I also feel contempt in knowing we are all unique so however it makes you feel, and whatever you get from it is your own truth.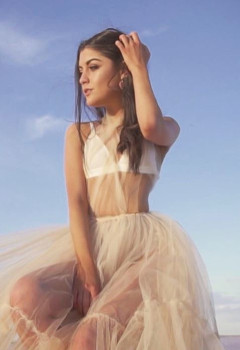 Question: Do you prefer performing live or recording?

Julia Lostrom: This is such a hard question! I love them both so much. They are both such different experiences but both magical. I love the adrenaline and energy I get from performing but I also love jumping into the studio and being alone with my notebook and booth. I honestly can't say.


Question: Which is your favourite song to perform live and why?

Julia Lostrom: It's one of my new songs, I can't tell you because it hasn't been released just yet.


Question: If you could have anyone, in the world, attend a show, who would it be?

Julia Lostrom: My dad. He's the reason I love music so much and I've always wanted him to jump up on stage with me one day.


Question: What motivates you most when writing music?

Julia Lostrom: I really have to trust my intuition when I go into a session and vibe off the people in a room too. I love collaborative projects but I'm very much an empath and if someone in the room has whack energy, I have to leave because they block my creative flow and I find it hard to focus if the energy in the room is off. My writing is so gut driven. If I'm not feeling it, I have to stop or refresh the session otherwise I write badly and end up disliking the song. Ideas are so precious and come at the most random times. You can never plan when you will write a good song because sometimes it comes when you're about to fall asleep at 3am and just have to get your voice notes out to record or sometimes the conversations in a session are amazing and inspire something great.


Question: What or who was your inspiration to go into the music industry?

Julia Lostrom: I've always known I wanted to perform from a very young age. My whole family are music lovers and we were always encouraged to play music in the house. My dad is an amazing singer and was always involved in community plays and musical events. His love and passion for music excited me and I guess it rubbed off onto me. When I moved to Australia, I was unsure if I wanted to be a producer or an artist because I was intimidated by the large voices that I was used to hearing around in the Melbourne scene but then I just let go of my fear and self-sabotage and just jumped straight into my passion. I have a beautiful connection to music and I've just always wanted to create it and share stories and sounds with people.


Question: If you could collaborate with another artist, who would it be?

Julia Lostrom: Oh wow, there's so many! I think my voice would sit well in a song with Post Malone, Lucky Daye, Khalid and 6LACK though.


Question: What is the biggest challenge you have faced along the way to your musical success?

Julia Lostrom: Comparing myself to others and my own internal dialogue. Sometimes your mind can really be cruel. I love seeing my friends do amazing things, I'm literally their biggest fan and always shout them out and feel inspired by their success but it was poisonous to my own health when I found myself comparing to them. It's a totally normal thing to do when you feel like nothing is going your way, but I had to really surrender to the universe and let her do her thing. I trust that everything happens in divine time and I just had to focus on my own journey.


Question: What has been your favourite part of becoming a music artist?

Julia Lostrom: Even though it can be quite scary, allowing myself to be vulnerable and letting my emotions flow is such a freeing experience. Making music is my therapy, and my whole life. I love the connection music provides with not only other artists but all people. Music is magical and I definitely wouldn't be who I am without it.


Question: What's next, for you?

Julia Lostrom: I'm currently working on my next few singles and loving collaborating with other producers and writers. I have a few feature projects coming out soon and excited to delve into different styles. I am inspired by multiple art forms so I'm super keen to dive into a more visual experience for my music too.


Question: Can you share your socials?

Julia Lostrom: Instagram
Spotify


Interview by Gwen van Montfort