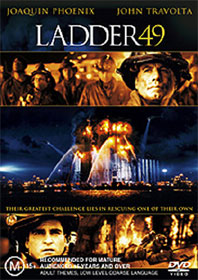 Starring: Joaquin Phoenix, John Travolta, Jacinda Barrett, Robert Patrick, Morris Chestnut
Director: Jay W. Russell
Genre: Drama
Rated: MA15+
Running Time: 110 mins

The firefighters of Ladder 49 are a skilled professional brotherhood that is devoted to their families and dedicated to saving the lives of strangers.

Action and emotion merge with award-winning stars Joaquin Phoenix (The Village, Signs) and John Travolta (Face/Off, Pulp Fiction) in this dynamic celebration of ordinary men with uncommon courage! The firefighters of Ladder 49 are a skilled professional brotherhood that is devoted to their families and dedicated to saving the lives of strangers. But when you risk your life for a living, everything can change in a flash! Loaded with thrills, humor and intense visual effects - the valor and passion shown by these everyday heroes was an inspiration to critics and audiences everywhere!

The gripping, action drama LADDER 49, starring Academy Award® nominees Joaquin Phoenix (THE VILLAGE, GLADIATOR 2000) and John Travolta (THE PUNISHER, PULP FICTION 1994), blazes to DVD.

Filled with true to life fire rescue scenes, LADDER 49 is a thrilling account of extraordinary heroes who emerge out of ordinary lives, as a courageous fire-fighting unit is faced with saving one of their own.

Directed by Jay Russell (MY DOG SKIP) LADDER 49's supporting cast features Robert Patrick (TV's The X-Files), Morris Chestnut (HALF PAST DEAD, THE BEST MAN) and Jacinda Barrett (BRIDGET JONES: THE EDGE OF REASON).

Joaquin Phoenix stars as Jack Morrison, a fire fighter on the front line, left trapped with a broken leg when a monstrous warehouse fire engulfs his troop. Through his radio, Jack is able to communicate with his mentor and chief, Captain Kennedy (John Travolta) as his fellow firefighters from LADDER 49 struggle to save him.

With only minutes of oxygen left in his tank, Jack drifts in and out of consciousness and Lewis Colick's (DOMESTIC DISTURBANCE, OCTOBER SKY, BEYOND THE SEA) episodic script takes us back with him to his first nervous days in the fire station as a rookie "probie" assigned as a "pipe-man" the guy holding the hose.

We follow the course of 10 years, as he earns the trust of his colleagues including senior fire-fighters Ray (Balthazar Getty), Tony (Tim Guinee), womanizing Dennis Gauquin (Billy Burke), loudmouth Lenny (Robert Patrick), easy-going Tommy (Morris Chestnut), and rookie Keith Perez (Jay Hernandez) as well as that of his big-hearted chief.

At the same time, Jack falls in love with and marries the beautiful Linda (Jacinda Barrett), and together they raise four kids. Jack and his fellow fire-fighter are all silent partners in a silent war; professionals with haunted souls, who know the next alarm could signal their last day of life. Linda struggles with Jack's seemingly suicidal desire to chase promotions that will take him closer to the fire, the jump, or the rescue.

LADDER 49 boasts terrific special effects where fire sequences have been modelled after real fires that produce lots of smoke and rubble and where no two are alike.

A sober and sometimes tragic celebration of heroism, LADDER 49 is a thrilling journey powered by humanity, rather than explosions and car chases.

The DVD bonus materials includes: deleted scenes; "Everyday Heroes" featuring real stories from real firefighters; a "The Making of LADDER 49" featurette; "Shine Your Light" music video performed by Robbie Robertson; and audio commentary from director Jay Russell and editor Bud Smith. This DVD also features the Enhanced Home Theater Mix, a dynamic audio-sensory experience, designed specifically for home theatre systems.