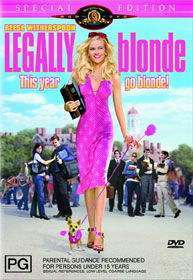 Starring: Reese Witherspoon, Luke Wilson, Selma Blair, Matthew Davis, Victor Garber, Jennifer Coolidge
Director: Robert Luketic
Genre: Comedy
Rated: PG
Running Time: 96 mins

She's a Beverly Hills beauty who'll do anything to keep her man. Even if it means going all the way......to law school! Reese Witherspoon stars with Luke Wilson (Charlie's Angels), Selma Blair (Cruel Intentions), Matthew Davis (Pearl Harbor) and Victor Garber (Titanic)in a knock-out comedy with a hear of gold - and hair to match! Elle Woods (Witherspoon) is a California blonde with couture clothes, fabulous friends and the hottest boyfriend on campus. So when Warner Huntington II (Davis) suddenly dumps her and heads for Harvard Law School, Elle takes matters into her own perfectly manicured hands. She enrols too! Now getting Warner back should be a snap, right? Wrong! Elle's about to begin the toughest fight of her life - for love, honour, justice and respect for blondes everywhere!


Review:
She's fun, she's sassy and most of all a resourceful blonde that won't take NO for an answer. Elle is determined to get her man and will pull all the punches to get him, but does she really want him?

It's fun, colorful and definitely perky. A light-hearted comedy that can be enjoyed by all.