Indie-pop trailblazer Lola Scott has revealed another new single from her upcoming body of work, ¼ Life Crisis. Infused with quirky, synth-infused production and Lola's distinctively brilliant breathy and layered vocals, "4E Jobless" (pronounced: Forever Jobless) is an upbeat ode to the experienced by many young people today, struggling to hold down that job you have no passion for just to get by, the fresh lyrics and crisp vibe of the track exemplifies the refreshingly honest direction Lola is taking with her music in 2021.

"I wrote this song about the first time I had properly quit a job with notice, and made the decision to go full-time focusing on music," said Lola. "At the time I was working for one of my best mates. I was so shit at my job & the only reason I didn't get fired was because she was the manager. When I was writing this song, I was joking about how I'd decided to retire this early in life, and wondering how long it would be until I ran out of money and came back begging for my job.

I've had plenty of people throughout my life ask when I was going to stop playing in bands and get a 'real job'. My family were never those people, but I was always encouraged to have a back up plan, and had many people assume music was a hobby. I've seen this same story play out with a lot of my musician friends and their families, so I hope people can relate to this one."

First picking up the guitar from the age of eight, and putting her emotions into words in her songs, Lola Scott would spend her lunchtimes in the music rooms for the majority of her school life. This dedicated honing of her musical craft over the years eventually led to her attaining a Bachelor's degree in guitar, and subsequently beginning her career as a session musician playing in friends' bands throughout University, even landing a European tour and various local tours.

Since the launch of her solo project in 2018, Lola Scott has delivered highly-praised singles with mind-blowing consistency, releasing three hook-laced singles in 2019 including "Crowded Conscience", which saw spot plays on triple j, and "Cyclone Weather", which was added to full rotation on tastemaker station FBi Radio in Sydney. Lola launched into 2020 stronger than ever, with triple j-favourite "Take Me Back", which received praise from Purple Sneakers, LeFutureWave, CloutCloutClout, Music Feeds, Indietronica and more. Scott's most recent single "The Eviction Song" saw her praised by NME Australia, Women In Pop and Happy Mag, Milky and more. "The Eviction Song" was also added to full rotation on triple j Unearthed.

Evoking comparisons to alt-pop trailblazers Maggie Rogers, Wolf Alice and Emma Louise, and with more music to come in 2021, Lola Scott has cemented a truly original sound and a formidable reputation in the Sydney music scene.


Interview with Lola Scott
Question: How would you describe your music?

Lola Scott: Genre bending organised chaos, with a grunge attitude built up in hook city.


Question: Can you tell us about 4E Jobless?

Lola Scott: I wrote forever jobless when I quit my day job working at a burger joint and decided to take the plunge into struggling as a full time creative. I made sure I left on good terms in case I ran out of money and had to beg for my job back. Still surviving as a full time creative so far! Just haha I would always joke that I had retired super early.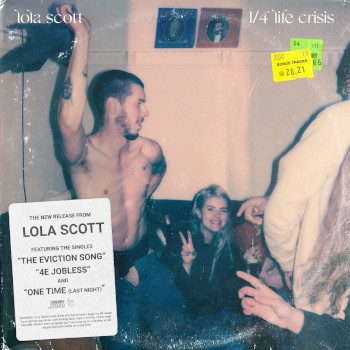 Question: Is there a particular message you hope listeners take from your music?

Lola Scott: That it's important to take big risks and throw caution to the wind sometimes even if things don't work out as planned. In the writing of my debut EP I've learnt how to not take myself so seriously all the time, laughing off the hard shit is better than moping about. Not saying a good cry isn't necessary sometimes.


Question: Do you prefer performing live or recording?

Lola Scott: It's the studio rat life for me. The more time I spend in the studio and around my mates who are inspiring producers (Oscar Sharah, Pat Byrne, Joel Quartermain, Lukey G, Tasker. etc) the more I get obsessed with experimenting with production and songwriting.

I do love playing live also! I recently played some acoustic shows with Ryan (my guitarist, my touring rock) and a bunch of backing vocalists (Lucia, Jodie, and Ellen). These shows felt super intimate with the seated covid restrictions. My next shows at The Vanguard will be full band with back up dancers. Super keen for that too because we haven't done a show with dancers (Ash and Peyton) for over a year due to covid.


Question: Can we expect an upcoming tour?

Lola Scott: I believe so! I had a chat to my booking agents yesterday about doing a run of shows across Sydney, Melbourne and Brisbane around May to celebrate the '1/4 life crisis' EP release.


Question: If you could have anyone, in the world, attend a show, who would it be?

Lola Scott: My cousins! They are still underage but really want to come to a show so I will have to do an underage one so they can come.


Question: What was your first performance?

Lola Scott: My first performance was in a school assembly in year 5, I think. I performed Bubbly by Colby Caillat.


Question: What motivates you most when writing music?

Lola Scott: The satisfaction of listening to the song when you finish it and like it. Doesn't happen every time but when it does it's a great moment at the end of a session.


Question: Which music/artists are you currently listening to?

Lola Scott: The Japanese House on repeat. Just discovered Nilüfer Yanya, and Men I Trust. Also been rinsing Caroline Polachek. There's too many artists but I will make a new playlist and put it up on my artist Spotify page!


Question: What or who was your inspiration to go into the music industry?

Lola Scott: My dad was definitely the first person in my life to introduce me to music and teach me about exploring new artists across so many alternative genres. It was never a thought of getting into the industry but more just creating an obsession with music which then led to my obsession with learning guitar from a young age.


Question: What is the biggest challenge you have faced along the way to your musical success?

Lola Scott: Self doubt. I think we all have moments wondering whether what we are making is great or not.

Luckily I'm usually pretty confident with my creative choices but sometimes you hit a rut and you just need to keep creating through it to find your sound again. I try to not restrict myself to thinking of genre so much but just write what feels natural and let the song tell you how it wants to sound.


Question: What has been your favourite part of becoming a music artist?

Lola Scott: All of the people I have met through collaboration. I have met most of my best friends through creating together whether that's writing together or playing in bands together a few years ago.


Question: What's a typical day like?

Lola Scott: Everyday is super different. That's the great thing about being a self-employed creative. My most common day would be doing a writing session in the studio and after that hanging with my housemates. Sometimes followed by knitting with my cat or other days end with a never-ending night somewhere in Newtown.


Question: What's next, for you?

Lola Scott: I'm working on figuring out what songs are going to be on my 2nd EP or should it be an album? I'd also love to tour overseas when that's a possibility again and just keep collaborating with new people. Also working on my cable stitching to I can one day knit an epic cardigan.


Question: Can you share your socials? (links please)

Lola Scott: Instagram
Facebook
Twitter


Interview by Gwen van Montfort