One of Australia's most promising new artists, singer / songwriter Mason Watts from Queensland, announces his new single "Sanctuary" - released via City Pop Records.

Following on from his debut emotional love song "Recovery", which has racked up a total 410K+ combined streams. "Sanctuary" shows the 20 year old Watts wears his heart on his sleeve. "You're never alone, I'll always be near. Whenever you're down don't disappear. Just hold me close tonight, there's nothing to fear." A message of hope and a reminder to keep the ones you love close.

Watts shares: "'Sanctuary' is a song that is deeply personal to me. There are so many things that I wish I could have said to people in my life who needed support and writing 'Sanctuary' gave me a chance to say them. I hope people can connect with this song in the same way I do and that it helps someone out there to find the strength to keep going."

"Sanctuary" was co-produced and co-written by UK multi-platinum producer Edd Holloway.Edd has worldwide success including producing Lewis Capaldi's 'Divinely Uninspired to a Hellish Extent'. As well as Australia's very own Dean Lewis's number 1 and global smash platinum single "Be Alright".

"I was fortunate enough to co-write and record this track in a small town just north of London with the incredibly talented Edd Holloway." Watts further adds.

Watts is the most recent artist to join legendary concert promoter, Michael Chugg and industry mainstay Andrew Stone's new record label City Pop Records. He is an artist where what you see is what you get - passionate, talented and extremely driven - with a splash of cheeky confidence reflected in his combination of youth and experience.


Interview with Mason Watts
Question: How would you describe your music?

Mason Watts : I always find it hard to summarise my sound. In saying that, id like to think it sits in the moody acoustic pop space.


Question: Can you tell us about Sanctuary?

Mason Watts : Sanctuary is a song that's very close to my heart. I wrote the track with my producer 'Edd Holloway' in a little town just north of London back in late 2018. The song explores the idea of being there for someone who's dealing with mental health issues and reminding them that everything is going to be okay, no matter how difficult the world around them might appear.


Question: What's it like working with Edd Holloway?

Mason Watts : An absolute dream, I've been a massive fan of Edds for a while now. So when we booked in a few sessions together I was very excited. I couldn't be more proud of the songs that came out of those sessions. Very keen to work together again in the future.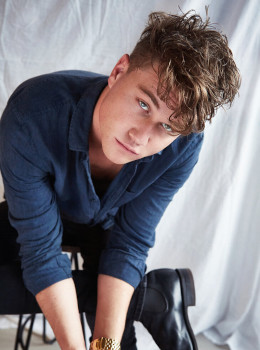 Question: Is there a particular message you hope listeners take from your music?

Mason Watts : Nothing specific. I suppose it depends on the song though really. In general, if people can find a genuine connection to something I've created, then it makes everything I do so worthwhile.


Question: Do you prefer performing live or recording?

Mason Watts : Impossible to choose! Both are so rewarding and deeply enjoyable in there unique ways.


Question: What motivates you most when writing music?

Mason Watts : Failed relationships usually. I'm a sucker for a good heartbreak ballad. Although it really depends on how I'm feeling at the time and where the world around me is at in the moment.


Question: Which music/artists are you currently listening to?

Mason Watts : Currently listening to a lot of Finneas, JP Saxe and Leon Bridges. I highly recommend checking out each of those artists!


Question: What or who was your inspiration to go into the music industry?

Mason Watts : I can't really think of any one defining moment honestly. For as long as I can remember music has been the only thing that truly captivated me. I was blessed to be surrounded by live music and great records growing up. So I'd say the seed was planted back then.


Question: If you could collaborate with another artist, who would it be?

Mason Watts : Finneas is my current dream collaboration. His lyrics and production are some of the best I've ever heard. I'd like to think we'd work well together!


Question: Was there a moment you contemplated throwing in the towel?

Mason Watts : Not at all. Music is everything to me. I couldn't imagine doing anything else with my life.


Question: What is the biggest challenge you have faced along the way to your musical success?

Mason Watts : Direction and purpose were both extremely difficult things to get a handle of in my early career. The music industry is a very competitive and intimidating world to navigate, but I feel once I found my sound musically everything else started falling into place around that fairly quickly.


Question: What's a typical day like?

Mason Watts : No two days are the same! I think that's partly why I enjoy what I do. Lately I've been in the studio writing a lot of new material. Plenty of new songs I'm very excited about sharing coming very soon!


Question: What has been your favourite part of becoming a music artist?

Mason Watts : Jamming or collaborating with other artists or producers is probably the most rewarding and enjoyable thing about being an artist. Connecting with people over your shared love of music is very special.


Question: What's next, for you?

Mason Watts : Currently working on my next single release which I couldn't be more excited to share with the world. This one is bit different to my previous releases so I can't wait to see people's reactions.


Question: Can you share your socials? (links please)

Mason Watts : https://www.masonwatts.com/
Instagram
Facebook
Twitter


Interview by Gwen van Montfort