Platinum-selling musical artist Hilary Duff, who has starred in such films as Raise Your Voice and Cheaper By the Dozen, has always wanted to act opposite her sister, Haylie Duff, who is also a musical performer and recently starred in the comedy phenomenon Napoleon Dynamite. "It's something we've wanted for a very long time," says Haylie Duff, "from the time we were little girls and would play dress up and act out little skits in our backyard."
While Material Girls is a summer comedy, it also has a message of hope, respect and self-determination that resonated with both sisters. "This film has a fun story, with lots of laughs and outrageous situations, but it also has a heartwarming message about how these girls need to recognize their potential," says Hilary Duff.
Director Martha Coolidge agrees. "There is so much depth in this story about the girls losing their father and coming to grips with being without a parent and standing up for yourself," she says. "Deep in its heart, I think that's what this movie is about, and that's ultimately what I responded to."
"Martha gave us the freedom to change some of it to reflect our voices," says Hilary Duff. "She allowed us to have fun in the development of our characters." Says Haylie Duff, "I've really learned a lot from her."
Hilary Duff and Haylie Duff play wealthy Los Angeles celebutantes Tanzie and Ava Marchetta, who live in a whirlwind of glamour and notoriety. Ava is about to announce her engagement to TV hunk Mic Rionn (pronounced "Mike Ryan") while Tanzie Harbors secret dreams of following her late father Vincent Marchetta into chemistry, which she plans to study at UCLA. "The similarities between the two girls in the story and my girls are so close it's scary," says Material Girls producer, and mother of its two stars, Susan Duff. "Ava, like Haylie, is a free spirit. Tanzie, like Hilary, is the one who's always trying to keep everything balanced and on level ground."
On the eve of a charity event honoring their late father, Vincent, the Marchettas learn that sales at the company have been flat and their father's arch-rival Fabiella wants to acquire the company for her own cosmetics empire.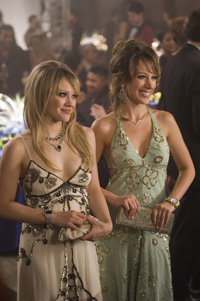 Oscar-winning actress Anjelica Huston plays Fabiella. "I seem to be fated to play strong women in one sense or another, but I didn't want Fabiella to be the stereotypical villain of the piece," says Huston. "With Martha's help, we found a good balance for the character. It turned out to be a very fun job for me."
Though the acclaimed actress is best known for her turns in such dramatic fare as Crimes and Misdemeanors, The Grifters and The Dead, she relished the opportunity to play a lighter role. "It was a fun script about young women coming of age and coming to terms with who they are," says Huston. "It's been a really nice part of my career to be able to do movies directed at younger audiences, like The Addams Family or The Witches."
The real trouble for the two Marchetta sisters descends during a charity event when a scandalous breaking story is streamed directly to the on-stage monitor as Ava and Tanzie are accepting an award on their father's behalf. Consumer reporter Ned Nakamora (Henry Cho) reveals that participants in a test study for Marchetta's Everdew formula suffered life-long disfigurement and scarring from the product. Adding insult to injury, Mic Rionn's agent breaks off Ava's relationship with his client!
In the ensuing chaos of the scandal, Marchetta stock takes a drastic drop and the girls' assets are frozen.
Since the girls appear to have no discernible practical skills or business acumen, they have left the running of the business to Tommy Katzenbach, who founded Marchetta Cosmetics with their father and now thinks their best course of action is to sell. Tommy is played by Brent Spiner, who is perhaps best known for his role of Data in the long-running Star Trek: The Next Generation series. "Brent is a chameleon to the point of not being able to recognize him from movie to movie," describes director Coolidge. "He's funny, sweet and loveable all at the same time, which is very important for the character of Tommy."
Spiner has worked with director Coolidge on three previous projects (Out to Sea, Introducing Dorothy Dandridge and The Ponder Heart). "For me, there's an ease about working with Martha," says the actor. "She's very collaborative and always asks for ideas from her actors."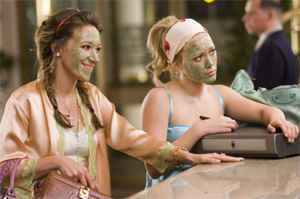 Now penniless, the Marchetta sisters have no where to go but to the home of their housekeeper, Inez, played by Maria Conchita Alonso, who seems to be the only true friend they have left in the world. "Inez is not a person who cares about her external beauty," says Alonso. "Although she works for very wealthy people, in her own life, she's not as well off. By showing them kindness and helping them to get back on their feet, Inez shows the girls that there are some great rewards to making your own way and working towards achieving what you want, rather than having it handed to you."
Tommy urges the girls to sell the company to Fabiella, but Ava senses something fishy about the offer and is determined to find out what's going on. Down and out, the girls find an unexpected ally in Rick (Marcus Coloma), a Marchetta lab technician, who catches would-be chemist Tanzie's heart when he helps them outrun the paparazzi.
They also seek help from a free legal aid attorney, Henry (Lukas Haas), whom the girls had already turned down for a corporate donation. Haas last worked with Coolidge as an adolescent when he starred in the director's film, Rambling Rose. "Even at fourteen it was like working with a complete adult, professional, accomplished actor," says Coolidge. "What makes this project even more fun is that he's never done a part like this before - a romantic lead like in a 1930s-esque screwball comedy. He's offbeat but intelligent and has a kind of laid-back energy, which is perfect for Henry and gives him great chemistry with Hilary and Haylie."
"It was great fun for me to play the voice of reason to their craziness," says Haas, who thoroughly enjoyed working with the Duff sisters. "The second I stepped on the set, they embraced me and really took the time to get to know me and make me feel comfortable."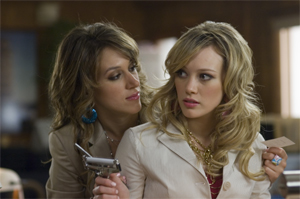 Henry steers the girls toward hiring a private investigator until they realize they have no funds and will therefore have to do the detective work themselves, "Erin Brockovich"-style. While Ava tracks down Ned Nakamora, Tanzie examines the Everdew chemistry, ultimately winding up in jail for her efforts but uncovering an important clue in the scandal's on-screen "victim" (Judy Tenuda). But the girls have glimpsed the truth about their predicament and will use every trick they've learned, and some that just come naturally, to unmask the culprit, and reclaim the future they want for themselves.
Though the two main characters are sent to the brink of their admittedly facile existence, they come to discover their own inner strength when forced to rescue themselves and redeem their father, rather than the other way around. "Over the course of the film, our characters learn how to distinguish the things that are really important in life- family, having respect for others, as well as yourself and learning how to earn that respect from others, instead of demanding and expecting it," says Haylie Duff. "One's financial position in life shouldn't determine how you treat others."
www.mgm.com/materialgirls