This young Australian artist already has her own soulful style (and a very special little writing journal) combining the sweetness of Pop and the storytelling of Country glittering with a young and fresh sound. This bright and energetic performer's voice instantly turns heads and then captivates and charms its way straight to the heart.
"We are excited to release 'Red Flags' and share this beautiful talent with the world." - Paul Ray and Students.

Bursting with an 80's style synth production complete with big snare drum reverb and a modern Pop vocal, lead track 'Red Flags' is ready to get stuck in your head with its melody hook! Then the remix featuring a Gretsch hollow-body with Maya's striking vocal rendition of the song is simply captivating. 'Summer Days' takes us to Maya's favourite time of year on holiday by the ocean and shows off her gorgeous songwriting style against a backdrop of acoustic guitars and 70's infused backing vocals.

Maya was recently featured in a Win News report covering the Murrindindi Shire/Creative Victoria 'Dindi Sessions' comprising of a songwriting workshop (facilitated by country artist Kaitlyn Thomas) and subsequent recording session held in Yea, Victoria. 'Summer Days' from the new EP was co-written with Kaitlyn.

The 'Red Flags' EP is available on all digital platforms including Spotify and Apple Music. The music video for 'Red Flags' is sure to grab your attention as well.
Interview with Maya O'Loughlin
Question: How would you describe your music?

Maya O'Loughlin: It's Pop, country and fun! I like to experiment with different styles to find what really suits me.


Question: Can you tell us about Red Flags?

Maya O'Loughlin: This song 'Red Flags' was written by Cherri Anderson who is in my singing lessons group and Paul Ray who is our teacher. It is about a relationship not getting off to a good start and stopping it before anything else happens. I had a lot of fun recording the song and creating the film clip with Paul. It was a freezing cold night and filmed in a huge old farm shed. We recorded the Red Flags guitar version which is more in a country style to go with the upbeat pop version. The third song on the EP is 'Summer Days' which I wrote with Kaitlyn Thomas and Paul and it's about going on summer holidays with my family.


Question: Do you prefer performing live or recording?

Maya O'Loughlin: I love singing live because I get to enjoy performing on stage in front of an audience, which I prefer. Recording is also a good experience and the process is very different to performing live. The song can be broken down into sections and all the best parts put together to make the final recording. 'Summer Days' I did the vocal all in the first take though which I was pretty proud of.


Question: Which is your favourite song to perform live and why?

Maya O'Loughlin: True Colours by Cyndi Lauper. This song was the first song that I performed live on stage in March 2019. The lyrics are meaningful to me and it encourages people to be themselves.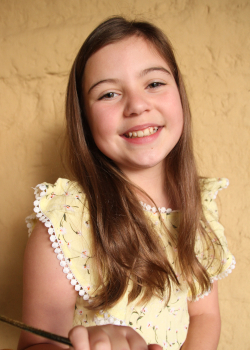 Question: Which music/artists are you currently listening to?

Maya O'Loughlin: Taylor Swift because she inspires me to push myself and to sing with confidence and emotion. Some other artists are Amy Shark, Jessica Mauboy and Katy Perry.


Question: What or who was your inspiration to go into the music industry?

Maya O'Loughlin: I have always enjoyed singing and dancing from a young age. After watching a Katy Perry concert DVD a few years back and listening to her music it inspired me to start practising and learning songs.


Question: If you could collaborate with another artist, who would it be?

Maya O'Loughlin: Taylor Swift, I would love to meet her. I could get advice and an understanding of how she comes up with ideas and how she writes her songs. Putting out a co-write with Taylor would be the best thing ever.


Question: Do you play any instruments?

Maya O'Loughlin: At the moment I don't but I would like to learn piano and guitar. My Dad plays guitar and my little brother is learning as well.


Question: What was your first performance?

Maya O'Loughlin: It was at our local pub in Kinglake on a late afternoon. I performed True Colours by Cyndi Lauper with my singing teacher Paul Ray on guitar. I was very nervous but comfortable once I got into the song. I was proud of myself for remembering all the words and for singing in front of an audience for the first time.


Question: What's a typical day like?

Maya O'Loughlin: Currently home schooling because of Covid-19, doing my singing exercises, playing outside and going for walks. I have recently set up social media for my music which is exciting and that keeps me very busy. I'm enjoying learning about the marketing side of music. Because of the current lockdown in Victoria, I am missing school, really missing my friends, and of course singing and dancing lessons.


Question: What has been your favourite part of becoming a music artist?

Maya O'Loughlin: Seeing the notes from my summer holiday journal transformed into my first song, Summer Days. I did a song writing workshop and met Kaitlyn who gave me information on how to write a song. I was able to work with both Kaitlyn and Paul in a co-write. Kaitlyn is also a country music singer and recently released her single 'Coulda Shoulda Woulda'. It was through the song writing workshop and recording day (later called "The Dindi Sessions") run by the Murrindindi Shire that I was able to create my first music video for Summer Days. Also, a big Wow! for me is to hear my songs being played on the radio!


Question: What's next, for you?

Maya O'Loughlin: I'm looking forward to grade 6 next year. I can't wait to get back to school and do all my after-school activities. I will be writing more songs for my next EP which I would love to release early next year, and I want to get back to performing live. Learning the piano is also high up on the list.


Question: Can you share your socials? (links please)

Maya O'Loughlin: Instagram
Facebook


Interview by Gwen van Montfort