It wouldn't be a stretch to say that Michael Dunstan is on his way to becoming Australia's answer to Jack Johnson. The Western Australian native has had an incredible 2020, which has seen the release of his debut album In the Grand Scheme as well as eighteen months of extensive touring between Australia and New Zealand.
Now, Dunstan has just re-released a special acoustic version of the fan-favourite single from In the Grand Scheme, "Lay in the Sun".
A beautiful, easygoing track centred around a catchy guitar riff, echoed vocals and relaxed percussion, "Lay in the Sun" serves as a reminder that life isn't just about "building a portfolio" in order to validate yourself in the eyes of others. As the second track on In the Grand Scheme, it cements the personal themes of mental health and experiencing life instead of allowing it to pass us by for the remainder of the record. As Dunstan says himself:
"[This song] is a casual musing regarding the realisation that simply experiencing and being, will always bring more value to my life than any achievement. It's a warm ode to honouring your own passion or pursuing a lifestyle that makes you happy, rather than 'living this life to build a portfolio' merely to validate your existence in the eyes of another and I'll do that to the day I die."
Born and raised in the quaint Wheatbelt of Western Australia, Michael Dunstan's career has seen the twenty-four year-old expand his horizons as his music takes him around Australia and New Zealand. However, that doesn't mean he's left his regional roots in the dust. His laid-back attitude and preference for a slower pace of life is exemplified in his music, which is rooted in a mix of traditional folk and relaxed surf-rock styles. His lyrics are open and honest, and they seek to reflect on travel, serenity and growth.
With the release of In the Grand Scheme, Dunstan managed to reach an audience who not only appreciates his songs, but also empathises with them. There's no sign of slowing down this bright, young talent's path to success, and if one thing's for sure, it's that the name Michael Dunstan will be cemented in the Australian music scene for a long time.


Interview with Michael Dunstan
Question: How would you describe your music?

Michael Dunstan: Something to listen to when you need a little space from everything else. It's a little introspective, but coupled with a strong appreciation for all the beauty and awe surrounding us that is all too easy to overlook in our fast paced lives today.


Question: Can you tell us about Lay in the Sun?

Michael Dunstan: Lay In The Sun is an ode to not taking life too seriously, and the realisation that achievements are not a source of lasting content. It's hammered down our throats from a young age that a good job, house, relationship and some kind of success is the key to happiness. However, I find myself feeling most at home in beautiful isolated places with treasured company of good friends. I spent a day catching up with an old friend from Esperance whom I hadn't seen in some time. We had a few swims and a surf, too many coffees, and soaked up some unseasonably warm spring weather in Perth, Western Australia. I had a large to-do list that particular day with regards to my music career and shows, but when he called, it's importance and relevance seemed to vanish. For me, nothing surpasses sharing an experience with a close friend in a place of natural beauty. That's the pinnacle of life for me, and this song is about making that a priority in life, because who knows how long or when our time is up in the fleeting adventure we call life.


Question: Is there a particular message you hope listeners take from your music?

Michael Dunstan: When we realise our own insignificance, we stop thinking for ourselves, and we start to think for others. It's important to take the time to visit natural places of large scale, and practice things such as mindfulness that provide us with a true lasting sense of perspective.


Question: Do you prefer performing live or recording?

Michael Dunstan: I think recording! I truly love performing live, however the recording and writing is one of the only times I truly get to sit down to reflect and explore about myself and life in general. There's two places where I feel like I can find a place of true freedom in life; one is in nature, and the other is creating and writing music.


Question: Which is your favourite song to perform live and why?

Michael Dunstan: I think my favourite song to perform live would be 'Parallel Universe' with the band! It's a darker curve-ball in our set, and while it's nice to play care-free and happy songs, this song embodies a truly frightening time in my life that I need to share. I relapsed into a 48 hour period of intense panic attacks where I felt incredibly distant, disassociated from my usual reality, identity and friends, plus I didn't recognise my own self in the mirror. It's a pretty horrific sinking feeling, and during that time I feel like the only thing that can possibly get you through, is some sort of self belief that it will subside.
I cherish the opportunity to open up dialogue on the darker side of minds at live shows on this, because at one stage I truly thought that ending my life was the only way out. Fast forward 10 minutes past that train of thought, and I was crying at the shock that I'd even reached that conclusion. Thoughts are fleeting, and thoughts are intangible; they aren't necessarily real.

'The coldest place, but do hold on.
To see tomorrow, in the light of day.
How important, is to have faith;
The belief you'll find your way"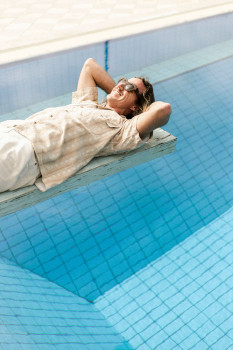 Question: If you could have anyone, in the world, attend a show, who would it be?

Michael Dunstan: Probably just one of my best mate's called Dingo (Chris Morris). I've never met a person more genuinely appreciative of live music, my own music, and the beauty of life in general. If I had to play to a crowd of 1 person for the rest of my life and it was just him, it'd be an absolute ripper time and there'd definitely be a dancefloor.


Question: What motivates you most when writing music?

Michael Dunstan: Getting into that place of freedom, where nothing external can touch you. Something that feels new and unfamiliar when I play it. I live for that goosebump moment when you hear a song for the first time, and it goes in a direction you didn't expect, but for the better. My biggest motivation in writing is exploring the meaning and purpose of life, and to try learn as much as possible while doing it.


Question: Which music/artists are you currently listening to?

Michael Dunstan: Andy Shauf, Wilsen, Nick Drake, Ex:Re, Billie Marten, Cotton Jones, Michael Nau, Fionn Regan


Question: What or who was your inspiration to go into the music industry?

Michael Dunstan: I've always written music because I feel free and calm when I do so. I previously dropped out of studying Physiotherapy due to an event happening that left me unable to study due to a heavy battle with anxiety for the next 6 months following. During this time I re-evaluated why I was even studying it in the first place, because my heart wasn't in it. I managed to pick up a few small shows to make small amounts of money while I was working on my mental health and giving myself some space. Ever since, I guess I've never stopped playing and I'm constantly working towards making this a viable full time career, because it feels so far from work and fills me with excitement to wake up every day. The people I have met through the music industry are incredibly beautiful, and many have changed my life in massive positive ways.


Question: Did you have any pre-conceived ideas about the music industry?

Michael Dunstan: I had no idea. Still only new to it too I guess. It's a weird and wonderful one, I prefer to just focus on writing and performing and keep it simple where possible. When I think about the industry side too much, it can take the shine off (make it feel like a job) why I really started writing music and playing in the first place. I have burnt out in the past for a period of 6 months, and it was out of frustration with my career and it not being where I wanted, and the rigours of the industry. You have to love what you're doing, it's big high's and lows.


Question: What's a typical day like?

Michael Dunstan: Wake up, forget to make my bed, make a bowl of weetbix for breakfast, if the sun is shining I'll head to the beach for a swim or surf. Jump on the laptop if anything needs attending to, and if there's no music related things on during the day I'll go hang out with one of the two best mates that I work with for a production company we have recently created called Halves and Quarters (www.halvesandquarters.com). When Covid hit, I quickly realised that music perhaps isn't the most reliable source of income, so we are working on another project that goes hand in hand with the creative sector and it doesn't feel like a single day of work when it's with your best mates!
After filming/editing, I might go for a run in the evening then probably just relax for the day. In all honesty, I don't have much structure in my weeks and whatever best presents itself, I'll probably do. Routine isn't a massive strong point, I prefer to plan around what's happening and what the weather is doing.


Question: What has been your favourite part of becoming a music artist?

Michael Dunstan: I think there's a removal of a barrier to conversation when playing live and meeting people. If people have listened, they can come have a chat about something that straight away we can relate to, and I'm grateful for the amount of beautiful conversations and friendship's I've made in person at shows or online. Connection is my favourite part of being an artist.


Question: What's next, for you?

Michael Dunstan: Releasing more music! And more recording. There's a completed EP, and also another EP being recorded this October.
We are lucky enough here in Western Australia to have some kind of normality, so I've still been playing some really fun shows with the band. The next few months will be spent travelling around home, working on film projects with Halves and Quarters, plus recording and releasing plenty of music.
We have tours planned for 2021, but at this stage they feel a little optimistic, so it's a nice time to explore some hidden gems around our Western Australian coastline and spend quality time with friends and family!


Question: Can you share your socials? (links please)

Michael Dunstan: Instagram
Facebook
Website
Youtube


Interview by Gwen van Montfort