MKTO Interview
MKTO, Malcolm Kelley, 20, and Tony Oller, 21, have recently signed to Columbia Records, the twosome offer a vibrant mix of pop, hip-hop and R&B, crafted in an undeniably organic way, which makes the music sound as fun to the listener as it was for the two to make--but there's an edge to it, too. It's something that will be evident on their upcoming debut album, Role Models, as well as their lead single, 'Thank You."

'We're really happy with it," says Houston-bred Oller of the single. 'We're still working on the rest of the album, but as of right now, I think we have most of what we're wanting to get across. We have ballads, really soft, -Someone Like You' stuff. We have up tempo party songs. We're trying to do a lot of sounds." And it's not just the sounds, but also the content: The two discuss the ups and downs that go with adolescence and growing up, navigating a territory that anyone coming of age can find relatable.

'I think there's a lane for everything in music," Oller continues. 'If people like it, great, but if people don't, we made a record we're proud of."

In addition to their sound, it's this sort of comfort in their own skin that defines MKTO, and informs not just the content of their music, but also the origins of their name. 'It's simple," Oller says of the moniker, which not only represents their combined initials (Malcolm Kelley, Tony Oller), but something more. 'It also stands for what our album kind of is: Misfit Kids and Total Outcasts"just like the kids we were in high school."

'Whether we like it or not, some kids are still gonna look up to us, and if I can give them a good direction to go in, or be a positive factor, then I'll be that," Kelley says proudly.

Both accomplished adolescent actors (Oller's credits include starring in the Disney Series As The Bell Rings as well as the movie Beneath The Darkness, while Kelley had major roles on ABC's hit Lost as well as in the film Antwone Fisher), the two first met while filming Gigantic, in 2010, in which they played best friends. It was there that they first bonded and realised their shared love of music.

'While acting, you got a lot of down time, so we would just crack open the computer and start making some music," Kelley recalls. He had been rapping with his friends since he was in his early teens, but had finally found a companion to help pursue the passion seriously.

'We used Garage Band a lot on our Macs," remembers Oller, who has played piano and sung since his adolescent years, and even appeared on Showtime at the Apollo and Star Search. 'We didn't know at all how to record. We loved music for the simple pleasure of loving music. Not trying to do anything, just enjoy creating it."

Before long, the savvy upstarts uploaded a handful of videos to YouTube, displaying the unique flavour they offered by rerecording other artists' hits and giving them a fresh spin. With songs like 'Made In America," 'Just The Way You Are," and 'Champion," they'd post videos of themselves recording the cuts, with Oller's vocals easily distinguishable from the original and Kelley's rapped verses adding an otherwise unexpected but fitting twist.

In early 2012, MKTO signed to a new partnership between long time musical collaborators Emanuel 'Eman" Kiriakou and Evan 'Kidd" Bogart. The two, who stumbled upon the guys' video for 'Champion" online, have been responsible for hits from Beyonce, Rihanna, Selena Gomez, Hot Chelle Rae, Sean Kingston, Jason Derulo and many more. MKTO felt that this formidable creative partnership was the perfect hit song breeding ground for their diverse song style.

Shortly after they initially linked up, the foursome headed to New York and took meetings with every major label, as MKTO wowed execs with their total package. In March, they signed with Columbia Records. 'They showed us longevity in their artists," Kelley compliments.

'When we worked on Gigantic, we always talked about what it would be like to do a show," Oller reflects. 'We had songs that we did and we'd sit in our trailers and have the mirror up and be like, -Dude, what if we fuckin' walked out on stage and everyone started screaming?' Everything we hoped for"three years laters, here we are. It's really just a dream come true for us."
Interview with Tony Oller and Malcolm Kelley
Question: What was the main inspiration behind Thank You?

Tony Oller and Malcolm Kelley: Well we do point out a political element but mainly the point is to do what you want in life and never let anyone stop you.


Question: The film clip for Thank You, is very fun – can you tell us about the filming and preparation for that?

Tony Oller and Malcolm Kelley: We had a great director who just had a great vision. To actually get to shut down streets to film made us both feel like rock stars!


Question: Were you always known as MKTO? Was it natural to use your initials?

Tony Oller and Malcolm Kelley: We just wanted a simple name for our group. It just came to be.


Question: How does it feel to hear your song played all over the airwaves?

Tony Oller and Malcolm Kelley: Incredible unexplainable. Something I've dreamed about since I was a kid!


Question: Have you found that success has come quite quickly, for you both, especially with Thank You?

Tony Oller and Malcolm Kelley: Yes but we've also been working extremely hard I believe if we keep working hard good stuff will come! It's all about the work!


Question: Do you write your own songs? What's your inspiration?

Tony Oller and Malcolm Kelley: We've written most of the stuff on the album besides a couple songs that they already had before we came apart of the project! I've always loved writing. I'm getting the opportunity now to write for other artists as well. Inspiration can come from anything. From a homeless man sitting on a bench to the girl of your dreams. All about how you're feeling. And putting the right melodies down!


Question: What music/artists do you listen to when you are not playing your own?

Tony Oller and Malcolm Kelley: Justin Timberlake, Jackson 5, Michael Jackson, Gavin Degraw, Lots of old school Motown stuff!


Question: What's next? Tour/Album/Single?

Tony Oller and Malcolm Kelley: Right now we are touring round the states doing radio shows. Hopefully we will continue to play because at the end of the day that's what it's all about. Performing! The album is done so now it's all about the shows!


Question: Any chance of an upcoming Australian music tour?

Tony Oller and Malcolm Kelley: Hopefully very soon! WE would love too!


Question: Was there a moment you contemplated throwing in the towel?

Tony Oller and Malcolm Kelley: Never.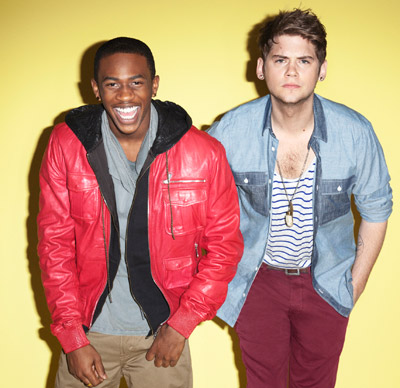 Question: Do you prefer performing live or recording?

Tony Oller and Malcolm Kelley: Well there are pluses to each of them. Recording is the craft of writing and getting stuff to sound just right. And Performing is all about being there in the moment. I love both.


Question: What/who was your inspiration to go into the music industry?

Tony Oller and Malcolm Kelley: I don't know if I had an inspiration. It was all just about timing. Signing with the right team and having a direction we had a say in!


Question: What is the biggest challenge you have faced along the way to your musical success?

Tony Oller and Malcolm Kelley: It's all about putting in the hours if you want it!


Question: What's a typical day like?

Tony Oller and Malcolm Kelley: Wake up usually 9amish. Hit the gym, Run, and then write music the rest of the day!


Question: What has been your favourite part of becoming a music artist?

Tony Oller and Malcolm Kelley: Getting to be able to pay my bills doing what I love to do.


Question: If you could collaborate with another artist, who would it be?

Tony Oller and Malcolm Kelley: Justin Timberlake.


Question: Have you decide to focus on music over acting, for the time being?

Tony Oller and Malcolm Kelley: Focusing more on music for the time being!


Question: What do you enjoy most about meeting and chatting with ur fans?

Tony Oller and Malcolm Kelley: Everything. I love talking and getting to know them. The fact that we got fans is rad! And I really appreciate anyone supporting us!


Interview by Brooke Hunter