Mo•Louie is the moniker for Melbourne-based artist Monique (Mo) Sesto. Mo demonstrates her versatility as both a singer and producer with her latest single "Body" - an upbeat, bubbly, electronic track that has the funkiness of a Bruno Mars song, the electronic playground of Charli XCX track, infused with Mo's loud, playful and crazy personality. "Body" is a nod to body positivity and just like Mo's ass, the beat is PHAT!

Her music creatively plays with cinematic elements and influences ranging from soul to avant-pop. The message behind 'Body' goes far beyond its catchy hooks!

"'Body is a celebration of body positivity, confidence and sex," says Mo•Louie. "When I was younger I was really thin. My perception used to be that being thin was a really "beautiful" thing to be. A lot of my mental health problems and sickness meant that I had to take medication which made me gain weight. At the time, other people, even my family, would tell me you need to lose weight because you used to look so pretty when you were thin."

Just like the instrumentation and production in the track, the song is powerful, sensual and fun. "Body" was written by Mo and longtime collaborator/friend Ven X, produced and mixed by Mo•Louie (Mo Sesto) herself with production assistance from artist and multi-instrumentalist Moses Carr, and mastered by Ben Feggans (Mallrat, Ngaiire, RÜFÜS DU SOL).

Mo•Louie continues, "The song 'Body' is about challenging those inner demons. Being proud and happy to be thick and juicy! The song encapsulates being in a state where those insecurities go away and you just feel fabulous, sexy and dtf! haha! There are so many different shapes out there. It's f***ed for other people to determine what beauty is. To me confidence is beauty, to someone else vulnerability is beauty, to someone else cheese is beauty. As corny as it sounds, beauty is in the eye of the beholder. ALL types of beauty need to be showcased; Winnie Harlow, Lizzo, Iris Apfel, Ellie Goldstein, Evie Oddly, Shaun Ross... they add so much colour to a sometimes vanilla mainstream media."

"A lot of outsiders made me feel really bad about my body and I would tear myself down constantly, especially looking in the mirror and hating the way I looked. I kept holding myself to that 'skinny standard' which created a negative and unhealthy mindset that manifested into my sex life. Being part of and creating Fem Fantasy (an event collective celebrating gender diverse artists) helped me find my own self-love. I have a lot of friends around me now who lift me up and I harness that positive energy within myself. I've started to embrace my new body," said Mo•Louie.

Mo released her debut single, "She Said" in November 2016. The electronic/synth-produced track made the Semi Finals of 'The International Songwriting Competition 2016' (ISC). Written and produced by Mo•Louie and mastered by Simon Lam (Kllo), Mo's debut EP Fire Brick (2017) was celebrated by AAA Backstage as; "a collection of genre-agnostic soul excellence." The EP was launched at Melbourne Music Week in a show co-produced with electronic artists Youthfire & Abraham Tilbury.

Mo and her long-time collaborator Ven X made the semi-finals of the International Unsigned Only 2020 Songwriting Competition for their yet to be released song "Flames." 2020 also saw Mo release her mixtape An Odd World, her first complete body of work mixed and produced by herself and mastered by Becki Whitton (Aphir). The mixtape included "Iso Iso Iso Bored" which was described by Forté Magazine as; "exciting, intoxicating and all out relatable". To end a solid year (despite COVID) Mo released her second single "Survivin" ft. Youthfire' which premiered on JOY FM radio and was featured on Acid Stag's Friday Favourites and described as; "very cool, unique and interesting."

Mo•Louie is ready to kick off her biggest phase of creativity and music yet!


Interview with Mo•Louie
Question: How would you describe your music?

Mo•Louie: My music is poppy, electronic, theatrical and experimental. Genres are so blurred these days, I particularly take inspiration from a lot of different genres and movements, even non-musical things. My music always evolves too, but my latest description is Quentin Tarintino meets J Dilla meets Charli XCX meets Kimbra. Hehe


Question: Can you tell us about 'Body'?

Mo•Louie: Certainly, Body is upbeat, bubbly, electronic/pop anthem celebrating body positivity, confidence and sex! It has the funkiness of a Bruno Mars song, the electronic playground of Charli XCX track, infused with my loud, playful and crazy personality :)


Question: Is there a particular message you hope listeners take from your music?

Mo•Louie: Well for me, the song encapsulates being in a state where my insecurities go away and I just feel fabulous and sexy haha! I hope that when listeners hear this song, that it makes them feel fabulous, confident and just let go and have fun! That they can put their insecurities and inner demons on ice and just love themselves and their appearance for what it is, because YOU ARE AMAZING, FABULOUS AND SEXY! I watch A LOT of Rupaul's Drag Race and the show is big on self-love, confidence and fierceness; I harness a lot of that energy in my art now, and I have a lot more fun creating music and art.


Question: Do you prefer performing live or recording?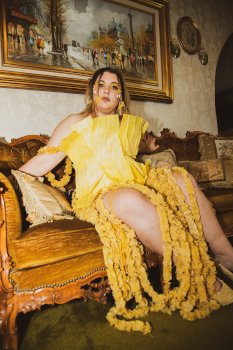 Mo•Louie: Oof, I've discovered a new love of recording, especially vocals, but I have to say there is nothing like performing live. I've been doing it since I was a little tot, and every time I'm on stage performing it's a rush of adrenaline. I love the energy of audiences and making people feel emotions and taking them on a journey, there is no other feeling like it.


Question: What motivates you most when writing music?

Mo•Louie: I know it's going to sound very "Mariah Carey" of me but emotions motivate me to write music. I have a lot of emotions...haha...too much sometimes! If I feel something strongly I find it motivating and cathartic to transform it into art. Similarly, if I'm presented with a song with the music already written and I need to put vocals, melodies and harmonies to it, I need to have an emotional connection to it otherwise I don't connect to it, and if I don't connect with it the audience won't.


Question: Which music/artists are you currently listening to?

Mo•Louie: I've been listening to Hiatus Kaiytoe's new album Mood Valiant on repeat. It's just so spectacular and creative, and WOW does it slap! I've also been loving Jorja Smith's new album Be Right Back and St Vincent's new album Daddy's Home. I also love listening to my mates on spotify, LOUV and Dirty Versachi, they are making such amazing music at the moment, and I feel honoured to be part of a few of their projects coming out in the future.


Question: What or who was your inspiration to go into the music industry?

Mo•Louie: I found an absolute love of singing from a very young age. I started singing to my favourite artists in my bedroom, I pretended my hairbrush was a microphone and that my teddy bears were thousands of fans and I would perform for them haha. I sang along to artists like Ella Fitzgerald, Ray Charles, Christina Aguilera, Beyoncé, Destiny's Child, Sarah Vaughn...a variety of different artists. Then I moved from singing cover songs live, to joining bands and collaboratively writing our own music, then I branched out to write music as a solo artist.


Question: If you could collaborate with another artist, who would it be?

Mo•Louie: I LOVE collaborating, so I have a whole list of people I would love to collaborate with! If I had to pick one, I think collaborating with Charli xcx would be an absolute dream! I find her music and collaborations so creative and they seem to always push boundaries. Also her music writing seems like she likes to try different things, improvise and play which is what I love to do!


Question: Did you have any pre-conceived ideas about the music industry?

Mo•Louie: Yes, I thought that you had to be signed to a big label to be successful, but that isn't true, there are so many independent artists killing it.


Question: What has been your favourite part of becoming a music artist?

Mo•Louie: The actual music/art is my favourite part, just creating and performing is my absolute favourite thing in the world, it makes me so happy. I'm also an Aries so I love attention hahaha, so I do enjoy that part, but not as much as making music and performing.


Question: What's a typical day like?

Mo•Louie: Wake up, walk down the road with my bulldog 'Biggie' and order myself a matcha soy latte, chat to the barista Christian for a bit then go home (if I'm lucky Biggie doesn't poop when I'm walking back with my coffee in my hand haha). I pop into my home studio and do some work on my music and other jobs, mostly comping and editing vocals. I have a bit of a break, probably watch Rupaul's Drag Race while eating lunch. I do some more music work, admin work and some video editing for instagram or promotional stuff. Then when night comes around, since Victoria is always in lockdown, I pour myself a whiskey on ice and get drunk HA!


Question: What advice do you have for aspiring artist?

Mo•Louie: I'd say don't focus on what other people say about your music or how they react, you are not making music for other people, you are making it for you. You can really start resenting yourself as an artist if you care more about what other people think than trusting yourself. I would also say don't dwell a lot on a past release, especially if it was a negative experience or it didn't go the way you planned, try to point out the positive aspects, learn from your mistakes, grow from it and concentrate on your next project. And one other thing...don't let anyone bully you or put you down, no matter who they are, I know it can be scary but call it out if they make you feel less than.


Question: What's next, for you?

Mo•Louie: I'm going to TAKE OVER THE WORLD!! ... but in the meantime I'll be releasing another single in November/December hopefully! hahaha


Question: Can you share your socials? (links please)

Mo•Louie: Website
Instagram
Facebook
SoundCloud
YouTube


Interview by Gwen van Montfort