Naked Bean Face and Body Scrubs
Australian eco-friendly company Australian Skin Laboratory has launched Naked Bean – a range of face and body scrub products which boast a unique fusion of active natural ingredients to promote silky, soft and nourished skin.
The new range, which includes a coffee scrub, body cream and face creams, is made with certified organic lingonberries and bilberries picked from the wild arctic forests of Scandinavia. The natural berries are bursting with antioxidants, moisturising properties and fatty acids (omegas) for optimal skin nutrition.

Unlike other coffee scrubs, Naked Bean products contain only fresh roasted robusta coffee granules and ingredients picked from nature. Robusta coffee beans boast more antioxidants and twice the caffeine of Arabica coffee beans, helping to stimulate the skin and provide extra exfoliation to promote healthy skin.

Other sustainable natural ingredients included within are witch hazel extract, rosehip oil, cocoa seed butter, aloe vera leaf juice, shea butter and jojoba oil.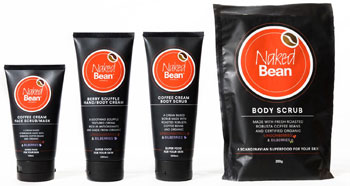 Naked Bean Body Scrub
A delicious fusion of effective, naturally derived ingredients. Stimulating robusta coffee granules with natural caffeine to help detoxify and firm skin and reduce appearance of cellulite. It's a trip to the spa in one 200gm bag!
200gm: RRP $14.95

Coffee Cream Face Scrub/Mask
A house favourite, this Face Scrub/Mask is cleansing, creamy and delightful to use. It will clean, exfoliate and rejuvenate your face every time you use it.
125mL: RRP $12.95

Coffee Cream Body Scrub
This product tube is a creamy scrub, even more moisturizing and creamy than the bag scrub, for those who prefer the convenience of a tube and a more nourishing scrub finish. A cream based scrub made with roasted robusta coffee beans and organic lingonberries and billberries picked from the deep, pristine, wild arctic forests.
200mL: RRP $12.95

Berry Souffle Hand/Body Cream
Our soufflé textured Berry Scrub with fresh berry notes smells as good as it feels, rich in antioxidants, a light and beautifully nourishing experience for your freshly exfoliated skin. Also containing caffeine, this moisturiser is not only soothing and nourishing, but the stimulating caffeine also helps wake up the skin and leave it feeling energised.
200mL: RRP $12.95
Review: Fake tan be gone! The Naked Bean Face and Body Scrubs arrived at the best time possible for me… as my spray tan residue was left in the weirdest places (gross).

The whole Naked Bean range is incredible; what I liked most about the scrubs is they are genuinely gentle yet worked really well in removing fake-tan leftovers PLUS they smell so good (like a berry smoothie). I often find scrubs, especially coffee-based body scrubs, to be too harsh and I feel as if I've removed numerous layers of skin with the scrub but this range isn't like that at all. As the scrubs aren't too harsh they can be used more often so you can leave your shower feeling like you've just left the day-spa, more than once a week (win)! In saying that, there is also a specific product for your face, the Coffee Cream Face Scrub/Mask which certainly made me enter 'pamper heaven" (population: anyone who uses The Naked Bean range).

I'm pretty confident the collection is called The Naked Bean because you want to be a naked bean when you use it because you're so fresh and smooth! I never really understood the term 'soft-touchable skin" until I got out of the shower after using The Naked Bean and couldn't stop touching my silky smooth legs (TMI?). Which explains why I've used the products three times… this week.

What makes the products even better is the sustainable natural ingredients and that they are made in Australia (precisely just down the road from my home); I honestly can't rave enough about this product.

My favourite product in the range? The 200mL tube of Coffee Cream Body Scrub only because it's easier to use, in the tube, than the Coffee Body Scrub Bag, in the shower – the scrub is sensational and doesn't leave mess!
- Brooke Hunter
The Naked Bean range starts from just $12.95, and is available online at http://www.nakedbean.com.au/