What's Your Make Up Intelligence?
Napoleon Perdis Launches Smart New Foundation and Concealer Pen
Napoleon Perdis recognises that intelligence needs to be extended beyond gray matter and to makeup, with the release of two advanced new products. We're all familiar with the idea of brain exercises to boost your IQ, and ways to become socially aware to improve your EQ, but what if you seek to ramp up your MQ? Your Makeup Intelligence.
Beauty guru Napoleon Perdis answers the call with high-tech formulations that fuse the wonders of makeup with the benefits of skincare. "Sheer Genius, a new foundation, and the Mighty Concealer Pen, a new cover-up, are truly sophisticated products," says Perdis, "and smart additions to your beauty regime."
The advanced technology in both formulas works on two levels, illuminating the complexion while restoring youth and reviving stressed-out skin with powerful anti-ageing ingredients. An exclusive brightening complex reflects light for a soft-focus effect, evening out your skin tone, obscuring imperfections and imbuing the complexion with a radiant glow.
Both boast a blend of exclusive ingredients to help to retain skin moisture and prevent the visible signs of aging. Additionally, an SPF 15 in Sheer Genius helps keep skin protected from the harmful effects of the sun. "We've worked hard to create these two singular products that are tantamount to beauty lifesavers for busy lives," adds Perdis.
Sheer Genius Foundation
"Foundation with an IQ." -Napoleon Perdis
At the heart of the Sheer Genius formula is an exceptional Hydrogel technology that minimizes the appearance of fine lines and wrinkles and creates a weightless veil of luminous coverage. Sheer Genius Foundation is enriched with active ingredients that boost skin elasticity and moisture. Skin appears polished even under the most intense high-definition technology, but the formula is light enough for everyday use. Suitable for all skin types.
Pro Tip: Apply to skin after properly cleansing and priming your face. Using Sable Brush 19b, blend Sheer Genius across the T-zone of your face, and finish by dusting Translucent Loose Powder over complexion. After foundation, camouflage any imperfections with the Mighty Concealer Pen.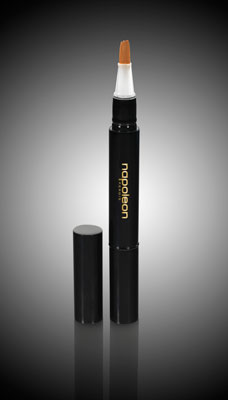 Sheer Genius Foundation
: RRP $69
Mighty Concealer Pen
"A flawless complexion is just a click away" -Napoleon Perdis
Glamazons rejoice. Perfect skin is merely seconds away. Camouflage fine lines, dark circles and blemishes with Napoleon Perdis' skin-perfecting Mighty Concealer Pen. Infused with advanced Hydrogel technology, the easy-to-use pen delivers a smooth, long-lasting finish and a radiant complexion in just a few strokes. Not to mention, this brilliant little gadget fits perfectly in your purse for evening touch-ups.
Pro Tip: Dab onto the skin using the brush applicator and gently blend to conceal dark circles and discoloration. Gives light to medium coverage, and can also be used as an eye brightener.
Mighty Concealer Pen
: RRP $35
Napoleon Perdis
picked up his first makeup brush at the age of 13 to help his glamorous mother primp for a soiree. Since then the self-taught makeup artist has long dreamed of spreading his glamour gospel. A native of Sydney, Australia, and now based in Los Angeles, Perdis has always sought to demystify makeup, and transform runway and red carpet trends to reality. The Napoleon Perdis philosophy is not dictated by fashion: it's about accentuating your natural beauty with confidence-building products. Last year, in addition to taking his company global, the leading artist launched a new line exclusively for Target, NP Set. Perdis is also still an in-demand makeup artist. Since its unveiling in the U.S., the brand has attracted celeb fans including Jessica Szohr, AnnaLynne McCord, Lindsay Lohan, Leighton Meester, Debra Messing, Jessica Lowndes, Shenae Grimes, LeAnn Rimes, Nicollette Sheridan, Amanda Bynes and among others.
Napoleon Perdis prestige products are available at Napoleon Perdis Concept Stores,David Jones and over 650 pharmacies and salons throughout Australia.
Stockist Enquiries - 1800 814 572
www.napoleonperdis.com