THE BRONZING AGE
The era of radiance


"Fake it. Don't bake it."
- Napoleon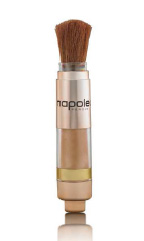 If you really want to glow this hot season, look no further than Napoleon Perdis. Australia's best-known cosmetics house has a collection devoted to summer radiance, and the best part is it removes sun from the sun-kissed equation. The line spansfive products that approximate a healthy, glowing tan. Benefits range from rejuvenation to anti-ageing, hydration and even improvedskin elasticity. A plethora of oils such as jojoba, lime, hazelnut, rose hip and cinnamon leave the skin feelingluxurious and nourished.
Customers who purchase any product from the Napoleon Perdis summer collection inOctober will receive a fabulous gift: a Bronze Age Click Pen. This convenient pen dispenses the right amount ofgilding powder to highlight your cheekbones, enhance your decolletage and create a tawny all-over glow. "Thebronzing pen really is mightier than the sword," quips Napoleon Perdis
This season, follow these steps to achieve the perfect sunless tan:
Step 1
Slough away dead skin cells-and the cold weather blues-by prepping your skin with the Smooth OverBody Scrub, a delicate salt scrub delicately that provides gentle yet effective micro-exfoliation. As skin is polishedsmooth, Chamomile and Calendula provide calming benefits and Aloe Extract soothes.
Step 2
Choose from an aerosol or mousse formula to create a golden colour.
Summer Sun Self Tanning Spray takes the guesswork out of tanning by delivering a controlled mist to even the hardest-toreachareas of your body, while the formula is quick-drying. Star ingredients include Chicory Extract, which revitalises andstimulates skin, Vitamin E which hydrates, and Aloe Vera to reduce the appearance of fine lines.
If you prefer a mousse, try Summer Lovers Self Tanning Mousse, a streak-free formula that glides on easily with AloeVera and Apricot Oil to hydrate and protect the skin.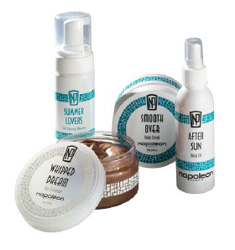 Step 3
In the days following your tan application, top up the colour with Whipped Dream TanEnhancer. The decadent souffle-like consistency deeply moisturises skin with Olive Oil, Almond Oil,Shea Butter and Hazelnut Oil and enhances your goddess tan.
Step 4
Polish the skin and correct any fake tan faux pas with After Sun Body Oil. The formula blendslight reflectors to help skin appear caressingly smooth as well as ingredients like Aloe Vera and HazelnutOil to soothe. Ideal for summer's barely-there dressing.
THE BRONZING AGE
FREE Limited Edition Bronze Age Click Pen, valued at $30, with any Summer Range purchaseAfter Sun Body Oil - RRP: $30
Smooth Over Body Scrub - RRP $40
Summer Lovers Self Tanning Mousse - RRP $40
Summer Sun Self Tanning Spray - RRP $30
Whipped Dream Tan Enhancer - RRP $40
Available at Napoleon Perdis Concept Stores, David Jones and over 650 pharmacies and salons throughout Australia.
AUS Stockist Enquiries 1800 814 572
www.napoleonperdis.com
About Napoleon Perdis
Napoleon Perdis picked up his first makeup brush at the age of 13 to help his glamorous mother primp for a soiree. Since then the selftaughtmakeup artist has long dreamed of spreading his glamour gospel. A native of Sydney, Australia, and now based in Los Angeles,Perdis has always sought to demystify makeup, and transform runway and red carpet trends to reality. The Napoleon Perdisphilosophy is not dictated by fashion: it's about accenting your natural beauty with confidence-building products. Last year, inaddition to taking his company global, the leading artist launched a new line exclusively for Target, NP Set. Perdis is also still an indemandmakeup artist. Since its unveiling in the U.S., the brand has attracted celeb fans including Jessica Szohr, AnnaLynne McCord,Lindsay Lohan, Leighton Meester, Evangeline Lilly, Heidi Montag, Whitney Port, Debra Messing, Jessica Lowndes, Shenae Grimes,Catt Sadler, LeAnn Rimes, Melissa George, Nicollette Sheridan, Amanda Bynes and Hilary and Hayley Duff among others.