Nicole Huff is a Toronto-based actress, singer, and dancer widely known for her role as Paige Aquino on NETFLIX's TINY PRETTY THINGS. Nicole began her career in the entertainment industry at the young age of six. Her ethnicity is half Filipino, a quarter German and a quarter French. She is fluent in the French language. Nicole's passion and dedication for the arts grew over the years as she trained in numerous styles of dance such as ballet, contemporary, pointe, tap, jazz, acrobatics, lyrical, musical and hip hop. She is a classically trained singer, pianist and violinist. She also took lessons in figure skating, drawing, skiing, swimming, soccer, karate and gymnastics. As a child, Nicole's love for being on stage got her involved in talent and beauty pageants. There, she won Miss All Canadian Overall Winner, Best in Talent, and Best in Public Speaking, to name a few. She achieved her Black belt in Karate and has received numerous awards and scholarships for acting, dancing, singing, piano, violin, and figure skating.

Nicole was also a child model at age six for Ford Kids Models. As she grew, she continued to do theatre, print ads, and TV commercials. To date, Nicole has appeared on over 35 television and voice-over commercials and has starred in a number of film and television productions including LIFE WITH DEREK (FAMILY CHANNEL/DISNEY CHANNEL), JON DORE (THE COMEDY NETWORK), BEST FRIENDS FOREVER (FILM FESTIVALS), WEIRD OR WHAT (DISCOVERY CHANNEL), MAX AND SHRED (NICKELODEON), DEGRASSI (MTV), PRIVATE EYES (GLOBAL) and DIGGSTOWN (CBC). Currently, Nicole can be seen starring in the new hit NETFLIX drama series TINY PRETTY THINGS which follows an elite group of ballet dancers who try to maintain their focus on their craft while enduring a serious investigation. Most recently, she can be seen guest starring in the new drama television series PRETTY HARD CASES. The series made its official premiere on CBC on February 3rd, 2021.

In addition to her work on screen, Nicole has also established herself as a theatre actor starring in multiple productions including ANNIE (MARQUEE THEATRICAL PRODUCTIONS), WIZARD OF OZ (JULLIARD FRENCH IMMERSION) and FAME (CARDINAL CARTER ACADEMY FOR THE ARTS).

Nicole has been widely recognized for her acting career winning several awards and accolades including Best Performance in a TV Movie, Miniseries, Special or Pilot at the Young Artist Award, two Joey Awards for Best Actress – Lead in a Short Film and a Young Entertainer Award for Best Young Actress on a TV Series Guest Star.

When Nicole is not on set, she travels and spends time with her family and friends. She is currently working on her first EP which is set to be released in 2021 with renowned music producer Roy Hamilton III who has worked with the likes of Britney Spears, Michael Jackson and NSYNC, to name a few. She continues to act, dance, sing pop music as well as write pop music regularly.


Interview with Nicole Huff
Question: Can you tell us about your role in Tiny Pretty Things?

Nicole Huff: I play Paige Aquino who is a bubbly, charismatic and loving girl. She's one of the elite ballet students at the Archer School of Ballet in Chicago and is friends with a lot of the students there. She goes through a challenging situation at her time there where we get to her vulnerability.


Question: Did you always want to pursue a career in the entertainment industry?

Nicole Huff: I was always drawn to the arts. I grew up acting, dancing and singing around the house. I loved being part of commercials, TV shows, musical shows and films as I was a little girl. I also loved watching and taking inspiration from my favourite artists. I would always come home from my activities such as piano, Karate and figure skating and feel so fulfilled. I believe I always knew I wanted to pursue a career in the entertainment industry.


Question: What or who inspired your love of acting?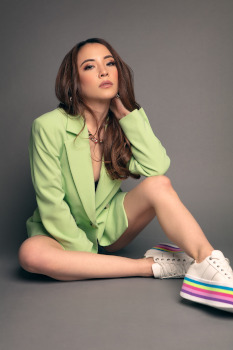 Nicole Huff: The aspect of storytelling and different perspectives of TV and film inspired my love for acting. There are so many different genres of projects out there and so many interesting characters to portray. I've always been fascinated with that world. I also grew up watching Angelina Jolie, Shirley Temple, Meryl Streep, Leonardo Dicaprio and Jennifer Lopez on my screen, to name several.


Question: What moment in your career stands out the most?

Nicole Huff: I would say winning a Young Entertainer Award and a Young Artist Award in LA and a Joey Award in Vancouver. I would also say landing the role of Paige on Tiny Pretty Things on Netflix because it led to so many opportunities for me and helped me step into the world of being an international actor because Tiny Pretty Things can be seen all around the world.


Question: You've achieved so much already, can you provide your tips for creating a successful schedule?

Nicole Huff: It depends on the person because everyone is different and different things work for different people. For me, it's about working hard, staying calm, managing time wisely and staying consistent. Also reminding yourself that it's okay to have days to relax and take care of yourself.


Question: What's your favourite part of your job?

Nicole Huff: My favourite part of my job is getting to meet so many amazing people and getting to travel. It's incredible to see the final project come together after seeing the hard work that goes on behind the scenes. My job is also my passion because I truly love telling stories and getting to portray interesting characters.


Question: If you could work with any other actor or director, who would it be?

Nicole Huff: I would love to work with Leonardo Dicaprio.


Question: What advice do you have for aspiring singers or actors?

Nicole Huff: Keep practicing, training and try to get as much experience as you can to add to your resume. Stay inspired and be strong. It can be a difficult industry because everyone in it experiences rejection, however, as long as you work hard, make your set of goals to achieve, and never give up, you'll find a way.


Question: What do you get up to when you're not acting or singing?

Nicole Huff: I'm always dancing around the house. I love watching movies, listening to music and playing piano. I love walking and relaxing. I'm also finishing up my last year in University so you can definitely find me doing school work. I also loved travelling before the pandemic.


Question: What's next for you?

Nicole Huff: I will be releasing my pop dance original EP music which I'm really excited about. I also just signed with my LA representation so I'm excited to get more opportunities.


Interview by Gwen van Montfort
Photos by Jaylyn Todd