From Melbourne to Los Angeles and Beyond
From Melbourne to Los Angeles and beyond, groundbreaking DJ, Producer and Songwriter Saint Clair is poised for breakthrough in 2018 with a slate of original tunes.

A consummate music junkie, she can routinely be found locked in her studio, writing and producing records for some of music's biggest names, or headlining mega-clubs across the U.S. with tasteful, electrifying sets.

Off the heels of an illustrious modelling and TV career, Saint Clair's musical journey began in her home country of Australia, at a time when female DJs were virtually unheard of. Demonstrating innate technical abilities from the moment she touched a turntable, she was quickly able to climb the ranks and become a fixture on the Australian club and festival circuit.

After relocating to Los Angeles in 2015, Saint Clair quickly established herself as elite talent, demonstrated by distinguished residencies and appearances throughout North America, with household nightlife brands such as Hakkasan, TAO Group, 1 Oak, E11even and more. Currently, she has residency at the world's first Bitcoin Nightclub in Las Vegas; a hot topic in today's world.

Saint Clair has also collaborated with high profile music artists, most recently with G-Eazy on the title track "The Beautiful and the Damned." On release, the album went straight to Number 2 on the US Billboard charts and is currently featured in the Beats by Dre 'Above the Noise" campaign, featuring some of the world's best winter athletes ahead of the Winter Olympics.

Outside of the club world, Saint Clair's versatility and eclectic musical repertoire keeps her in demand at high profile corporate events, with clients such as L'Oreal, Nike, Adidas, Sports Illustrated, GQ, Pandora, Republic Records, Don Julio and Mercedes Benz; as well as exclusive after-parties including The American Music Awards, MTV VMA's and F1 Australian Grand Prix.

The electricity orbiting the Saint Clair music realm is extraordinary. Despite her extensive experience behind the decks, her journey has undoubtedly only just begun. With production heavily influenced by her love of live instruments and classical music, the world can expect to hear something quite different and original from this progressive artist.



Interview with Georgia Sinclair
Question: What inspired your passion for music?

Georgia Sinclair: I've been passionate about music for as long as I can remember. Music is the universal language. It connects us and triggers an emotional response. You can be having a terrible day then go to a great concert or see a great DJ, and your whole day changes! If I play the right music, I can dictate the overall mood of a room depending on where I want it to go; and that's an extremely powerful thing. There is nothing quite like it.


Question: How did you teach yourself to DJ?

Georgia Sinclair: That's an interesting story. I had always wanted to learn from the minute I knew what a DJ was. It wasn't really a thing that girls did back then though and any time I asked a DJ friend to teach me they would always say "Girls don't DJ." The worst part is that I accepted that....God knows why! Anyway, instead I decided to pursue my other passion; television hosting. I got a job hosting Kids' WB for Channel 9. Everything was going swimmingly until one day I started to feel unwell and was diagnosed with s golf ball sized, benign brain tumour, which forced me to leave the show and focus on my health. I became severely depressed when I was ill and a friend suggested that I teach myself to DJ to give me something else to focus on during my treatment.


Question: How did becoming so unwell encourage you to pursue your DJ dream?

Georgia Sinclair: My plan post-surgery was to get straight back into TV. At the same time, word started to get out that I had been learning to DJ and I received a few offers to play some shows here and there. What a rush! I couldn't believe how much I loved it. I became so addicted that I decided to focus solely on DJing and I've never looked back. I still hope to get back into TV in some way at some point, but I'm so glad things worked out the way they have. I can honestly say I love playing every single one of my shows.


Question: What's the story behind the name, Saint Clair?

Georgia Sinclair: My full name is Georgia Sinclair so Saint Clair is a play on my last name. It wasn't a very well thought-out name in hindsight though because those who don't know my name is Georgia assume that my name is Clair!


Question: What's a typical day like, for you, currently?

Georgia Sinclair: I'm rubbish in the mornings because I'm always up late DJ'ing or in the studio so I plan accordingly around that. Typically, I wake up somewhere between 9 and 12 depending on how late I've gone to bed. I allow myself to sleep in because I've learned that if I don't get my 6 - 8 hours, I am not as productive the next day. I usually wake up, force myself out of bed, put on the kettle, splash my face and make myself a hot lemon water. Then I meditate for 10 minutes using the headspace app and pray. I do not pray to a God as such, but I pray to the universe which is a form of manifestation. Then I eat breakfast, check my emails to see if anything urgent has come in, go work out or do a gym class. I need to get this done first thing because I get tired later in the day. The afternoon is devoted to the hustle and work. If I'm not in the studio writing and producing or preparing for a show, I'm at my desk teaching myself something, shooting content for my social media, and meeting with a business contact or practicing DJing etc... There is always a long list of things to be done. A friend suggested to me that I choose seven things to focus on every day and that seems to work well for me... especially doing the thing you want to do least first! At night, I'm either DJing, working in the studio, watching TV or catching up with friends. This year, I've really tried to make time for social stuff too as it's easy to forget about having a social life when you're hustling, but it's crucial to your happiness! On weekends my schedule changes. I'm typically playing a show or flying somewhere to play a show! It can get crazy which is why my weekly routines are so important to me. Routine is key!


Question: What advice do you have for females wanting to pursue their dream careers?

Georgia Sinclair: Gender inequality is still a real issue in most industries, but don't allow it to get in your way. Don't fall into any traps. Work hard and show everyone why being a female is your strength and not your weakness. Don't play it safe. You never know what is going to happen, so don't have any 'What if's'. Success is a numbers game. Not every door will open, but if you knock on enough doors eventually some will. You only fail when you quit, so be relentless and hustle 24/7. And don't try to do everything by yourself. Unless you are super-human it's not possible. The team makes the dream! Identify what you're good at and what comes easily to you then stay in your lane and outsource the rest. Only do things yourself if the idea of it is a "Hell yes!" to you. Also, be open to change and evolution as things change and opportunities arise, so be adaptable and roll with it. And finally, never underestimate the power of strong marketing and PR. Love it or hate it, it's crucial!


Question: Can you tell us about Tocaya Organica?

Georgia Sinclair: Tocaya is a modern organic fast-casual restaurant that is expanding rapidly across the US. The parent restaurant, Toca Madera, is an iconic organic Mexican restaurant in Los Angeles and Tocaya is basically a fast-casual version of that. The produce we use is organic, and locally and sustainably sourced. We have a kitchen system that allows us to prepare everything quickly (usually in 10 minutes or under) and our price-point is very reasonable for clean, organic food. A major point of difference is that the menu was designed to compete with home cooking as opposed to other restaurants. People are time poor, and organic ingredients at supermarkets are expensive. We set out to give busy families a healthy and financially viable alternative to shopping for and preparing food themselves.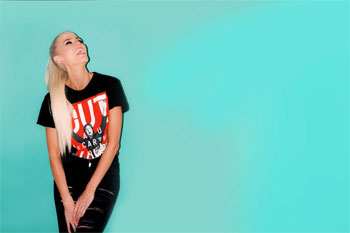 Question: Why is organic eating so important to you?

Georgia Sinclair: It sounds cheesy, but you are what you eat. You wouldn't put carrot juice in your Ferrari so why would you put crap in your body? Non-organic food is covered in pesticides and often filled with hormones. Also, I try to eat 80% healthy and 20% naughty. Balance is key to making it all work and not getting bored!


Question: Will we see a Tocaya Organica in Australia, soon?

Georgia Sinclair: Not immediately, but expanding into Australia is just around the corner. Toca Madera has recently opened in Dubai so that will be the next region that the company focuses on. Australia will probably happen just after that. Australian food culture is has been inspirational in building the brand - Aussies love healthy, clean, flavoursome food and we think they're going to love our take on that!


Question: What's next, for you?

Georgia Sinclair: The next thing on the horizon for me is my artist project. I recently co-wrote the Beautiful & Damned, which is the title track of G Eazy's album. Now my focus is on producing my own artist project. I've teamed up with an extremely talented singer songwriter friend of mine and we will be releasing a bunch of music together. We are also collaborating with a bunch of other talented artists on the project which is super exciting for me because I'm all about the team and there are so many wonderfully talented artists out there. Saint Clair is evolving and I'm super excited about it!


For further info and upcoming tour dates, visit http://saintclair.rocks/ or follow DJ Saint Clair on Instagram and Facebook.


Interview by Brooke Hunter