Sheppard Bomb Away Interview
With the highest selling Australian single for 2014 so far and clocking up seven weeks at #1 on the Australian radio airplay charts, Sheppard have returned to the airwaves with a stunning new single 'Something's Missing", lifted from their debut album -Bombs Away' which hits stores July 11.

The Brisbane hit-makers have also announced all-ages album launches in Sydney, Melbourne and Brisbane with special guests New Empire to celebrate their success with fans.

'This year has been such a whirlwind and it was important to us that we take the time to get out there on the road and celebrate our album with the fans," said George Sheppard, 'The release of a first album is an important milestone for any band and we're just so happy that we can celebrate it with the people who have made it all happen for us."

Earlier this year, their smash hit -Geronimo' spent three weeks at #1 on the ARIA charts, breaking the record for a run at #1 from an independently distributed Australian artist, with their success resulting in their signing to Decca Records for the world outside of Australia and a special invitation to join Keith Urban on his 'Light the Fuse" tour where the band will play to over 70,000 people throughout June.

The album 'Bombs Away" will deliver eleven slices of the band's trademark sound including the near triple platinum 'Geronimo", last year's double platinum breakthrough ARIA nominated hit 'Let Me Down Easy" as well as the new single 'Something's Missing".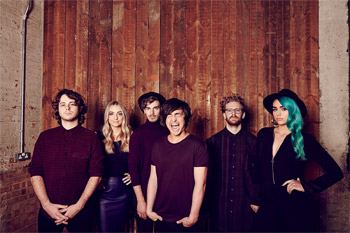 Sheppard emerged from Brisbane in 2012 and features siblings George, Amy and Emma Sheppard along with friends Jay Bovino, Michael Butler and Dean Gordon. Striking a rare chemistry, the band has been lauded across the world for their ability to combine rock and pop into finely crafted gems that have seen them tour to the US, Europe, UK and South East Asia.

Catch Sheppard Live!

July 25th: Eatons Hill Grand Ballroom, Brisbane QLD (ALL AGES ALBUM LAUNCH)
July 26th: Big Top Luna Park, Sydney NSW (ALL AGES ALBUM LAUNCH)
August 1st: The HiFi Bar, Melbourne VIC (UNDER 18S MATINEE ALBUM LAUNCH)
August 1st: The HiFi Bar, Melbourne VIC (OVER 18S ALBUM LAUNCH)



Interview with Jay Bovino
Question: How does it feel to hear your songs played all over the airwaves?

Jay Bovino: Hypnagogic! Which is a synonym for "surreal" that I have overused when answering this question!


Question: Did you ever think Geronimo would be such a massive hit?

Jay Bovino: I don't think you can ever really predict that, but we had a good feeling when we finished writing it. The song seemed to pour out of us and it all came together in under an hour, and that's usually a good sign. We started playing it live immediately and it managed to grab people on first listen; another good sign


Question: What can you tell us about the album, Bombs Away?

Jay Bovino: To begin, there are 11 tracks. Musically there's a wide range of sounds and genres mixed in there, so it's a lot of fun! Lyrically there's a running 'underdog' theme throughout the album. The 3 songwriters tend to draw from personal experiences so there's a lot of reflection.


Question: What should Australians expect from your shows?

Jay Bovino: A lot of energy, fun and loud harmonious pop music but we're planning on adding something extra special to our upcoming album launch shows!


Question: What's the best and worst thing about working with siblings?

Jay Bovino: As one of the non-sheppard members, I can't tell you what it's like working with my own siblings but I can tell you what's it's like working with the Sheppard siblings. Basically they're nothing like the Gallaghers so it's really easy!


Question: Do you write your own songs? What's your inspiration?

Jay Bovino: We do. The band has 3 songwriters, George, Amy and myself, Jay. We tend to pull inspiration from our own relationships and experiences, lyrically. Musically we feed off each other; someone will throw out a melody or a chord progression and we build in it from there until we're all happy with what we've got.


Question: What music/artists do you listen to when you are not playing your own?

Jay Bovino: As a band we all have very different tastes in music. Some of my favourites are Death Cab for Cutie and The National, whilst other members favourites are Coldplay and Fleetwood Mac. But we listen to everything from classical to dubstep.


Question: Was there a moment you contemplated throwing in the towel?

Jay Bovino: Haha. Never! We're all relatively young and fortunately we caught a lucky break earlier on in careers. But the idea of pursuing anything else has never crossed my mind; I'm happiest when I'm making music.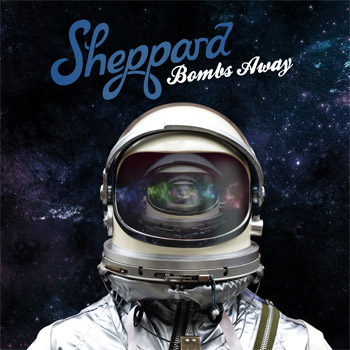 Question: Do you prefer performing live or recording?

Jay Bovino: That's a tough one. Both are great for different reasons. I might lean towards recording because I'm a songwriter at heart and the magic and joy lies in the creating and exploration of the music for me. Performing is fun on a whole different level; connecting with the other band members and entertaining our fans is magical in itself.


Question: What is the biggest challenge you have faced along the way to your musical success?

Jay Bovino: Being taken seriously. It's tough for a pop band to break in these days. Unfortunately there's not much of a platform for promoting unsigned pop bands, so it was a tough slug in the early days.


Question: What's a typical day like?

Jay Bovino: These days it's pretty full on. Between performances, rehearsals, interviews, press, touring and studio time, we're pretty flat out. But it's safe to safe it always involves music!


Question: If you could collaborate with another artist, who would it be?

Jay Bovino: We're all also big fans of Chris Martin from Coldplay, so I think that could make for a good collaboration.


Interview by Brooke Hunter