100 Original Songs
Sid Tipton was born and raised in Nashville, Tennessee. She began writing and singing before the age of 3. She would sing and rhyme to anything she would hear, from words on a cereal box to passages in the Bible. Determined to succeed, Sid taught herself acoustic guitar and piano, and at age 17 with over 100 original songs, she began the search for her success.

She has since signed with Timbaland's publishing company Bluestone. She has had collaborations with artists like Timbaland, JoJo, Hailey Reinhart, Tinashe, Justin Timberlake and more including her contribution as a writer and featured artist on Maluma's Grammy winning album "FAME," which features the song "Mi Declaracion" featuring her and Timbaland.

You can find Sid in both Music City and on the West Coast, where she is busy recording, singing and writing.


Interview with Sid Tipton
Question: How would you describe your music?

Sid Tipton: I make a lot of different styles of music but I lean towards loving this pretty, chill, anthemic, R&B-ish thing that you can chill or dance to… or do whatever. It's mostly just the vibe of how I felt when I wrote it.


Question: Can you tell us about Omg U Ain't Shit?

Sid Tipton: I was having a lot of writers block at the time…had been collabing and just going for so long I forgot what I even wanted to make and had to tap into that. I rented a hotel near where I live for a change of scenery and started the beat and made the entire freestyle that night.


Question: Is there a particular message you hope listeners take from your music?

Sid Tipton: I think every story has a different message and that's how I write, but I would be proud to help someone trigger their own authenticity!


Question: How has topics of self-love and self-empowerment influenced your music?

Sid Tipton: I think knowing more of who I am has allowed me to create things I really love and release things I am proud of, and that's really really important for me!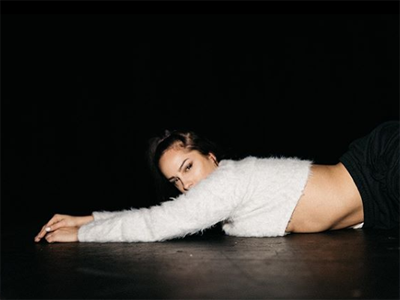 Question: Do you prefer performing live or recording?

Sid Tipton: I am so in love with recording, but I also haven't really performed live except for a couple business events, but it's always been a huge dream of mine.


Question: Which is your favourite song to perform live and why?

Sid Tipton: Well, I don't think I've quite found that yet.


Question: What should we expect from your upcoming tour?

Sid Tipton: To be honest I'm not sure what I'm expecting from that. I've always imagined my live sets being like stripped but then still like a party.


Question: If you could have anyone, in the world, attend a show, who would it be?

Sid Tipton: A skilled intuitive so they could read my energy and then tell me about it after the show ha! Or a young girl who wants to grow up and do the same thing as me.


Question: What motivates you most when writing music?

Sid Tipton: If I'm honest probably imagining the person(s) that's about to hear it. And that knife in my chest feeling when I find the perfect lyric.


Question: What or who was your inspiration to go into the music industry?

Sid Tipton: Growing up I always instinctually wanted to sing for people and "make stuff up." I would like not even audition for things and get up and get on random stages. When I got a little older like 17 it was time to go to college and I was like damn, I think I need to be like doing this all the time forever, so I went hard for it.


Question: What's a typical day like?

Sid Tipton: During quarantine I wake up and meditate, try not to check my phone, get some form of moving my body and just being pretty creative. It's not hard for me to be a homebody.


Question: What has been your favourite part of becoming a music artist?

Sid Tipton: Feeling like my gifts haven't gone to waste! I think my favorite feeling is when I think about my life before I got to do any of it, and just looking at how far we can really go with whatever it is we want to do. It's really crazy, and can only get crazier.


Question: What's next, for you?

Sid Tipton: I'm going to be pressing pause on the constant releases right now and move towards a complete project, and when all this is over I'm planning on relocating again and creating with and for dope artists.


Question: Can you share your socials? (links please)

Sid Tipton: Instagram
Spotify


Interview by Brooke Hunter