Dwight in Shining Armor
Charismatic and multi-talented television and film actor, Sloane Siegel is one to watch as he takes Hollywood by storm yet again, leading as "Dwight," starring opposite Caitlin Carmichael (Life Itself) and Joel McCrary (American Beauty) in "Dwight in Shining Armor," the highly anticipated, campy family adventure-comedy. 'Dwight' is a modem, 21st century teen who, while taking photographs in the forest, accidentally falls face-first into an ancient, underground chamber, and lands on 'Gretta' (Carmichael) a medieval sleeping princess, planting a kiss on her and waking up not only her and her loyal court magician, 'Baldric' (McCrary), but all of the medieval villains that have been asleep like her for the past 1000 years. Together, the trio must defeat herhordes of enemies. Born in Washington, DC and raised on a Rescue Farm in West Virginia, Sloane began his career dancing hip hop, but made the transition to acting at age eight after a chance casting call. At 10, he came to Hollywood to pursue his dreams and just 2 short years later, Sloane booked his best-known role as "Gortimer" in AMAZON's award-winning "Gortimer Gibbon's Life on Normal Street". He has been awarded the Best Actor Award as the Lead in a TV Series by the Young Artists Awards 3 years in a row, has earned the Best Teen Actor in TV Award from the Young Entertainer Awards, and has won 16 awards through the film festival circuit. Audiences may also recognise Sloane from dozens of appearances on other top shows including CBS' "Pure Genius," & "Partners," ABC's "Modern Family," and NICKELODEON's "Big Time Rush."

When he's not booking his next leading role, Sloane spends his free time hiking, going to escape rooms, and gaming, playing everything from classics like Dungeons and Dragon to contemporary video games. He also enjoys writing, having even helped write one of the episodes of "Dwight in Shining Armor," and is currently working on his first fiction novel. Immensely passionate about the environment, animals, children, and veterans in need, Sloane uses the remainder of his time helping in any way he can.


Interview with Sloane Siegel
Question: How would you describe Dwight in Shining Armor?

Sloane Siegel: If Lord of the Rings were a comedy set in modern day…that pretty much sums it up. It's about a pretty normal, do-gooder kid that falls into a not-so-normal situation and finds himself spellbound to a 1,000-year-old princess. Each episode, we dive deeper into the lore of a hidden medieval history, and encounter crazy characters that Dwight has to best in some way to keep the "kingdom" safe.


Question: Can you tell us about your character Dwight?

Sloane Siegel: Dwight is a good guy that always comes prepared. He spends all of his time helping other people or putting events together for a good cause. He doesn't take a lot of time for himself and he'd rather keep to a schedule than improvise or be spontaneous. Until one day, when he literally falls into the responsibility of the being the champion to Princess Gretta. From that day forward, his life becomes unpredictable and he has to learn how to adapt to Gretta's world and way of life.


Question: How similar are you to your character Dwight?

Sloane Siegel: Dwight and I are very similar when it comes to how we deal with conflict. We'd both rather avoid it, but if we have to deal with it, we usually do everything we can to find a peaceful resolve where everybody can leave as friends. We both wouldn't hurt a fly. Seriously, I once spent two hours trying to catch a fly so I can safely let it outside. Lastly, we both use humor to cope with pretty much anything. Usually when Dwight is facing down a dragon or a troll, he'll keep a humorous look on things to make it less frightening. I'm totally the guy that talks all the way through a horror movie.


Question: Which other actor would you most like to work with?

Sloane Siegel: I'm a huge Mads Mikkelsen fan, and it would be a dream to work him. One of my dad and I's favorite shows is "Hannibal" and his performance throughout the series was incredible. I'm also a big fan of his other works and overall camera presence.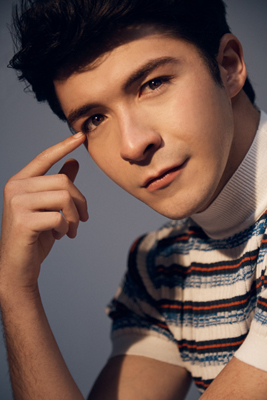 Question: What originally inspired your passion for acting?

Sloane Siegel: I started very young and I never really had a eureka moment of: "Wow I should act!" So I guess I had many inspirations that fed the story teller within. Like in first grade, I remember my mom used to read Percy Jackson books to my class and the way she read every character differently made me so excited to see what would happen next. Then, I'd make up my own stories at home using action figures or Hot Wheels and I'd give them voices and act out scenes. I've always loved telling stories and being a part of them.


Question: Who or what inspired this acting passion?

Sloane Siegel: I don't think it was a particular person or thing but rather the experience of trying it. I started musical theater off of the recommendation of a choreographer I was working with for hip-hop. I was 7, but I found that memorizing lines and direction was super easy and fun. I loved it so much, I knew everyone else in the play's lines and movements and tried to do it for them when they forgot. But there was something about the audience's reaction that really inspired me. Sure, it was just family and friends in the crowd, but we gave them joy, we made them proud, we made them feel. I realized I not only loved performing, but I enjoyed entertaining those I love and those I didn't even know.


Question: What tips do you have for aspiring actors?

Sloane Siegel: Be prepared for rejection. I've been acting for 10 years now and I can tell you for a fact you're going to get rejected way more than you're going to be accepted. They say you go on 88 auditions before you get a callback and 88 more before you book something. Of course that number can rise and fall, but know that if you love acting the numbers and the rejection shouldn't matter. If you love it and want to do it as much as I do, then no matter how many times you get knocked down, keep getting back up. There are times where I've wanted to quit and never act again but I stuck through it and now I have a new series coming out. It's a tough and emotionally challenging road, but you should know that it is far from easy. You have to put in the work, the dedication, you have to get training, put your heart and soul into every role, and if you do, you CAN and WILL succeed no matter how much rejection is thrown your way. Take every free moment to better yourself and better your understanding of the world around you. Because at the end of the day, acting is just paraphrasing life as you already know it.


Question: Can you tell us about your volunteer work?

Sloane Siegel: I have done volunteer work at pet shelters like Best Friends Animal Society. I'd help clean the dogs living quarters and take them out for some playtime. There are so many homeless pets in the world that need someone to love and take care of them. So I urge you, if you're looking for a dog, rescue a dog from a local shelter, and if you are looking for a certain breed, there are specialized recues for all breeds of dog.


Question: What's a typical day like for you?

Sloane Siegel: There's no such thing! My days are always filled with surprises, and I tend to live spontaneously without plan. I never know when I'm going to get an audition or event so I have to keep my schedule pretty open. But the simplest my days get is probably when I wake up and head to one of my favorite coffee shops or cafés and just write all day. I like to take a day every now and then to get lost in my own stories.


Question: What's next for you?

Sloane Siegel: Hopefully we'll film another season of Dwight in the near future, but until then my days are filled with getting the word out about the show and auditioning.


Interview by Brooke Hunter
Photo: Benjo Arwas