Welcome to St Trinian's is a riotous new film with top comic acting talent from Rupert Everett, Mishca Barton and Colin Firth. Starring: Rupert Everett, Colin Firth, Russell Brand, Caterina Murino, Jodie Whittaker, Stephen Fry plays and Mishca Barton, Anna Chancellor, Celia Imrie, Toby Jones, Lena Headey, Gemma Arterton, , Taluah Riley, A mara Karan, Paloma Faith, Tamsin Egerton, Antonia Bernath and Lily Cole.
Director: Oliver Parker, Barnaby Thompson
Rated: M
Genre: Comedy

St Trinian's is the riotous new film which will hit Australian cinemas on March 27 (Tasmania on March 20th)

The film stars a veritable who's who of top comic acting talent: Rupert Everett (Shrek, My Best Friends Wedding, An Ideal Husband) takes on the dual roles of the unorthodox headmistress Camilla Fritton and her brother Carnaby Fritton, opposite Colin Firth (Bridget Jones Diary, The Importance of Being Earnest) as Education Minister Geoffrey Thwaites. Comedian Russell Brand stars as Flash Harry, Caterina Murino (Casino Royale) plays Miss Maupassant, the languages teacher, Jodie Whittaker (Venus) takes on the role of school receptionist Beverly, and Stephen Fry plays the Quizmaster of 'School Challenge' and Mishca Barton plays ex-headgirl and PR Guru JJ French.

Lena Headey (300) plays new teacher, Miss Dickinson Toby Jones (Infamous, Harry Potter and the Chamber of Secrets) is the school's Bursar Celia Imrie (Bridget Jones' Diary, Calendar Girls) is the Matron and Anna Chancellor, (Four Weddings and a Funeral, Spooks) play Miss Bagstock.

A host of rising talent plays the new breed of modern day St Trinian's girls including Gemma Arterton making her feature film debut as Kelly, the head girl, Taluah Riley (Pride and Prejudice), Amara Karan (The Darjeeling Limited), singer Paloma Faith, Tamsin Egerton (Keeping Mum), Antonia Bernath and top international model Lily Cole, taking the role of student Polly.

Gemma Arterton: (Kelly) Gemma makes her feature film debut in St Trinian's and has just been cast as M16 Agent Fields in the upcoming Bond movie 'Quantum of Solace', which will be released in November this year. Coincidentally, another St Trinian's cast member, Caterina Murino recently played a Bond girl in 'Casino Royale'.

Talulah Riley: (Annabelle) Her breakthrough came in 2005, with her performance as Mary Bennet in Joe Wright's film of Jane Austen's 'Pride and Prejudice'.

Tasmin Egerton: (Chelsea) Her first major role was as Rowan Atkinson's rebellious teenage daughter in the comedy "Keeping Mum", followed by 'Driving Lessons' with Rupert Grint and Julie Walters. The actress and model recently completed a leading role in Anthony Hickox's chiller 'Knife Edge'.

Amara Karan: (Peaches) Before joining the St Trinian's cast, played opposite Owen Wilson, Adrien Brody and Jason Schwartzman in Wes Anderson's comedy adventure, 'The Darjeeling Limited'.

Antonia Bernath: (Chloe) TV Roles have included Pricilla Presley in 'Elvis', opposite Jonathan Rhys Meyers and the continuing role of Nikki Brown in eleven episodes of BBC's 'Holby City'.


St Trinians - School Can be A Riot

St Trinian's is in crisis! The notorious school for young 'ladies' has been threatened with closure and needs to find funds, fast. A whole host of ungovernable and downright unruly pranksters (and that includes the teachers) are game on to pull off the heist of the century.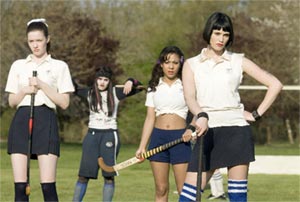 Their plan? Steal an extremely famous painting from the National Gallery. Right under the noses of the authorities, of course. But can their combined cunning and total lack of shame save the day before school is out - for good?

The St Trinian's girls are in a league of their own smart, fearless and determined to defend the school they love to the end.

Review: St Trinian's is not your regular high school movie on bad girls, in fact the whole school is rotten down to it's core. St Trinian's Headmistress Camilla values each student for their unique abilities, so when the school is hit with financial hardship it's up to the teachers and students to come up with an elaborate plan save them all. Hilarious, misguided and completely entertaining, St Trinian's is full of outstanding performances.

www.sttriniansmovie.co.uk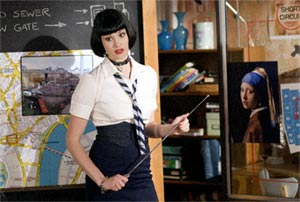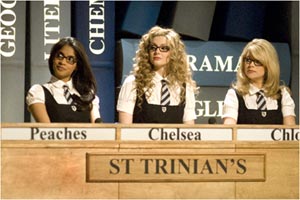 &copy 2007 Fragile St Trinian?s Limited, Entertainment Film Distributors Limited and UK Film Council.&copy 2008 Layout and Design Sony Pictures Home Entertainment Australia. All Rights Reserved.