Stan Walker Australian Tour 2015
Australian-New Zealand recording artist, actor and television personality, Stan Walker, burst onto the music scene in 2009, winning the seventh and final season of Australian Idol. After winning the competition, Stan went on to sign a recording deal with Sony Music Australia and has since become a multi-platinum recording artist with hits such as Black Box, Unbroken and Choose You. His song Stand Up featured in the movie The Chronicles of Narnia: The Voyage of the Dawn Treader and Stan has recorded and toured with Australian singer Jessica Mauboy as well as recording with Young Sid, Kayo, co-written with DNZ and supported international artist Beyonce on her 2013 Australian tour.

Stan has developed into a multi faceted artist at the height of his powers, 'I know what I want now. I know where I want to be. I know what it looks like and sounds like." Recording his
latest album is not all that keeps Stan busy, he has also been shooting a movie and working on The X Factor New Zealand.

He made his debut into acting in February 2013 when he played the lead role of Turei in the feature film Mt Zion, also starring Temuera Morrison. More recently he has been shooting the upcoming Born to Dance in which he again plays one of the lead characters, Benjy. Born to Dance is a coming of age story told through the eyes of an ambitious young man from Auckland who dreams of being a professional hip-hop dancer and is set to be released nationwide in Australia in November. Stan has also written the lead single from the film, Start Again.

Stan has also been a personality on The X Factor New Zealand since 2013. He is a judge and mentor on the TV series. Stan says, 'Acting taps into a different type of creativity, which was refreshing, and mentoring other artists on X Factor helped me to step up to tackle all the different aspects of my own career."

Making a bold move with his latest album, Stan decided to press pause on a batch of his new and original material and instead cover some of the greatest soul songs ever recorded. He explains, 'These are songs I've loved forever and songs I've fallen in love with all over again.

They've always been with me and I wanted to make them my own." The album includes covers of songs by soul giants including Ray Charles, Stevie Wonder, Otis Redding, Bob Marley and more.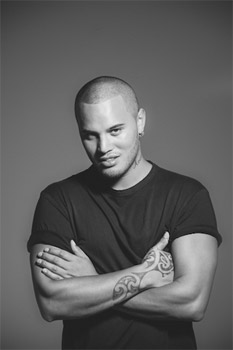 Recording this album provided Stan with some extra breathing space on his own music as well as adding an extra dimension to what he has delivered as an artist so far. He is an artist that knows what he is doing and has set the direction and delivered, 'You've got to come and see it live! The one thing I trust myself to do is deliver these songs in a live setting, they're great to hear on an album but on stage is where they really come together."

Stan Walker is set to deliver an incredible show for his Australian fans when he tours this year.

Tickets are on sale now through www.moshtix.com.au
Interview with Stan Walker
Question: What is Born to Dance about?

Stan Walker: Born to Dance is a New Zealand hip-hop film and for the last 8 or 9 years New Zealand has been at the top in the World Hip Hop Dance Championship in America; they've placed in the top three, every year. This film is showcasing what it is like in New Zealand in regards to Hip Hop.

Born to Dance is the journey of a young boy who is trying to live a dream and he is facing obstacles; one of his particular obstacles is his father who is an old-school man who wants Tu to get a -real job' as he doesn't believe dancing is a real job that you can make money from. Tu eventually finds a way to achieve he's dream of dancing.
The film is all about dreams, new beginnings and second chances. Born to Dance will inspire and speak to audiences as it's music and dance which are the two most influential tools, for this generation.
Question: Can you tell us about your role in Born to Dance?

Stan Walker: I came into the film and it was certainly not because of my acting but it was for the music aspect; I started out with a small role in Born to Dance and a few months into production the filmmakers approached me to have a bigger part in the film. I play Benjy who is a friend of Tu who is played by Tia Maipi.


Question: Are you able to relate to your character?

Stan Walker: The film did become a big part of my life which was unexpected. The film is about young kids who all have a dream. Everyone has a dream whether they live the dream out or they don't and I completely understand that.


Question: What was most difficult about the filming process of Born to Dance?

Stan Walker: I'm the only cast member who is not a dancer which was hard. I found it difficult to learn all the choreography; the choreographer of Born to Dance was Parris Goebel who is the World Champion and although she is a good friend of mine, she is a beast when it comes to dance and her choreography. You'll see that the choreography looks impossible to do and I struggled with the hip hop moves! Parris Goebel has choreographed for Jennifer Lopez, Nicki Minaj's tours and basically everyone; she's in high demand for hip hop.



Question: How do you feel when you watch yourself of the big screen?

Stan Walker: I'm all good now, I remember the first time I saw my face on the screen I cringed throughout the whole thing; I'm used to myself and the different angles now. My job is to ensure I give a good performance.



Question: What should Australians expect from the upcoming tour?

Stan Walker: This is actually really exciting; I'm bringing my whole band and four-dancers that were all in Born to Dance; I'm excited! Scott Newnham from The Voice is opening for me along with dancer duo The Oneill Twins from Born to Dance. I'm excited as The Fisher Boys are coming on tour too.
I'll be performing all my old songs; all the songs that are out now and of course all of the new songs too. It's going to be a lot of fun, no one will expect the show I'm bringing; it's a big show. I think we've created an entertaining show; I can't wait to show it off and show off the dancers. I'm going to be dancing too, I'm nervous though because I've only had a week's rehearsal.
Nobody is doing what we're going to do, in this show.


Question: What is the main inspiration behind the latest single?

Stan Walker: I wrote Start Again for Born to Dance and it's what I feel the movie portrays on a deeper level; it doesn't matter how many times you fall, it's how many times you keep getting back up, there is always redemption and a chance to -start again'. I want to encourage everyone to get back up with this song; Samantha Jade is on the single, with me. It's a great song – I'm nervous and excited at the same time.



Question: What was it like working with Samantha Jade?

Stan Walker: Samantha Jade is awesome, she is one of my close friends and it was great working together on the song. I can't wait for Australia to hear it; Start Again is out October 22nd, 2015.


Question: Can you tell us about the video clip?

Stan Walker: The film clip was really fun; it was probably the most fun I've ever had on a video clip because I got to co-direct the clip as the idea was mine. I wanted to showcase the dancers and of course Sammy (Samantha Jade) and ensure everyone was feeling good.
Start Again is an uplifting video clip with all the dancers from Born to Dance. I tried to get Sammy (Samantha Jade) to dance too; she can dance!


Question: What music/artists do you listen to when you are not playing your own?

Stan Walker: I love Chris Brown, Brandy in terms of R&B music. I am always listening to my friends who are artists like Samantha Jade, Sammy Johnson, Jessica Mauboy and I love Nathaniel's new song. Bonnie Anderson is one of my favourites, I love Blackout.


Stan Walker Live - with special guests Scott Newnham from The Voice, and World Hip Hop Champs, The Oneill Twins

Thursday 29th October, 2015: The Pier Hotel - Port Headlands, WA
Sunday 1st November, 2015: Oasis Bar at the Roebuck Bay Hotel - Broome, WA
Wednesday 4th November, 2015: The Prince of Wales Hotel - Bunbury, WA
Friday 13th November, 2015: Destiny Centre - Melbourne, VIC
Sunday 15th November, 2015: Rooty Hill RSL Club - Sydney, NSW
Friday 20th November, 2015: Jupiters Hotel & Casino - Gold Coast, QLD

Ticket Prices: Early Bird: $40.00
General Administration: $50
VIP: $70
All prices in AUD – Booking fee not included
Interview by Brooke Hunter