Mt Zion
Cast: Stan Walker, Temuera Morrison, Miriama Smith, Troy Kingi, David Wikaira-Paul, Darcey-Ray Flavell-Hudson
Director: Tearepa Kahi
Genre: Drama
Rated: PG
Running Time: 93 minutes

Synopsis:
Mt Zion is a family-oriented story starring Australian Idol winner Stan Walker in his celebrated acting debut and Temuera Morrison (Once Were Warriors) as his father. Turei's family are hard-working potato farm workers in rural New Zealand. A talented musician, Turei dreams of his band being the support act for Bob Marley's 1979 tour.
But it's a dream that challenges the traditions and values of his upbringing and will set him at odds with his family - particularly his father, a true man of the land. It is written and directed by Tearepa Kahi, who drew inspiration for the story from his own family background. The film features original music in a uniquely New Zealand MÄori take on Marley's reggae.

Mt Zion Release Date: March 14th, 2013



About the Film
I say fly away home to Zion, fly away home. One bright morning when my work is over, man will fly away home. - Rastaman Chant, Bob Marley

Turei (Stan Walker) is a young man with a big dream. He loves music and wants to be a singer with a band, just like his idol, Bob Marley - The Lion. He's got his band, Small Axe (named after Marley's revolutionary song) and he can see his opportunity: the auditions for the supporting act at Bob Marley's Western Springs concert.

But: it's 1979 and he lives in Pukekohe, working in the potato fields with his whÄnau. How can he secure his dream?

When they can get time off from picking potatoes, Turei hangs out with the band – his brother Hone (Troy Kingi), a superb guitarist, and best mates Reggie (David Wikaira- Paul) on bass guitar, and drummer Pou (Darcey-Ray Flavell-Hudson).

Turei convinces the band to play at the open mic night at the local pub, the Vinyl Shrine. Pub manager Layla (Miriama Smith) spots their rough natural talent led by Turei's superb singing voice, and encourages Turei to chase the audition.

Turei has to convince the band, particularly Hone - soon to be a father and needing the security of the potato farm work - that his dream is worth going for. His father (Temuera Morrison) settled long ago for responsibility and hard work as the way to raise his family. Papa sees Turei's passion and talent, but doesn't see it amounting to anything concrete, especially when there's the extra pressure of doing night shifts to get the potatoes in and hold onto the contract.

Meanwhile, Turei's Mama (NgÄwai Herewini) is organizing a big hui at the marae to talk to the Mayor about the whÄnau's land issues. She wants the boys to be there and for Turei to present the wero to the visitors. But the date clashes with the audition.

A desperate Turei navigates his dream through these competing duties in ways which end up damaging the reputation of his whole family. He doesn't stop to weigh up the balance between individual ambition and the good of the group. Until it's too late. But an unlikely defender steps up and he is offered a chance to make amends.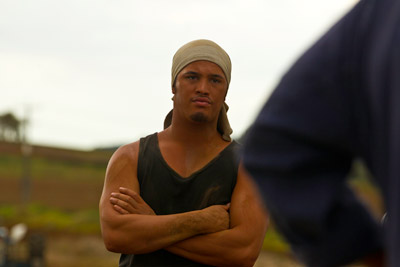 Producer Quinton Hita describes the film as a drama with musical elements. 'It's set in 1979 and it's about a young man, Turei, who has aspirations beyond the spud fields and he and his band enter a competition to become the opening act for the Bob Marley concert that was on at Western Springs that year. It's their journey in that competition as well as Turei's personal journey and the decisions he makes in balancing his own personal dreams and his obligations to his family.

'It's a coming of age story and a family drama. It contains a lot of family values, which is something that appealed to me because they are values that I hold personally and are relevant now.

'The concept of the film is Tearepa Kahi's. He came up with the idea, he wrote many drafts of the script over the years, and he directed the film. He also composed the majority of the music and lyrics. It's great to be working with someone who is a real talent – a genuine writer/director."

Writer/director Tearepa Kahi turned to his own family background for inspiration for the story of Mt Zion. Of NgÄti Paoa and NgÄti Hine descent, he has iwi affiliations and family history in the potato farming area of Pukekohe, just south of Auckland.

While he grew up in Papanui, Christchurch, where his father moved to follow his own musical aspirations, Tearepa Kahi spent his holidays at his grandparents' house in Pukekohe and knows that environment well.

'The heart and soul of the story is Pukekohe itself and generations of spud pickers, generations of whÄnau working together and looking after each other out in the fields and the market gardens. That's the life my father had - and my grandmother and grandfather and a lot of my cousins. I didn't have that life of picking spuds out there on the gardens, but I knew all about it and I knew the stories. I knew what their calloused hands felt like and I understood the people."

The story of the film is very close to his real family – the father-son relationship is drawn from the reality he knows and experiences:

'This story's very personal because my father left Pukekohe to pursue music. He's a drummer - he was the one with the band in the garage. He was the one with the cuzzies being used to form the band. So, it's an echo of his story and it's also my story because the father and son theme between Turei and Papa that drives this film is my father's and my grandfather's relationship as well as mine and my father's."

The other element of the story – Bob Marley's visit to New Zealand in 1979 - came from a different source. When he was in his early 20s, Kahi was directing a television series at TVNZ.

'One lunchtime I shuffled up the stairs to the archive room and I came across a loose VHS tape and chucked it in the machine and pushed play. It was called -Good Morning, Come a Long Way' by Dylan Taite. It was the story of Bob Marley receiving a pōwhiri with a full-on wero - the works!

'I'd never seen this footage before and I remember feeling absolutely mesmerised by this moment. The kaiwero coming forward and laying down the wero for Bob Marley, Bob Marley slowly bending down and picking it up. I just thought: What would it be like doing the wero to Bob Marley?"

Tearepa Kahi describes that as an explosive moment which gave him one element of the story of Mt Zion, which became interlaced with the elements he already knew – 'there's another moment of just understanding who my father was. And I put two and two together."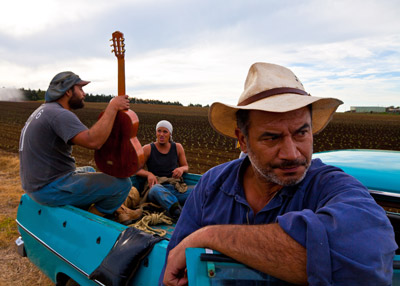 The other aspect of this film that is very personal for Tearepa Kahi is in the character of Turei, played by 2009 Australian Idol winner and pop/soul star Stan Walker.

'Turei is from deep within me. But I don't think it's ambition that drives him. I think it's that he's asking the question: is this all that there is for us? Is this it? I think that's what drives him.

'Turei's not so good in the fields. I think we're dissimilar in that way, because I could work out in the gardens. I could pick plenty of spuds. I'm a hard worker. Where we're similar is that we're both asking the same question: Is this it? Is there more? What else can we do?"

Finding the right person to play Turei seems easy now that we can see Stan Walker doing the role, but when they were casting, Tearepa Kahi and Quinton Hita worked their way through several options.

Quinton Hita says, 'We were fishing around for potential leads for the film very early in the piece because we identified that it needed somebody with an extraordinary singing talent. Because the audience has to feel that there is something special about this kid that justifies the lengths he goes to develop his dream. So we knew we had to find a great singer and that's tricky. Do you go for actors that can sing or singers that can act? And to be honest, I don't think we were thinking in terms of singers that can act. We were thinking in terms of actors that can sing.

And then Kahi had the brainwave that led to them offering Stan Walker his first acting role: 'I saw a clip of Stan singing -Purple Rain'. He just has this voice that could fill the whole theatre, a huge auditorium. That voice is one in a million. But was he Pukekohe? Was he Puke enough? I was aware of his background and I knew Turei's story, so I thought there was a good shot at a personal connection."

Quinton Hita: 'Tearepa Kahi and I were on the 9th hole at the golf course one afternoon. I was on the tee and just about to hit the ball and Tearepa Kahi blurted out -Stan Walker!' It was completely out of the blue and I thought at first it was a tactic to put me off my game. It was a shock at first but then very quickly we looked at each other, thinking -that makes a lot of sense' - somebody with a high profile, who's popular, who's MÄori and who's got a singular singing talent."

Stan Walker says he didn't know much about Pukekohe - he's from Tauranga – but the story is similar to his own and he wanted to tell it.

'It's good to share somebody else's story. I just love the story. The thing that really drew me to this film was the music aspect and the challenge of becoming a character, even though it might be hard for me. I just love being challenged about doing something bigger than myself."

As part of his transformation into Turei, Stan Walker had to spend hours in the make-up chair to conceal his 21st Century body art: 'I have tattoos all over my body, but because back in the day they didn't have flash ta moko, the make-up artists had to cover all my ta moko on my neck, my hands, my chest and my side. So it's really different looking at myself in the mirror with nothing – which is good because it helps me get into character being Turei rather than being Stan Walker. The ultimate for me is that people will see Turei and not see me."

Here's how Stan Walker sees Turei: 'He's full of hope and vision. He's a young MÄori boy who loves singing. He loves his whÄnau. He's a spud picker, but he's more than that - he sees outside the box, he sees outside of Pukekohe, and he wants to pursue more than just spud picking. Ultimately, he wants to have a better life for his whÄnau. Bob Marley is his hero. Bob Marley is who he wants to be - his idol, his inspiration. He wants to sing and he's so determined to get to where he wants to be, he'll do anything. He has a good heart, he's got good intentions, but his actions are a bit different."

Tearepa Kahi and Quinton Hita had long felt that they'd like to see Temuera Morrison play a role like Papa – an honest, hard-working man who cares deeply and is committed to the good of his whÄnau.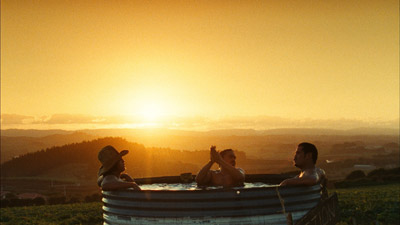 Quinon Hita: 'Temuera was in our minds a long time ago. We've always felt that this was a role that we hadn't seen him in before and also a role that was a nice fit for him. He plays a man who has mana – dignity and some standing in the local community."

Tearepa Kahi: 'I just couldn't see anybody else in that role but Temuera Morrison. I was incredibly excited about the prospect of him considering it. I approached him at a place called Pukehina. We had just finished burying my mentor Merata Mita who was a great friend and mentor to Temuera as well. It was time to leave and the last thing I said to him was -in six weeks I'm going to send you a script and you have to do this part.' He said -oh, what's it about?' I said -it's about spuds.' And he said -oh, is there any more than that?' So I sent the script to him and we started talking."

For Temuera Morrison this script was of a quality that is seldom found:
'I could see the magic in the script from the start and that's what attracted me to it. It was just a beautiful opportunity when this script came along and when I talked it through with Tearepa I thought -oh this is one I'm really going to relish'.

'The story has the family dynamics and also it has music running through it. It has the drama, the music and being based on one of these families from the hard working class - it's a special one."

He also finds the character of Papa to be special at this stage in his career:
'I've really found a character that's not too far away from me, from some of my uncles and especially my grandfather. They were hard working people from a farm. I'm reaching that stage in life where I'm starting to play these more mature roles and in this film of course I'm the Papa. I'm the father and like many families, the father can only see one thing for his son. And that's hard work along the lines of -the more you put in, the more you get out'. Whereas my son Turei sees life beyond the potato field. So we have that dynamic in this film - the father and son thing."

The casting of Small Axe, Turei's band of bros, Reggie, Pou and Hone posed the same question as the lead role: actors who can play or musicians who can act? The dilemma was resolved both ways. Reggie and Pou are played by David Wikaira-Paul and Darcey-Ray Flavell-Hudson respectively – both actors who are also musicians. And Hone is played by musician Troy Kingi in his first acting role.

David Wikaira-Paul, best known as a teenage Tama in Shortland Street, who has led his own band and won the NZ talent quest -So You Wanna Be A Pop Star', converted to bass guitar for the role.

He says: 'A few years back, I was lucky enough to go to Tearepa Kahi's short film called Taua. I was just blown away and ever since then I've really wanted to work with T and this was the first opportunity that came up and I was never going to say no."

Tearepa Kahi: 'The bass is a tricky instrument because it's the heart and soul of any band - especially of a reggae band. I looked for a long time, but in the end, David Wikaira-Paul was an easy choice. I mean, reggae is in him and he lived in Pukekohe too. The fact that he came from guitar and singing to bass and backing vocals is a testament to how naturally talented he is."

As the drummer Pou, Darcey-Ray Flavell-Hudson (aka -Ghost Chips' from the popular Land Transport 'Legend" TV commercial) has many of the film's lighter moments, bringing a classic sense of humour.

'Like a lot of young talented MÄori, Darcey-Ray Flavell-Hudson is an incredibly talented young drummer", says Tearepa Kahi. 'And he's a wonderful actor - very comfortable and real in front of the camera. He was the first person I cast, actually."

'I've been playing drums for 9 years now so that's good for me to bring into the character of Pou", says Darcey-Ray Flavell-Hudson, 'My dad is a big fan of Bob Marley so he's got posters everywhere and he just kept on playing the songs of Bob Marley, so I love him, too. He's the man."

The casting of Troy Kingi as Hone, the ace guitarist brother of Turei, was the biggest challenge. Tearepa Kahi says he relies on his whÄnau for suggestions and in this case it was his cousin, photographer Keir Toto, who had the right idea.

'He piped up early on in the casting and then again later. I should have listened to him the first time, but he came back a second time and said -hey, you still need to see Troy'. An incredibly talented musician, this guy is the real deal - from WhÄnau-a-Apanui, living up north, good friend of my cousin's. So I did eventually listen."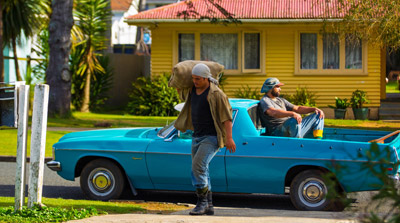 Quinton Hita says he hopes this film is the catalyst for Troy Kingi's music career. 'Because he's not a recorded artist yet, the country hasn't had the privilege of appreciating his musical ability. He just hasn't been discovered yet."

Troy Kingi describes the film's music as 'the beginnings of reggae but it's not really reggae. It's quite soulful - it's got a lot of heart in it. It's quite a contrast to my music, which is quite dirty blues - really old school crusty. I have written reggae songs, but I enjoy doing the old Howling Wolf, Lightning Hopkins, Sun House sort of style.

'Everyone knows Bob Marley. He was a legend. He was a master of making hooks and making them sound simple but actually they would have been a lot of hard work. I don't think there's anyone that's come since him that can match him in his hookability."

Miriama Smith plays Layla, the owner of the pub, the Vinyl Shrine, who supports Turei in his efforts to secure the Marley support act audition for Small Axe. Tearepa Kahi says because Layla is such a strong character, 'I knew it needed a really strong actress and Miriama Smith has been at the top of her game for a long time. She's excellent."

For Miriama Smith, this film was a chance to work in a MÄori environment: 'My mother's Pakeha, my father's MÄori and I have this natural affiliation with my MÄori side. It's just that when you're around it, there is a rhythm, there's an intoxication in the way you interact with each other. Yet it's not polarising - anyone can have this. We all want everyone to be part of it. It's a whÄnau feeling, it's a comfortable feeling to be on set and to laugh and sing. It's a natural rhythm that will come through on the screen, and to be living it and breathing it every day is just a lovely thing."

She also enjoyed working with director Tearepa Kahi: 'He's very open. He's not guarded. He's got lot to give, but what really makes it solid on set is that he just knows what he's doing.

'He's got that really lovely thing of not holding onto any parts of the script. A lot of directors who write are so close to it that they just get precious and hold onto their way of doing it. He's wonderful like that. He knows all the characters and he's given them to us and then he lets us find them as well."

Temuera Morrison describes Tearepa Kahi as 'the only director I've worked with that directs with his ears. There are times when he's not even looking at the monitor to see what he's getting on camera. He's listening to the tonal qualities. He's trusting his boys are catching it on sound and camera, but he's listening to see if it rings true to him and that's beautiful."

Coming from a musical family, it's no surprise that Tearepa Kahi's first feature film is music-oriented. He grew up with all genres, influenced by his father, George Kahi's playing in bands, including with the legendary 1970s guitarist Billy TK.

Tearepa Kahi says, 'My house was full of music. We didn't listen to the radio, we listened to records. It was a mix of Jimi Hendrix, Miles Davis, John Coltrane and Bob Marley. Reggae music, especially Bob Marley's lyrics, have always had a place in my life. I've listened to him since I was young and I still feel so moved and find new meanings in every single one of his lines."

Quinton Hita: 'Bob Marley has always had a very special place in MÄori people's hearts. I think that's probably true of lots of indigenous cultures around the world because the politics in his music resonated with what a lot of indigenous people were struggling with. That's certainly true of MÄori and that's a large part of why MÄori people have this huge love for Bob Marley."

Stan Walker has an unusual experience of Marley: 'All my life I thought Bob Marley was MÄori! I didn't know he was from anywhere else. Somebody told me, only five or six years ago, that he was Jamaican. I didn't know. I thought he was MÄori because he's the biggest musical influence in New Zealand."

Tearepa Kahi is also a musician, having grown up playing trumpet, and he wrote the lyrics and music for some of the songs in Mt Zion, working with guitarist/composer Shane McLean on the rest.

He says, 'Shane McLean was instrumental in terms of the arrangement and the feel. I was very specific about what I wanted because I knew that the music had to come from the people and the people come from the land. My family has a deep history with the RÄtana Church, which has very melodic hymns - so there's a foundation of music there. And then we put hard work, land, spuds, the garage, four-string guitars and pots and pans onto that. All of the music comes from that dimension. We're not trying to speak beyond the world in which the characters live."

Shane McLean says 'We tried to capture the 70s feel and have a reggae twist on it. The band in the film wants to play support for Bob Marley and they're influenced by him, but in saying that, Bob Marley hadn't really reached, fully, the reggae New Zealand scene by then, so we had a sort of a taste of rock music in with it. What you'd hear in New Zealand is someone doing a Jimmy Hendrix lick over reggae music."

This is a style departure for Stan Walker from his current pop music, but he sees it as all part of acting the role and he loves all types of music: 'I believe that music isn't about a certain style. Music is music. It doesn't matter what style it is, what genre it is, and I just want to share all types of music because it's music at the end of the day."

However, in the film it's 'kinda old school reggae. But me, being an R&B pop singer, I'm bringing my flavour into this, so it's not your typical reggae now, because I think you have to be fully immersed into reggae to be able to have that realness. But I do my best and I just bring my experience, my feel, and my style into it as well. I love it - these songs are so awesome."

Quinton Hita: 'It's exciting that people will be able to hear one of their beloved pop stars singing new musical territory. The quality of Stan Walker's voice is consistent no matter what he is singing. We saw that in the Australian Idol competition he won where he had to sing different genres every week. I really love the music in this film. It's very earthy, it's got a not overly produced sound and it feels good, which is in keeping with the story of the film. And Stan just does it complete justice. He sounds amazing."

Mt Zion is written and directed by Tearepa Kahi, who made the international award-winning short film Taua. It is produced by Taua producer Quinton Hita of Kura Productions, through production company Small Axe Films, and executive produced by Christina Milligan (Nights in the Gardens of Spain). Funding is from the New Zealand Film Commission, NZ On Air, MÄori Television and Te MÄngai PÄho. The New Zealand distributor is Sony Pictures NZ. NZ Film, the sales arm of the NZFC, is handling world sales of the film.



About the Production
Mt Zion was filmed in Pukekohe, a town 50km south of Auckland, known for its market gardens, primarily producing potatoes and onions. In 1979, the area was regarded as the food basket of New Zealand, and the potato fields were the major source of employment for MÄori of all ages - Mt Zion writer/ director Teareapa Kahi's family included.

For Tearepa Kahi, it was imperative to shoot the film there – not just in the town, but in the actual house used in the film: 'That was my Nana and Papa's house. I know every inch of that whare and that garage very well - as do every one of my cousins. There wasn't another place in the world that I wanted to shoot this film. It's the heart of the story. It's where those stories actually took place."

His family's marae, NgÄ Hau E Wha Ō Pukekohe, played a vital role in the filming, not only as the on-screen location for some of the action, but as a support centre for the film crew throughout the shoot. Many of the local people played roles as extras in the film - the former potato field workers among them still had their work clothes and gear from the 1970s and were able to give the actors advice about how to do the work.

Temuera Morrison: 'A lot of those people were the real deal. They were the potato pickers of the time and we had great fun with them out in the fields. They were telling us how it was done, and getting that social background from the actual people was just beautiful."

Stan Walker: 'Potato picking! I honour and I give it up to the people who did that all their lives. I couldn't even last one day. We were all useless. It was fun to be doing it as acting, but honestly, I couldn't do that for real. Sore back, hot sun. Oh man, that's a hard job."

Local potato farming identity, Peter Reynolds was on set as farming advisor and supplied the authentic 1970s farm machinery for the film.

'We have been at this for many generations, so when the film company approached us we thought it was a great idea," he says, 'The potato picking and the story between the father and son, that's the sort of thing that happened back in those times."

Before starting to shoot, Tearepa Kahi and the cast spent five weeks in his Nana's garage rehearsing, which also included lessons in 1979-style potato picking and, for Temuera Morrison, learning to drive the vintage tractor.

It was important to Tearepa Kahi to get the characters right, to make sure the actors were 'Puke" enough to meet his standards of authenticity. So as well as working with the script, they spent time together, 'biking around Puke, digging spuds in Puke, working at the marae, sitting in the garage learning lines and understanding that we were going back in time."

The other element, alongside the performances, the music, costumes and props, that Tearepa Kahi paid careful attention to was the dialogue: 'It's not modern-speak. It's actually how our uncles, aunties and our older cousins used to speak. So we had to make sure the dialect, the language, which is very working class, is very Pukekohe."

His father served as dialogue coach over the many years Tearepa Kahi spent developing the script.

Morrison appreciated the value of the rehearsal period: 'We kind of gelled. We came together as a family. We have a lovely rapport, so we're very fortunate. Some of the magic of the film is just how we relate to one another."

Producer Quinton Hita pays tribute to Temuera Morrison's commitment to the film. 'There wasn't really an obligation for Temuera Morrison to be involved at that time because he's an experienced actor and he knew what his role was about. But he spent all that time with us."

Other locations included the nearby PatumÄhoe Rugby Club, which served as the Vinyl Shrine, the local pub where the band Small Axe got its first break, the central Auckland Hopetoun Alpha and Mercury Theatre buildings, which were used as audition venues.

Production designer Savage sourced most of the 1970s vintage vehicles locally and finding that potato expert Peter Reynolds had the authentic farm vehicles and equipment was a big advantage. The blue Holden Kingswood ute driven by Temuera Morrison's character Papa was hired from a local collector and the boys' classic 1970s bicycles, including the Raleigh 20 ridden by Turei, were found in Pukekohe and nearby Waiuku.

He found a lot of original 1960s and 70s furniture and wallpaper in Pukekohe and there was a lot of authentic furniture already in Tearepa Kahi's family house. Savage says it was important to find the domestic props in Pukekohe because it needed to look as if the family had bought it from the local store. 'We didn't get too hung up on everything coming from the 1970s and we went back to the 60s as well. In fact, there were some things that were around in 1979 that we didn't use at all because they are associated in people's minds with 1980s retro and we didn't want to distract the audience's attention away from the story."

Costume designer Gavin McLean was another crew member whose work benefitted from the authenticity of Tearepa Kahi's basing his script on his own family. He says, 'I treated the whole movie as a documentary or a day in the life of Pukekohe and the main reference I used was Tearepa Kahi's family photos. There's a group shot of about 20 of his family taken in the 1970s. So I used that as the basis for choosing the looks for each character."

Small Axe is not a band with a particular costume - they just wear their casual gear. 'There had to be some contrast between what they look like and what they sound like. You see these ordinary kids go up on stage and you hear them play with extreme talent. The music says it all."