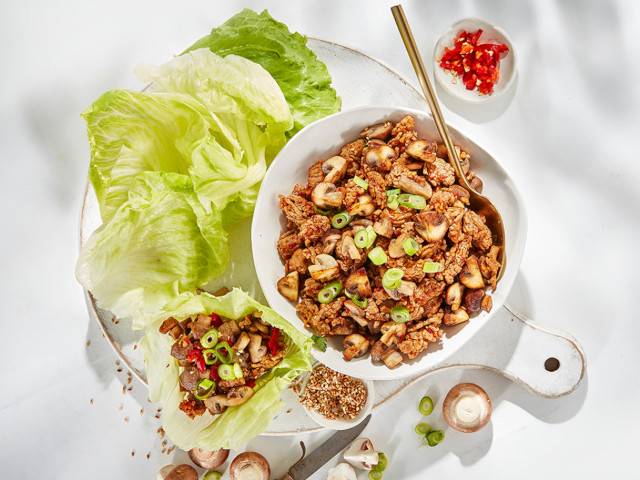 STICKY MUSHROOM & PORK IN LETTUCE CUPS
• Serves: 4
• Preparation: 20 Minutes
• Cooks in: 10 Minutes

INGREDIENTS
• 300 g button mushrooms
• 3 cm piece of ginger
• 3 garlic cloves
• 1 long red chilli
• 8 iceburg lettuce leaves
• 1 tbsp iceburg lettuce leaves
• 2 tbsp olive oil
• 400 g lean pork mince
• ⅓ cup hoisin sauce
• 1 tbsp oyster sauce
• ½ bunch coriander, stalks trimmed
• 1 green shallot, finely sliced
• 2 tbsp fried Asian shallots

METHOD
1 Cut the mushrooms into quarters. Grate the ginger and garlic on a fine grater. Finely chop the chilli. Trim the lettuce leaves into cup shapes.
2 Heat a large non-stick frying pan. Add half the oils and cook the mushrooms over medium heat for 3-4 minutes or until cooked. Place in a bowl. Add remaining oil and pork mince. Cook over high heat, breaking up the lumps with a wooden spoon, for 4 minutes or until cooked. Add ginger, garlic, chilli, hoisin and oyster sauces. Stir to combine and cook for another minute or until sticky. Stir through the cooked mushrooms.
3 Place in a warm serving bowl and sprinkle with the green shallots. Serve with the lettuce cups, coriander and fried shallots and let everyone help themselves. To serve, pour the dressing into the bowl of salad and toss to coat, transfer to a serving platter. Top with the freshly cooked mushrooms and top with almonds for a little crunch.