How Taylah Robertson Is Being the Best Kind Of Role Model for Young Women
Taylah Robertson has been boxing since 2015, completing 70 fights. At 20 years old she has already competed Internationally, winning a silver medal in Spain, a bronze medal in Turkey, a bronze medal in the Commonwealth Games last year, a gold medal in Ireland and more. She is now an 12RND Fitness athlete.

12RND Fitness is the fastest growing boxing and strength training provider with over 60 operating locations opening since 2016.

Four-time world champion professional boxer Danny Green has been an integral part of developing the concept and a number of high profile athletes including female boxers Taylah Robertson and Abbie Slavin, AFL Players Taylor Adams, Levi Greenwood and Jessy Keefe are often seen training there.

Workouts replicate the physical demands of a 12 round championship bout: with 12 x 3-minute rounds and 30 seconds rest in between. Each workout includes both boxing and the strength training required to condition athletes to their peak 'fighting shape'.

Workouts last for just under 45 minutes with a new round starting every three minutes, meaning arrival times are flexible and work to your schedule.


Interview with Taylah Robertson
Question: What originally inspired your passion for boxing?

Taylah Robertson: I think my original passion stemmed from already being a tomboy and finding a genuine interest in punching things. When I was only twelve years old ok the way home from school I saw kids boxing signs as I was on the bus and decided to get off and give it a go! I loved the sport and had a passion for it from that very first session.


Question: How have you overcome the challenges associated with competing in a male-dominated sport?

Taylah Robertson: When I was younger the biggest challenge was to find other girls to fight, as there weren't many girls in the sport. I had to step up weight divisions to get matches; I even had a few exhibitions with boys when I was 12 years old. As I got older though I found more and more females were getting involved in the sport and women's boxing in Australia was becoming a lot more competitive. At current, there are only 5 female weight divisions in the commonwealth games and Olympic event in comparison to the 10 male weight divisions available to the men. This makes it a huge struggle for females to either lose or gain weight to reach their Olympic dreams with such big leaps between the weight divisions.


Question: Can you talk us through your goals ahead of qualifying for the 2020 Tokyo Olympics?

Taylah Robertson: To qualify for the Olympics we have to compete against all states around Australia and win all fights to maintain the number one spot. From here there will then be many international tournaments to compete at over the late months. Though the next qualifying step is in October in Russia at the world championships where I have to place top 6-8 in the world. If there is a failure here there is one more event to perform well at which are the Asia games. This then verifies your spot to compete in the Tokyo 2020 Olympics.


Question: What should we know about boxing before actually beginning to box?

Taylah Robertson: That every detail counts, learn the basics properly and get the technique right from the start! This, in the long run, prevents injuries and if you are looking to compete will pay off in your fights.


Question: What advice do you have for young girls interesting in boxing for fitness or competition?

Taylah Robertson: To absolutely go for it, whether it's for competition or fitness boxing has so many lifestyle benefits. Don't let fear stop you, and practice is key.


Question: What's a typical days training like as a professional athlete?

Taylah Robertson: 7am I start the morning off with some form of conditioning whether it is running intervals, long distance or sprints.
By 11am I then work on strength and power for over an hour, specific to boxing.
My final session of the day starts usually at 4pm this is a boxing session and can vary from sparring to bag and pad work, footwork and partner work drills or I head to my local 12RND studio for a good hit out. If these studios existed when I started 8 years ago, I'm sure my mum would have been way more comfortable with my decision to box!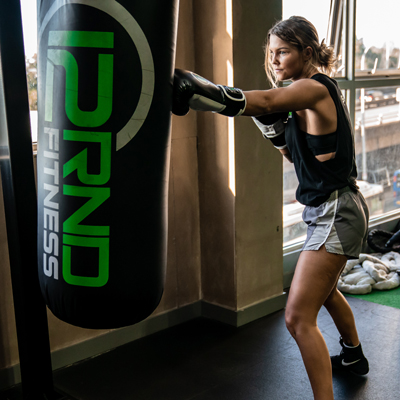 Question: How does food play a role in your training and preparation?

Taylah Robertson: I eat well. I have a lot of vegetables and protein; I drink a lot of water and try to get at least 8 hours of sleep. This is so important, especially given I am currently doing about 3 training sessions a day. As boxing is a weight making sport I make sure I fuel myself with the correct healthy foods and don't overeat especially weeks out from the competition.


Question: What would we find in your gym bag?

Taylah Robertson: My gym bag consists of wraps for my hands, gloves, skipping rope,, mouth guard, hair net, towel, water bottle and boxing boots.


Question: What are your pre-fight rituals?

Taylah Robertson: I don't have any set rituals; I mix it up every time I compete. Something that will always stay consistent is that I will always listen to music on the way to the fight venue and 30mins out of the competition! This is to relax the nerves and not overthink before entering the ring.


Question: What's next, for you?

Taylah Robertson: I have a big year ahead of me, short term I am looking at a handful of international fights across Europe. These events will then be followed by a series of Olympic qualifying events to them be followed by the Olympics in Tokyo 2020 as a long-term goal.


Interview by Brooke Hunter