Filmink Presents is delighted to announce the release of the Australian family fantasy adventure The Legend of the Five, only in cinemas from June 25.
The Legend of the Five will be the first new Australian feature film to be released in theatres as COVID-19 restrictions ease. Making it the perfect family escape for the upcoming winter school holidays.
Starring The Conjuring 2's Lauren Esposito as Zoe, The Legend of the Five follows a group of misfit teenagers who encounter an ancient relic during a school trip. They find themselves caught up in a magical world with elemental powers beyond their belief and the responsibility of stopping an age-old evil from destroying the world.
The Legend of the Five marks the directing debut of Mad Max's Joanne Samuel. Joanne's love of nostalgic cult films such as Labyrinth, Dark Crystal and The Never Ending Story was her inspiration behind the storytelling.
"My goal was to create a world with fantastical possibilities, while still representing as much of modern Australia as possible."
"The Legend of the Five is about youth, coming of age, finding your place, and understanding that you are worth so much more than the nay-sayers tell you. It is intended to be an invitation for the youth of Australia, and beyond, to engage their imagination, and find the power within themselves to join and protect the world around them." Says Joanne Samuel.
The Legend of the Five is produced by Benjamin Jon Creative Media, directed by Joanne Samuel and written by Peter McLeod.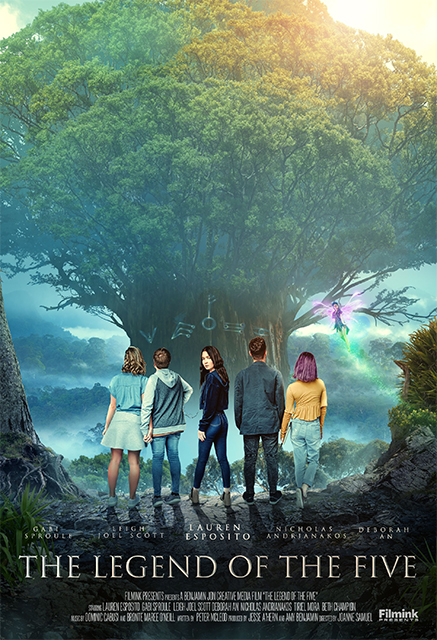 Synopsis
"Things have not been going well for Zoe. Her mother died, her father dragged her to Australia for work, and now she's trying to fit in at a new school... and failing. At a school excursion, Zoe ends up away from the group, and in a heated argument with four students who could not be more different – Owen, Javier, Caitlin and Kaylee. During the fight, Zoe finds herself accidentally handling an ancient staff, only to have it burst into
light! Ushered to a side room by Dr Rawson, Zoe and the others find themselves able to unlock an ancient cube, teleporting them to the outskirts of a magic forest!
Once there, hunted by a beastly guardian, Zoe meets an ancient man who tells her that she and her friends are elementalists, able to control the forces of creation. She is also told that the person who brought them here, Dr Rawson, is actually a centuries old sorcerer, hellbent on using them to draw power from "the Tree of Knowledge," which will destroy the forest, and ultimately, the world. Together, the five children fight through the forest, deciphering puzzles, and pushing past its bizarre inhabitants, to face off against Dr Rawson, save the tree, and somehow, find a way home."
THE LEGEND OF THE FIVE WILL BE RELEASING IN CINEMAS NATIONALLY FROM JUNE 25.