In Australia, where cosmetics king Napoleon Perdis hails from, we all know that the holiday season revolves around outdoor pursuits like a day at the beach, lazy long lunches and cocktails by the water. "Australia is the ultimate resort destination," says Perdis, who looked to his homeland for inspiration this festive season. "We've tried to capture some of the magic of Australia in our 'Swept Away' holiday story." In inimitable Australian style, the limited edition Napoleon Perdis Swept Away collection looks to the crystal clear waters and marine life of the Great Barrier Reef and the vibrant colours of summertime for inspiration.
The must-have Christmas collection spans seven different gift sets, each one infused with a touch of the tropics and radiating with resort-like glamour. Lip glosses come in juicy fruit flavours, eye shadow and blush colours recall exotic reef fish, while even brush sets are inspired by appealing ocean hues. In a nod to Australia's sacred coral reefs, all makeup products have been enhanced with marine ingredients, including brown algae (with skin-firming abilities), seaweed extract (for its emollient benefits) and sea salt (for skin conditioning). All the sets are packaged in bright unit cartons embellished with hand-drawn images of coral, fish and shells.
"It's an upbeat, escapist version of holiday," says Perdis. "It's bold, colourful and a little dreamy." Perdis has additionally curated a collector's item brush set meticulously assembled from farm-raised conch shell. The delicate brushes radiate with the opulent luster of mother-of-pearl and make for a truly luxurious gift. "Whether you're shopping for your mother, your sister, your friends or yourself, there is something for everyone," adds Perdis.
No capsule collection would be complete without an irresistible gift with purchase: This season it's the Marine Shell Lip Balm, a hydrating, melon-flavored lip treatment with vitamins A, C and E that comes packaged in a transparent shell component.
The Napoleon Perdis Swept Away Collection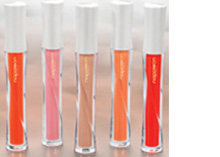 Siren Lip Gloss Pack
Five oh-so-pretty glosses for luscious-looking lips. Beneficial ingredients in the formula include vitamins A, C and E and algae extracts to soften skin. Sunny flavors include passion fruit, orange, pineapple, mango and strawberry. All glosses come with a brush applicator.
Siren Lip Gloss Pack
RRP $49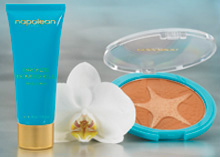 Bronze Bombshell
A duo of bronzing products for a heavenly glow. The combination of the exotic coconut-scented lotion and shimmering gold-flecked powder creates a luminous glow whenever you need it. The cocktail of nourishing ingredients include vitamins A, C, and E and algae extract (in the lotion) to moisturise the skin and is suitable for all skin types. The powder has a delightful starfish design.
Bronze Bombshell
RRP $49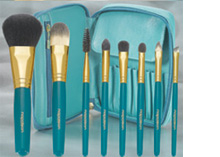 Great Escapes Brush Set
An eight-piece, travel-size brush set ideal for summertime getaways. Brushes are available in two aquatic hues, teal or cobalt, and are presented in a vibrant kit embellished with a shell plaque. The tools ensure professional results with every application. Set includes foundation brush, concealer brush, powder brush, slanted eye shadow brush, eye blender brush, lip liner brush, eye liner brush and a brow brush/lash comb.
Great Escapes Brush Set
RRP $99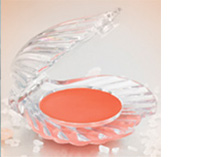 Swell Shell Brush Set
Packaged in a luxurious black satin box, and made from farm-raised conch shell, this three-piece brush set is a real collector's item with its pearly shell handles and antibacterial brushes. The set includes a powder/contour brush, a definer/liner brush and an eye shadow brush.
Swell Shell Brush Set
RRP $299
Tropical Heat
Three colourful multi-kits teeming with luminous makeup options. Each one boasts a quartet of eye shadows, a duo of blushes and a bright lip gloss with mini-applicators included.
Ocean holds a Prismatic Eye Shadow Quad with ivory, turquoise, mermaid and deep sea blue, a Cheek to Chic Blush Duo in peach and pink and Luminous Lip Veil in buff.
Coral has a Prismatic Eye Shadow Quad with silver, purple, gold and pink, a Cheek to Chic Blush Duo in coral and salmon and a Luminous Lip Veil in strawberry.
Sand contains a Prismatic Eye Shadow Quad with ivory, beige, tan and gold, a Cheek to Chic Blush Duo in pink and terracotta and a Luminous Lip Veil in flesh.
Tropical Heat
RRP $69
Napoleon Perdis prestige products are available at Napoleon Perdis Concept Stores,David Jones and over 650 pharmacies and salons throughout Australia.
Stockist Enquiries - 1800 814 572
www.napoleonperdis.com
Napoleon Perdis
picked up his first makeup brush at the age of 13 to help his glamorous mother primp for a soiree. Since then the self-taught makeup artist has long dreamed of spreading his glamour gospel. A native of Sydney, and now based in Los Angeles, Perdis has always sought to demystify makeup, and transform runway and red carpet trends to reality. The Napoleon Perdis philosophy is not dictated by fashion: it's about accentuating your natural beauty with confidence-building products. In 2008, in addition to taking his company global, the leading artist launched a new line exclusively for Target, NP Set. Perdis is also still an in-demand makeup artist. Since its unveiling in the U.S., the brand has attracted celeb fans including Jessica Szohr, AnnaLynne McCord, Lindsay Lohan, Leighton Meester, Debra Messing, Jessica Lowndes, Shenae Grimes, LeAnn Rimes, Nicollette Sheridan, Amanda Bynes and among others.